Weekend Wrap-Up
Guinea Pigs Win Out Over Wizard
By John Hamann
July 26, 2009
BoxOfficeProphets.com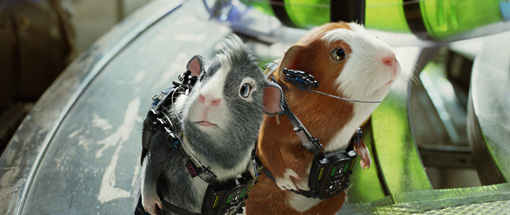 ---
With Harry Potter now in its second weekend, and the last of the hot summer sequel openings behind us, new franchise hopefuls step up to the plate. This weekend it's G-Force, a talking guinea pig movie, released in 3-D by the Dumbing Down Corporation of America, aka Disney. Yes, the company that brought us Snow Dogs and the Jonas Brothers has combined with Jerry Bruckheimer to bring us G-Force, and it had enough appeal to take down the second weekend of Harry Potter and the Half Blood Prince. Also opening this weekend is the well-marketed horror flick, Orphan, and the critically eviscerated rom-com, The Ugly Truth (a title that is an appropriate descriptor for the weekend).

Box office analysts, tracking firms and children holding wands had already annointed the second weekend of Harry Potter and the Half-Blood Prince as the weekend champ before Friday had begun, and we all got bit in the derriere by talking guinea pigs. Yes, our number one film of the weekend is G-Force, the talking guinea pig movie I thought/hoped/prayed children would scorn. With Mr. Potter throwing under his usual second weekend score, G-Force was able to scramble to the top, earning $32.2 million over three days from 3,697 venues. This Disney effort wouldn't be champ had it not been shot in 3-D, which allows theater owners to charge a premium for folks to see it (pay more for talking guinea pigs? Sure!). Had that 10-15% premium not been charged to audiences, G-Force likely would have opened in third this weekend, and I wouldn't have to write about G-Force 4: Revenge of The Guinea Pig in three year's time. Sigh.

In terms of 3-D films, G-Force ends up in the middle of the pack. It did manage to outperform the older 3-D entries like Meet the Robinsons ($25.1 million opening) and Monster House ($22.2 million opening), but not the more recent entries like Up ($68.1 million opening), Monsters vs Aliens ($59.3 million opening) or Ice Age: Dawn of the Dinosaurs ($66.7 million five-day opening). Critics weren't happy with it, either. Of the 48 reviews posted at the time of this writing, only ten were positive, leaving G-Force with a fresh rating of 21%. Budget data isn't available, but I have a funny feeling that despite those awful reviews, we may be hearing about this one for many weekends to come.

Harry Potter and the Half-Blood Prince is our number two movie this weekend, and the drop is larger than expected (despite the competition). The Half Blood Prince earned $30 million and fell a larger than expected 62%. The gross is proving the point that the fanbase is remaining the same for the latest Harry Potter films, and that this one is just more frontloaded than the last. Harry Potter and the Order of the Phoenix earned $32.5 million in its second weekend after a $77.1 million three-day opening. The Half Blood Prince had a bigger first Wednesday and Thursday than Phoenix, but basically tied Phoenix with a $77.8 million Friday-to-Sunday. After completing its second weekend, Phoenix had earned $207.9 million; the Half-Blood Prince has now earned $221.8 million. As the weekends pile up, I think the Half Blood Prince will finish very close to where Phoenix finished, at about $290 million.

Finishing third is more of the ugly, just in a different form. The Ugly Truth earned $27 million from 2,882 venues. Starring Katherine Heigl (Knocked Up) and Gerard Butler (300), reviews for this one were even worse than G-Force, yet it still managed to earn as much as it did. The good-looking leads would have helped as well as Heigl playing a woman's woman and Butler playing a real "guy". The Proposal, the summer's biggest rom-com, is in its sixth weekend, so audiences for this type of thing were hungry for something new. While I get all of this, The Ugly Truth is 16% fresh at RottenTomaotes, and this is not one of those films that got a bad percentage because a whole bunch of writers gave it two stars out of four instead of two and a half out of four. Words like disaster are used in The Ugly Truth's reviews, along with crass, unbearable, brainless, imbecillic – do I need to go on? And how do we think The Ugly Truth ends? With her spitting on him or flipping the jerk the bird? Doubtful.

Fourth spot goes to Orphan, the nicely marketed horror flick from Warner Bros. and Joel Silver. Despite what I considered good marketing, Orphan could only pull in $12.8 million, as North America continues to pull away from the horror genre. Drag Me To Hell, the early summer horror flick from Spider-Man director Sam Raimi, opened similarly at $15.8 million, despite being 92% fresh at RottenTomatoes. While Orphan is miles away from that one in temrs of quality, it was still the best reviewed opener of the weekend by a country mile, coming in at 44% fresh.

Ice Age: Dawn of the Dinosaurs finished fifth this weekend after a second place finish last weekend, and fell hard as G-Force took over all the 3-D screens in North America. Ice Age 3 earned $8.2 million in its fourth weekend, dropping 53% in the process. This is now a well-documented discussion about how the new wave of 3-D theaters are causing big drops for 3-D films when the next comes along, as movie theaters stop charging the 3-D premium. It happened to Up (50% drop in weekend six), it happened to Coraline (54% drop in weekend four) and now it's happening to Ice Age 3. The good news for Fox is that Ice Age 3 has already earned $171.3 million domestically, and over $450 million overseas.

Transformers: Revenge of the Fallen blissfully drops to sixth. The Michael Bay effort earns $8 million in its fifth weekend, as it propels itself toward $400 million. Revenge fell 42% this weekend and has a running total of $379.1 milllion.

The Hangover is seventh and holds well (again) in the Year of the Comedy. The Hangover – now in its eighth weekend of release – earns $6.5 million and slips only 21%. The Todd Phillips comedy now has a running total of $247.1 million against a production budget of $35 million.

The Proposal, despite the opening of the ugly Ugly Truth, surprisingly still manages to hold its audience this weekend. The Sandra Bullock rom-com earned $6.4 million and dropped only 23% from the previous frame. The Paul Blart of rom-coms now has a running total of $140.1 million, against a production budget of only $40 million.

Ninth goes to Public Enemies, as everything and its dog passes Bruno. The Johnny Depp semi-miss earned $4.2 million, dropped 46%, and has a current total of $88.1 million. This one cost Universal $100 million to make, a number Public Enemies won't earn domestically.

That means Bruno, which dropped a hideous 73% last weekend, drops from fourth to tenth. Bruno earned $2.7 million and had another nasty drop of 67%. What once looked like a winner now has a domestic tally of $56.5 million.

Overall this weekend, things aren't great, but that's mostly because we are living in the year-ago shadow that was The Dark Knight. In its second weekend, The Dark Knight earned $75.2 million, about $10 million more than our top two combined. A year ago, the top 12 films at the box office earned $174 million; this year, the top 12 films earned $141.1 million. Next weekend brings Funny People, the new Judd Apatow flick with Sandler and Rogen, and Aliens in the Attic, an 86 minute family film from Fox, that I have yet to hear of.