Friday Box Office Analysis
By Tim Briody
July 25, 2009
BoxOfficeProphets.com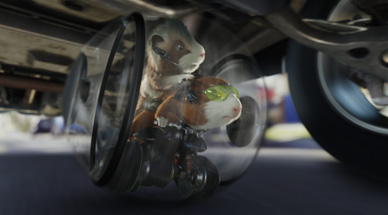 ---
[tm:2096_]G-Force[/tm]

The talking guinea pigs led the way on Friday with $11.5 million. I have nothing more to add about this, other than I never thought that I would ever type the phrase "talking guinea pigs." It will be pretty solid for families all weekend and will win the weekend with $36.8 million.

[tm:4140_]The Ugly Truth[/tm]

The Katherine Heigl/Gerard Butler romantic comedy is a surprisingly strong second on Friday with $10.8 million. Heigl's last rom-com outing, January 2008's 27 Dresses, opened to $7.7 million and earned a 2.96 multiplier on its way to a $23 million weekend. Don't look now, but add in Knocked Up and this is her third straight $20 million opening. Glad to see she could rebound from Zyzzyx Rd. The Ugly Truth looks to earn a very solid $31.7 million for the weekend.

[tm:4169_]Orphan[/tm]

Psycho-kid movie Orphan earned $4.9 million Friday, good for fourth place. It had been a while since a horror entry but this may just be too off-putting for the typical audience. Also, a distinct lack of gore probably hurts too. Orphan should come in with $12.3 million for the weekend.

[tm:3170_]Harry Potter and the Half-Blood Prince[/tm]

The second Friday of the sixth Harry Potter film is down 64% to $9.5 million. For comparison's sake, Order of the Phoenix had a second Friday of $10.2 million, down from $25.8 million. That was a 60.8% decline. As the series goes on and the openings get bigger, the weekend declines are expanding. This will be a fascinating thing to watch when the two parts of Deathly Hallows hit theaters in the next couple years. For this weekend, however, Half-Blood Prince drops to third for the weekend with $30.2 million.