Weekend Forecast for July 24-26, 2009
By Reagen Sulewski
July 24, 2009
BoxOfficeProphets.com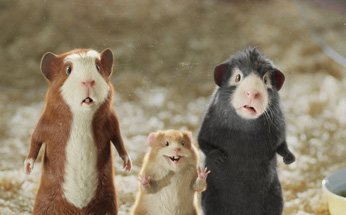 ---
With three out of the last four weekends at the box office dominated by a singular, all-hype-swallowing film, we're back to having a grab bag of movies that try to each grab a different demographic.

Leading the way is a family/kiddie effort, G-Force. A live-action/animation mix with 3-D thrown in, it centers on a group of guinea pigs chosen to head up an elite government task force, aimed at stopping an evil billionaire from taking over the world with household appliances. It's good to see that Hollywood is back to greenlighting films while high.

With the voices of Sam Rockwell, Tracy Morgan, Jon Favreau, Penelope Cruz, Steve Buscemi and Nic Cage as the guinea pigs and human acting from Zach Galifianakis, Will Arnett and Bill Nighy, it's got that mix of celebrity cast and adolescent action that generally means ridiculous box office. While poop jokes are no one's idea of high-class humour, the kiddie set unquestionably finds them hysterical. Hey, adults have made Dane Cook a star. Who are we to judge?

And with enough winks and nods to traditional action movies, adults probably won't be dreading sitting along with their kids. I see this playing something like a combination of Bolt and Alvin and the Chipmunks (which, you might remember, had a rather disgusting poop joke right in its trailer). With 3-D starting to reach a critical mass as an attraction for moviegoers, G-Force might well be ideally positioned at this point in the summer to be a breakout hit. It'll still have the second week of Potter to deal with, but much of the mania will have subsided for it, letting this be the fresh new product for family viewing. Opening on over 3,600 screens, I'm sensing a high "want to see" among the 12 and under set, and this should see an opening weekend of about $33 million.

The Ugly Truth handles date-movie duties for this weekend, as a rather obvious battle-of-the-sexes romantic comedy. Katherine Heigl stars as a radio producer who inherits a new, brash, boorish radio host for her show, played by Gerard Butler. After complaining one too many times about her romantic prospects, Butler decides to teach her how to really seduce a man, based on a simple, but ugly truth – men are horndogs. While she's his guinea pig, his efforts start to rebound back on him. Isn't love just craaazy?

Heigl has proven to be a decent draw in these kinds of films of late, albeit with a sample size of just two – Knocked Up and 27 Dresses. This film is much closer to the latter than the former, existing in the same sort of general area as He's Just Not That Into You. Butler, meanwhile, is trying to establish a new record for movies starred in without anyone actually knowing who he is, currently held by James Marsden.

More so than other comedies of this type, The Ugly Truth is being sold on the hotness of its stars. Heigl admittedly looks about as good as she ever has, though her public statements about her starring role in Grey's Anatomy are starting to wear with their ugliness and ingratitude. Heigl really needs to hope that her films continue to hit, so that people will actually want to work with her. The Ugly Truth does appear headed for hit status, with about $28 million this weekend.

The third wide release of the weekend is Orphan, a horror film that seems to combine parts of The Omen and The Good Son, but changing genders. Vera Farmiga and Peter Sarsgaard play a young couple who adopt an orphan girl who appears to filled with char, despite her penchant for dressing in monochromatic clothing that is just anachronistic enough to be creepy. After all manner of odd occurrences start to happen, with the little girl seemingly trying harm her new family and people around them, her new mother starts to suspect there's something wrong with her – hence the ultra creepy tagline "There's Something Wrong With Esther".

While the creepy kid movie has been done about to death, Orphan is one that looks like it might be legitimately unsettling. That's not really the style of horror that's particularly popular these days, with a notable lack of slashers and gore, but done effectively, this kind of film can still attract an audience. Opening at about 2,800 theaters, Orphan should be able to start with about $15 million.

This brings us to our returning films. Last week's champion, Harry Potter and the Half-Blood Prince, will remain at the top spot for another week barring a stunning turn of events. Opening to $77 million, almost identical to the Order of the Phoenix but with about $18 million more in initial business, Half-Blood Prince renewed the Potter-head fanbase's enthusiasm for the series. Initial reviews were among the best in the series, and although word-of-mouth slipped slightly as the opening period went on, it's still found a welcoming home. I foresee a slightly stronger hold than Phoenix, with about $36 million for its second frame.

The film that will suffer the most from competition this weekend is Ice Age, for a very practical reason – G-Force will be stealing its 3-D screens. More or less the only reason to see this film is for the 3-D effect, leaving it rather in trouble as the Disney film enters the market. It's already earned $150 million plus to date, so no crying for it is necessary, but we should see a drop to about $8 million this weekend for it.

Transformers: MORE EXPLOSIONS! will enter the all-time top ten this weekend with even a terrible performance in the box office. It'll leapfrog Passion of the Christ, Spider-Man 2 and The Return of the King with about $8 million this weekend, and might get past Revenge of the Sith mid-week. Spider-Man's eighth spot will be tough to get, but the Transformers sequel is almost certainly headed towards being 2009's box office champ.

Elsewhere, we have The Proposal and The Hangover, which just won't go away, Bruno, which is leaving smoke trails for how fast it's getting run out of theatres, and Public Enemies, which has been met with a collective meh.