Friday Box Office Analysis
By Tim Briody
July 18, 2009
BoxOfficeProphets.com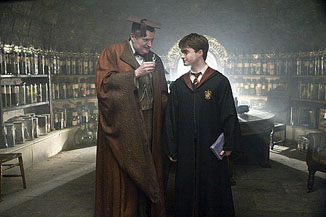 ---
[tm:3170_]Harry Potter and the Half-Blood Prince[/tm]

After a pretty astounding $80 million over two days, the Friday tally for Harry Potter and the Half-Blood Prince comes in at $26.8 million. While that seems to be a rather paltry figure compared to that $58.2 million on opening day, it's slightly ahead of the first Friday of Order of the Phoenix from two years ago. After $62 million on Wednesday and Thursday, OotP turned in a Friday of $25.8 million. So after two days, the Half-Blood Prince increased over Order of the Phoenix by 28% but the Friday take was only up 5.8%. What this indicates is that as the series goes on, it's not only getting more popular but it's having an even bigger fanboy effect. At this rate, batten down the hatches when the second part of Deathly Hallows hits theaters. That's the film that The Dark Knight may have to worry about.

The other effect the Wednesday opening has on this weekend is it will actually give Half-Blood Prince an above average weekend multiplier. Let the fanboy rush occur over the first two days and you get the behavior of a family film over the weekend proper. Order of the Phoenix's weekend multiplier was 2.98. Barring something strange, this is pretty close to where Half-Blood Prince will come in with for the weekend so that's a three-day total of $81.9 and $162 million in five days.

[tm:4585_]Bruno[/tm]

Meriting a special mention here as there are no other releases this week, Bruno is a victim of speedy word-of-mouth in the Age of Twitter and falls 80% from last Friday to $2.9 million. This is not terribly surprising as last weekend's internal multiplier for the Sasha Baron Cohen film was a remarkable 2.12. Negative word-of-mouth had killed it before the weekend was halfway over. The only thing resembling good news here is that with Friday being Bruno's best day, the drops over the remainder of the weekend may not be nearly as bad, so a weekend decline of around 70% is where the the second weekend should end up. Look for $9.1 million for Bruno.