Weekend Wrap-Up
Bruno Leads Pre-Potter Weekend
By John Hamann
July 12, 2009
BoxOfficeProphets.com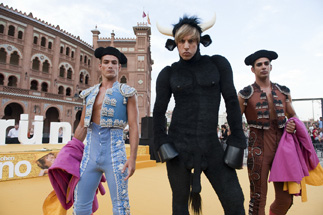 ---
Sacha Baron Cohen came back to movie theatres in another B-movie, leaving the Kazakh news journalist Borat behind, and bringing us the gay fashionista, Bruno. Over opening weekend, Borat earned a staggering $26 million from only 837 venues. This time out, Bruno is in 2,755 venues, more than three times that of Borat. Does that mean Bruno will gross $85 million over opening weekend? No way. Does it make for a nice, profitable, mid-size release for Universal? Oh yeah.

Our number one film over this pre-Harry Potter weekend is Bruno, Cohen's follow-up to Borat. Bruno was able to outgross Borat over opening weekend, as it enjoyed a strong, but not stellar, $30.4 million from those 2,755 venues. This means that the also R-rated Hangover opened better than Bruno with $45 million over three days, and also less than the PG-rated Paul Blart, which took in $31.8 million. 2009 has been an excellent year for comedy, and Bruno's opening continues that trend. Some were looking for a breakout performance from Bruno based on the popularity of Borat; however, with the hard R-rating and a character that makes Liberace look straight, selling tickets to the middle-America masses was always going to be difficult. This opening indicates that Cohen's fanbase is following him, and expanding slightly.

Bruno and Borat have a lot of surface similarities, but deeper down, they are different films. Both films carried the hard R-rating, Bruno's for "pervasive strong and crude sexual content, graphic nudity and language", while Borat's was for "pervasive strong crude and sexual content including graphic nudity and language". Both were mock-docs, a format that Cohen excels at, and both feature characters so "out there" that even the concept alone is funny. Both are funny and extremely offensive (my mother would shut it off), and both were critically accepted, but Bruno far less than Borat, which could affect word-of-mouth. Borat finished with a 91% fresh rating at RottenTomatoes, with the "top critics" (I hate that term) coming in at 97% fresh. Bruno, on the other hand, finished with a 71% fresh rating at RT, but this time the "top critics" came in at only 55%.

The differences between Borat and Bruno show up on the financial side. Production companies Everyman Pictures and Four By Two are the same for both films, but the domestic distributor changed from Warner Bros. to Universal. Universal picked up Bruno's distribution rights for $42.5 million prior to a script, which is a darling of a deal if you ask me. Borat was much more inexpensive, with a budget of only $18 milllion. The next difference is how the two films are going to play out. Borat opened over the November 3rd weekend in 2006 to $26 million, and managed to increase its take over its second weekend to $28.3 million. Even without Harry Potter next weekend, Bruno is not the word-of-mouth surprise that Borat was, and won't see an increase to the positive side in the next frame. In the end, Borat finished with a fantastic domestic tally of $128.5 million, a number that Bruno might approach, but won't beat (although I do think $100 million is possible). The overseas scenario might be different. Borat finished with $133 million in foreign grosses, while Bruno could improve on that figure. While Bruno is not a breakout success for Cohen, his films and performances continue to shape the future of moviemaking, and I look forward to seeing whatever is next from this outrageous comedian.

Finishing second is Ice Age: Dawn of the Dinosaurs, and because last weekend's Saturday was July 4th, percentage drops for holdovers will stay mostly on the good side. Ice Age 3 earned $28.5 million in its second weekend, and was off 32%. Even though it doesn't feel like it, Ice Age 3 is keeping up nicely with Ice Age 2. After 12 days of release, Ice Age: The Meltdown had earned $121 million. Ice Age 3 has earned $120.6 million over the same amount of time, but cost Fox $15 million more to make ($75 million budget for Ice Age 2, versus $90 million for Ice Age 3). The best news for Fox and Blue Sky Animation is that the Ice Age franchise is absolutely huge overseas. Ice Age 2 earned $456 million overseas (yes, you're reading that right), and Ice Age 3 has already amassed over $210 million from foreign shores. Fox should enjoy this success while it can, as Harry Potter will crush this franchise next weekend.

That means Transformers: Revenge of the Fallen drops to third, as there is no fake tie like last weekend. Transformers 2 earned another $24.2 million and was off 43%. It crossed the $300 million mark on Tuesday, its 14th day of release, making it the second fastest film of all time to reach $300 million. It has earned the same amount from foreign box office. The Michael Bay flick also outgrossed his own original Transformers flick this weekend, as the original finished with $319.2 million in 2007, while this one now has a running total of $339.2 million at the domestic box office.

Public Enemies drops to fourth, and sees a slighly larger-than-expected drop in its second frame. The Johnny Depp starrer earned $14.1 million in its second weekend, and was off 44% from its opening frame of $25.3 million. Public Enemies wasn't a cheap film to make at $100 million plus, and with a running total so far of $66.5 million, it's going to have a tough time making it to $100 million on the domestic side. The good news for Universal is that they retained the foreign rights, so they will have to hope for some decent grosses from the other side of the pond.

Sandra Bullock's The Proposal has another strong weekend, as this one works as counter-programming against just about everything. The Proposal earned another $10.5 million in its fourth weekend, and drops an excellent 18%. The Proposal is another one of these comedic surprises we've seen in 2009, as it crossed the $100 million mark on Wednesday, its 20th day in release. The Proposal also passed Miss Congeniality ($106.8 million finish) and 1996's Time to Kill ($108 million), and is now Bullock's second biggest film behind only Speed ($121 million). The rom-com now has a running total of $113.8 million.

The Hangover also had another strong weekend, finishing sixth. The $35 million Warner Bros. powerhouse earned another $9.9 million this weekend, and drops a slim 12%. The Hangover has now earned $222.4 million and should make it to $250 million, more than seven times its production budget (and that's just the domestic side!).

The big miss of the weekend goes to Chris Columbus and I Love You, Beth Cooper, as the teen comedy failed to gain any interest. Beth Cooper earned only $5 million from its 1,858 venues (there's confidence from the studio) and will be sent packing by Harry Potter next weekend. Oddly enough, Beth Cooper's director helmed the first two Potter movies. Beth Cooper cost Fox $18 million to make, and it will be lucky to earn that much at that domestic box office.

Up finishes eighth, as it contiues to contend with Ice Age: Dawn of the Dinosaurs. Up earned $4.7 million in its seventh weekend, and drops 29%. Up has now earned a fantastic $273.8 million, but it doesn't look like it will reach $300 million.

My Sister's Keeper manages to come back somewhat from the 54% plunge it saw last weekend, but it's too little, too late. The Cameron Diaz flick earned $4.2 million this weekend, and was off 28%. The $30 million-budgeted weeper now has a running total of $35.8 million.

Tenth goes to Night at the Museum: Battle of the Smithsonian, as it spends one final weekend in the top ten. The Ben Stiller comedy took in $1.5 million as it drops a slight 25% from last weekend. Its current domestic total sits at $170.6 million.

Overall, the box office was right on target with last year's totals. A year ago, Hellboy II: The Golden Army was on top with a Bruno-like $34.5 million, and Journey to the Center of the Earth opened respectably with $21 million. The top 12 films last year managed to earn $143.8 million in the weekend prior to the debut of The Dark Knight. This year, things are similar. The top 12 earned $135.7 million on the strength of Bruno and the some strong holds, and lives in the shadow of a blockbuster, this time Harry Potter and the Half Blood Prince, which is set to be huge next weekend.