The Indie Month That Was
By Michael Lynderey
July 9, 2009
BoxOfficeProphets.com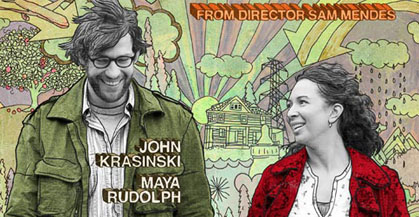 ---
This week: Mendes' quirky road trip, Allen's annual escapade, and Pfeiffer's historical shenanigans

After a slow start, the indie film summer's finally picked up, with a few choice new releases by some top directors coming in with decent box office (and good reviews, too, but that's expected).

Allen & Mendes keep churning 'em out

The highest-profile release of the June batch is Away We Go, British director Sam Mendes' latest opus on American life. Unlike his previous (serious) films, this is a quirky comedy along the lines of fellow road trip movies About Schmidt and the Savages. By casting TV stars John Krasinski and Maya Rudolph in the leads, Mendes has given the two some solid cinematic credibility - up until now, Krasinski's been toiling away in hit and-miss comedies like License to Wed and Leatherheads, while Rudolph's been mostly neglected to the sidelines of whichever films she's appeared in. Since the movie is about a young couple on a road trip looking for a place to put down roots, there's a natural opportunity to plug in a lot of nifty character actors, as Mendes has done - the cast includes Jeff Daniels, Catherine O'Hara, Jim Gaffigan and Maggie Gyllenhaal, among others (I'm not sure how realistic this is - I went on a road trip once, and I didn't meet a single character actor).

As for Mendes himself, his directorial output has gone from two solid $100 million grossers (American Beauty and Road to Perdition), down to the less-respectable $60 million mark (with Jarhead), and finally into the shallow waters of last December's Revolutionary Road, which pulled in $22 million and was a disappointment on almost any level. It's clear that, unlike all of Mendes' previous films, Away We Go was never really intended to be a serious Oscar contender. At 66% on Rotten Tomatoes, though, it's not much down from Revolutionary Road's 69%; the lower expectations of the summer season have helped the film coast along with critics, without the sense of unfulfilled promise that Rev. Road brought out in some.

Away We Go opened in four theaters on June 5th, taking in a strong average of $32,603. The film's next few weeks saw expansions to 45, 132, 495, and finally 506 screens, as the per-screen average dipped gradually down to the $2-3,000 range. Its strongest week was June 29th, when it took in $1.7 million - the week after saw a drop to $1.1 million, so it's clear enough that the movie doesn't have many good weekends left. While it's definitely going to be Mendes' lowest grossing movie thus far, the current total of $6.1 million is good for a limited release (especially by this year's standards), and I think this one can stick around for the few weeks more it takes it to get to $10 million.

Whatever Works, on the other hand, is the latest film by Woody Allen, whose one film per year output rate doesn't look like it's going to slow down anytime soon. After dalliances in Spain (Vicky Cristina Barcelona) and Britain (Scoop, Match Point), this one marks Allen's return to his natural habitat, New York City. Allen is in a unique box office situation - while his movies don't usually make very much money, he seems to have developed enough of a reputation to get every new one at least a moderately-sized theatrical release. Allen did put out some hefty grossers back in the day (Annie Hall's $38 million adjusts to over $100 million today), and his films still do well - sometimes. His two biggest recent grossers, Vicky Cristina Barcelona and Match Point, took in $23.2 million each, but the last Allen movie to outgross those two was Hannah and Her Sisters, which pulled in $40 million all the way back in 1986. The 20+ films he made in between didn't get much past $10 million, if that, and I suspect no Allen film will ever again scale the heights that Hannah/Sisters did.

Three of Allen's recent films starred Scarlett Johansson, but Whatever Works potentially ebbs out a new muse for Allen, pitting indie darling Evan Rachel Wood together with sitcom star Larry David. As it turns out, their characters get married... and I think I'll leave that one there. David is new to starring roles in movies, so it's Wood who's worthy of discussion. She had her breakthrough role in Thirteen (2003), but instead of appearing in a summer blockbuster or high-profile teen comedy, she chose to follow-up that role with one indie film after the next. Most of these, like Pretty Persuasion and Down in the Valley, received mixed reviews at best and faded from the scene quickly. Across the Universe (2007) did well, but it's a telling sign that her highest grossing film remains Practical Magic (1998), which at $46 million outpaces the rest of her resume by a solid $20 million margin.

Whatever Works isn't going to change that, but it's shaping up to be an OK notch on both Allen and Wood's belts. With 45% on RottenTomatoes, it certainly doesn't have a strong critical mandate, but the Wood-David combination gave the film an excellent $29,574 per-screen average in its nine theater opening. The next week, June 26th, saw an expansion to 35 locations and a still-good average of $10,280. The third week was the real test, because that's when the movie entered regional release - 353 theaters, the kind of expansion that lets the studio know if the film's ready to rise up into wide release, or doomed to remain in the art house beltway. At that point, the film stumbled, taking in $960,061 for a $2,720 per-screen average, and a total gross thus far of $1.9 million. Hard to believe that the movie is going to make any more inroads, but it's probably got just enough momentum to get to around $5.0 million. Not one of Allen's best, even recently, but as he might say - whatever works.

Pfeiffer's Cheri blossoms

Cheri is another entry into the costume drama sweepstakes - it's a UK-French-German co-production set in 1920s Paris, and based on a book by the French writer known only as Collette. Cheri's plot revolves around a courtesan, like most films set in pre-1939 France (a courtesan is a more prestigious word for a you-know-what). And she's not just your ordinary courtesan, either, as she is played, after all, by Michelle Pfeiffer. The story's about the relationship between Pfeiffer's character and a much younger man (Rupert Friend) who's been placed into her care. The direction is by Stephen Frears, who is not unfamiliar with period pieces - he was at the helm for Pfeiffer's 1988 starring role in Dangerous Liaisons, among other excursions into the impeccably-costumed past.

The mention of Pfeiffer and starring roles is crucial here, because she's one of those 1990s stars who hasn't really carried many films in the 2000s. After sitting out live-action films from 2003 to 2006, Pfeiffer re-materialized with the summer 2007 double bill of Hairspray and Stardust, playing witches of two different kinds. Those roles were well received, but her two recent star vehicles - I Could Never Be Your Woman (opposite Paul Rudd) and Personal Effects (with Ashton Kutcher) both went more-or-less straight-to video. Cheri, on the other hand, got splattered right into 76 theaters on June 26th - the kind of release that makes you think the studio just wants to dump the film and get it over with. Frears' movies are usually heavy Oscar bait, but with 51% on Rotten Tomatoes, this wasn't exactly the best reviewed of the bunch.

I was surprised to discover, therefore, that Cheri actually did pretty well - fans of this kind of thing must have made the difficult choice of seeing Cheri over Transformers, because the per-screen average for that 76 theater release came in at a respectable $5,338, for a weekend gross of $405,701. The studio did what came naturally and almost doubled the screen count the week after, turning 76 to 140 and that per-screen average to $2,779. That was enough to get the movie over $1.0 million, which shows you that a mix of Pfeiffer, France, and Frears is still worth at least 1/400th the box office of a Transformers sequel.

Under the radar

A few movies are slowly gaining some momentum, down there in the depths of the box office charts. One intriguing new release is Moon, a science fiction film that opened on June 12th to almost universally positive accolades (88% on Rotten Tomatoes isn't anything to sneeze at). Like most sci-fi films that start off with a platform release, this isn't an explosion-filled space action saga; it's a low-budget thriller about a space station employee's bizarre experiences while alone on a lunar base. Also on board are a possibly malfunctioning robot (voiced by Kevin Spacey!) and what appears to be an Evil (?) Twin of the main character. That's no doubt a strange-sounding plot, immediately reminiscent of old-school sci-fi classics like 2001 and Silent Running, and the presence of indie stalwart Sam Rockwell certainly cements Moon's status as a cinematic odd duck. But the film's doing well - a $17,006 per-screen average at its eight slot opening, followed by fair per-screen grosses like $8,541 (at 21 theaters) and $5,587 (at 47). Moon's just around the one million dollar mark, a figure it'll probably double by the end of its run.

That's also the case for Food, Inc., a documentary that sounds like an outdoorsy version of Super Size Me. The film examines the evidently unpleasant nature of food production in the United States, as well as bad eating habits and the alleged misadventures of food companies. Some of those food companies have indeed criticized the film, but movie critics have not, because a whopping 97% of the reviews on RottenTomatoes gave this their stamp of appraisal. Most documentaries don't break out without featuring a "star" (like Michael Moore, Al Gore, or some fuzzy non-talking animals) at the helm, but Food, Inc. has been making a decent amount of headway, getting a $5,651 per-screen average during its second week expansion to 51 theaters, and maintaining a fair $3,000-era average after going up to 75 and then 83 locations. The total so far is at $1.3 million, and the movie will most likely stick around for a few weeks more, even if it doesn't get much wider. I also sense a token Oscar nomination for Best Documentary - after all, there's almost nothing that gets the Academy as excited as movies about food gone bad.