Weekend Wrap-Up
Transformers vs. Ice Age = Roddick vs Federer
By John Hamann
July 5, 2009
BoxOfficeProphets.com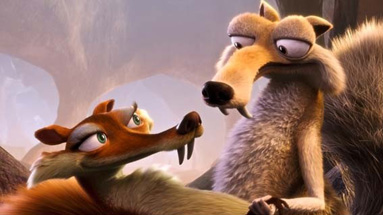 ---
With July 4th falling on a Saturday, the box office was already behind the 8-ball heading into the weekend, as the biggest moviegoing night of the week was set to be usurped by fireworks and picnics. However, it's been a year of Paul Blarts, Takens, Hangovers and Transformers, so obviously there are no safe bets at the box office in 2009. Opening this weekend were Ice Age: Dawn of the Dinosaurs and Public Enemies, two films that not only face off against the July 4th weekend and Transformers 2, they are also facing off against what make them July tentpole releases. One is a very popular franchise trying to stay ahead of a very successful past, and the other showcases two of the biggest male stars working in the movies today. Would they both be able to stay above water against those mighty Transformers? Read on to find out.

With the first Saturday July 4th happening since 1998, the box office was in a large amount of disarray this weekend. Armeggeddon was the big opener the last time the calendar fell like this, and the result was noticeable. After opening to a strong Wednesday/Thursday business of $9.7 and $8.4 million, Armageddon pulled down $13.6 million on its first Friday, a huge number for the late 1990s. However, on its first Saturday, July 4th, the daily gross fell a large 23% to $10.5 million before increasing 13% on Sunday to $11.9 million. That's a large reversal from the usual weekend trend, where the box office pattern usually works like an upside down V, with the box office peaking on Saturday. So, instead of Armageddon finishing its first weekend with $45 million, it had to settle for a weekend gross of $36.1 million. For an opening weekend, especially in 1998, the difference between a $45 million opening and a $36.1 million debut is huge, as it can affect audience perception as the film moves forward, sometimes due to the media's representation of these numbers. The NY Times said over that 1998 weekend that "the lower figures were at least partly a result of the fact that the Fourth of July fell on a Saturday". Forget partly; the July 4th on a Saturday blows up the entire business model.

With that in mind, our number one movie of the weekend is unique in and of itself in that we have a tie between Ice Age: Dawn of the Dinosaurs and Transformers: Revenge of the Fallen - at least until actuals come in. Let's start with Transformers 2, which earned another $42.5 million and drops a large 61%. On Friday, Revenge of the Fallen posted a Friday figure of $18.3 million, approximately half of what it grossed over its opening Friday. Had it been a normal weekend, this would have been fantastic news for Paramount and Michael Bay, as a drop was expected; also, films in their second weekends will actually "catch up" somewhat over the remainder of the weekend as the Saturday tends to improve on that percentage. This time out, we knew that wasn't going to happen. This year, due to July 4th falling on a Saturday, things actually got worse instead of better. So while the drop this weekend can be perceived as nasty, it really isn't the case. Following Armageddon's opening weekend, it fell in the next weekend only 35%, and never saw a drop higher than that until almost three months later, when it was earning less than $2 million per weekend. Do the box office gods balance things out in the long run? Yes. Armageddon went on to earn over $200 million at the domestic box office, or 5.5 times its opening weekend gross. For Transformers: Revenge of the Fallen, this title already has a gross so far of $293.5 million, and has only been in release for 12 days. Like it or not, that's impressive.

Since we know that first place is a tie, we also know that Ice Age: Dawn of the Dinosaurs is going to throw under the opening of the second film in the franchise, Ice Age: The Meltdown, which opened to $68 million in April 2006. How far under? The result for Ice Age 3 is not great, however again, the holiday is skewing this open. Dawn of the Dinosaurs had a three-day haul of $42.5 million, and has earned $67.5 million since opening on Wednesday, which is actually slightly more than tracking was indicating. Ice Age 3 started off on Wednesday with a $13.8 million gross, dropped 19% on Thursday to $11.1 million, before bouncing up 53% on Friday to a gross of approximately $17 million, which means it brought in an additional $25.5 million on Saturday and Sunday.

Usually, I bash studios who release films on a Wednesday, but with Dawn of the Dinosaurs and the July 4th weekend, I think it was an excellent decision. First off, stretching that opening weekend enabled this sequel to match the opening of Ice Age 2 - it just took two extra days to do it. The five day opening counteracted the effect of July 4th Saturday, and enabled later viewings on Thursday for the kids, since the day off for parents was landing on Friday. Fox and Blue Sky Studios knew they were going to have some work to do to keep up with the earlier films in the franchise, as the 78% fresh rating of the original had migrated down to 45% for the third film. The smartest thing this franchise has ever done is make adults laugh, and it really pays off in opening weekend, legs, and after-theatre DVD sales. Ice Age now has a week and a half to work until Harry Potter shows up on Wednesday, July 15th, surely dominating theatres everywhere.

Finishing third this weekend is the Johnny Depp/Christian Bale-headlined Public Enemies, with a gross big enough to call this one a success. The star-studded $100 million plus film also started on Wednesday, earning a solid $8.2 million on opening night. It dropped a slim 18% on Thursday with a gross of $6.7 million, before jumping 51% on Friday to $10.1 million. For a period piece living in the shadow of the effects-filled Transformers, this was a solid start, and by Friday we knew it was going to outgross the tracking estimate of a $35 million five-day start. Public Enemies finished the weekend with a three-day estimate of $26.2 million, and five-day estimate of $41 million. With that large $100 million budget, Public Enemies desperately needed at least a $30 million five-day, so this start must be deemed a success. This release should see an opening-to-domestic finish multiplier of about 3.5 (or higher, given the July 4th curveball), which will make it a $100 million plus domestic earner.

The period piece is never an easy film to open, regardless of the star. Tom Hanks was coming off a string of hits when he opened Road to Perdition to a somewhat soft $22 million over three days in 2002 (it went on to make a little over a $100 million). Mullholland Falls had a cast that included Nick Nolte, Michael Madsen, Jennifer Connelly and Melanie Griffith (in their respective heydays) and opened to only $4.3 million in 1996. The 1991 flick Mobsters had Christian Slater transitioning from Robin Hood: Prince of Thieves and tanked with only a $6 million opening. Finally, period piece Billy Bathgate with Bruce Willis, Dustin Hoffman and Nicole Kidman was a notorious flop in 1991 with a $4 million opening. I thought the writing was on the wall with Public Enemies, and I'm releived that the opening is better than the pedigree. It will be interesting to see where this one heads in the weekends to come.

The Proposal, the only romantic comedy in the top ten, had another great weekend, as it is proving to be one of the better counter-programming examples we've seen (it helps living in the shadow of the ultra-huge Transformers). After dropping 45% last weekend against the mighty machines, the Sandra Bullock flick bounced back nicely this weekend, earning $12.8 million and dropping only 31%. Considering the amount of competition and the July 4th weekend, Disney and Touchstone have to be very happy with this result. The Proposal is now a stone's throw away from $100 million with a gross so far of $94.2 million – all against a budget of only $40 million.

Fifth spot goes to The Hangover, which doesn't hold up as well as The Proposal, as part of its audience is at Public Enemies and Transformers. Now in its fifth weekend, The Hangover earned another $10.4 million and drops a not-terrible 39%. The Warner Bros. flick passed the $200 million mark this weekend, and while its future outlook does not look as rosy as it once did, The Hangover still has an outside shot at $250 million, and should outgross Wedding Crashers ($209 million) by the end of next weekend. It has a current domestic total of $204.2 million against a budget of only $35 million.

Up falls to sixth, and it is no suprise that the Pixar film took a drubbing from Ice Age 3, as Up moved out of those 3-D theaters, while Ice Age moved in. Up grossed $6.6 million and fell 50%, which is similar to the surprise 54% drop that Coraline (another 3-D animated flick) saw earlier this year in its fourth weekend, after drops of 12% and 23%. For Coraline, those pesky Jonas Brothers moved into theatres, and their 3-D concert experience left Coraline on the outside of those higher 3-D ticket prices. For Up, the move out of the 3-D theatres doesn't matter as much. Up has already earned $264.9 million, and is now Pixar's second highest grossing movie next to Finding Nemo, as it passed The Incredibles this weekend.

My Sister's Keeper takes an absolute (and unexpected) drubbing this weekend. After debuting last weekend to $12.4 million, the Cameron Diaz flick got bashed this weekend, earning only $5.3 million. That gives the weeper a drop of 58%, and goes against the norm of weepers providing good legs. This one won't come close to The Notebook's domestic tally of $81 million. My Sister's Keeper now has a gross of $30 million.

The Taking of Pellham 1 2 3 continues its fall, as this one has quickly lost momentum from its $23.4 million opening weekend. After drops of 49% and 55%, Pellham records a gross of $2.5 million, and drops 54% in its fourth frame. The Tony Scott thriller now has a gross of $58.4 million.

Ninth goes to Year One, the Jack Black/Michael Cera comedy. After a ridiculous drop last weekend of 69%, things don't improve that much this weekend. Year One earned $2.1 million and dropped 65%. It has a tally so far of $38.1 million against a budget of $60 million.

Night at the Museum: Battle of the Smithsonian also gets kneecapped by Ice Age, but for different reasons than Up. Night at the Museum 2 earned $2.1 million and fell 42%. Museum 2 is one of those broad family comedies like Ice Age that is more centered on laughs than Up. The Ben Stiller comedy has now earned $167.8 million, and over $200 million from overseas business.

Overall this weekend, things are better than I thought they might be. Considering where the holiday landed this year, the top 12 films earned a solid $155,729,533 million. Last year, with July 4th landing on a Friday, the top 12 films took in $153 million thanks to Will Smith and Hancock. In 1998, the last year July 4th fell on a Saturday, the top 12 brought in just over $100 million. Next weekend should be very interesting again, as Universal opens Bruno, while Fox opens the much smaller I Love You, Beth Cooper.