The Indie Month That Was
By Michael Lynderey
July 2, 2009
BoxOfficeProphets.com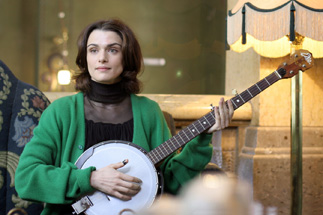 ---
Just as the major studios did, the indies unleashed a torrent of new releases upon filmgoers in May. Some well-known names popped up in front and behind the camera, but the year's streak of underperforming smaller releases continued.

Soderbergh keeps at it

A somewhat unusual release was Steven Soderbergh's the Girlfriend Experience. While most people are familiar with the director's big hitters, like Erin Brockovich, Traffic, and the Ocean's Eleven movies, Soderbergh's actually been building up an army of Indie esque films on the side - titles like Full Frontal, Bubble, The Good German and Che. The Girlfriend Experience is another unusual addition into that meme - it's an experimental drama about the life and times of a New York call girl, with a focal point being the obsessions of her clients. To point out that the film was screened at Sundance would be redundant. Despite the sordid premise and the presence of former (?) porn star Sasha Grey in the lead, the film has generally been appraised as exploration, not exploitation - with Roger Ebert declaring it "true about human nature".

While I suspect that the Girlfriend Experience indeed had good intentions, not all reviews were as enthusiastic as Ebert's - the RottenTomatoes score is only 58%. Opening in 30 theaters on May 22nd, the film pulled in an acceptable per-screen average of $5,432, which gave it a mandate to expand, ultimately getting to 48 screens before running out of gas. The total gross currently stands at $642,853, not untypical of Soderbergh's indies.

Movies about high-priced call girls just don't do box office like they used to.

Con games & Coward films

May's highest profile indie release was the Brothers Bloom. This one was pushed back from its original December slot, probably for fear of being lost among the bigger-buzz Oscar wannabes. It stars Adrien Brody, Mark Ruffalo and Rachel Weisz, who have all spent the last few years alternating between some big Hollywood movies and films exactly like this one. Also on hand is Rinko Kikuchi, who was great as the troubled Japanese girl in Babel and hasn't been seen again on American screens until now. The direction is by Rian Johnson, helmer of the apparently well-known indie, Brick; every single review of the Brothers Bloom mentions how good Brick was, so I'll be creative and not say that.

Anyway, the Brothers Bloom is another in what seems like an endless parade of movies about con artists; I could be totally wrong on this, but at this point I seriously think there are more people practicing this profession in the movies than in real life. In fact, it might actually be the overt familiarity with this subgenre that limited the film's box office appeal (a theory that also applies to the recent Duplicity). By now, we all know the hallmarks of the Con Film, including: the opening con that establishes the characters; the unsuspecting victim who actually knows more than they let on; and the final twist, revealing that everything we knew was wrong - and turning the con man into the conned. Still, 63% of reviewers on Rotten Tomatoes voiced their approval.

Opening on May 15th, the film started out at four screens (delivering an excellent $22,600 per-screen average) before expanding on to 52, 148, 173, and finally 209 locations - the film's peak. The movie's best weekend was its third, where it grossed $627,971 out of 148 slots. The Brothers Bloom now stands at a total of $3.1 million, which isn't bad, but with that cast and pedigree, expectations were probably higher.

Next, late May brought the release of Easy Virtue. On paper, this sounds like a home run. It's a British film based on an old Noel Coward play (the guy's been dead for over 35 years, so I guess all his plays are old). It stars those markers of English prestige, Colin Firth and Kristin Scott Thomas, along with Jessica Biel (giving this some American cred) and Ben Barnes, who headlined that Narnia sequel last summer and is now back in his natural habitat - 1920s British period pieces. Easy Virtue's directed by Stephan Elliott, an Australian previously responsible for the Adventures of Priscilla, Queen of the Desert; aside from being a major indie hit in 1994 ($11 million!), it was one of those movies with a title so great I'm actually afraid to see it and ruin the mystique.

As hinted above, Easy Virtue is another in a long line of English country house comedies featuring bickering eccentrics doing what they do best. Coward wrote this one in 1924, and no less than Alfred Hitchcock himself directed a film version in 1928 (no, he didn't turn it into one of his thrillers). I guess 81 years is long enough for those who weren't satisfied with the original to hunger for a remake, and so here it is. At a glance, Easy Virtue reminded me of another May release - namely, the 2002 adaptation of the Importance of Being Earnest. That one, a light period piece comedy which also trapped Colin Firth in a big English country estate, grossed a fair $8.4 million in its limited run. It came out at a peak time for British films - especially costume dramas, many of which were then taking in very respectable grosses at the American box office. But, times have changed, and Easy Virtue now seems like a kind of relic from the past - one of the last of its kind, perhaps.

Anyway, the folks at RottenTomatoes gave this a mixed consensus of 50%, and the film's so far totaled only $2.0 million, with not much chance of reaching higher ground. Easy Virtue's widest release came in mid June, when it played in 255 theaters and took in a per-screen average of only $1,683. It's too bad, really, because Jessica Biel was taking a chance here - a definite break from her higher profile films. And she got pretty good reviews for her troubles, too. Looking at Easy Virtue's reception, though, I have to wonder - when it comes to British filmmaking, does this film mark the end of an era?

Foreign film fest

Getting less box office recognition, but worthy of a mention, is the Japanese release Departures. This was the film that surprised at the Academy Awards this year, winning the Best Foreign Film prize away from heavy favorites Waltz with Bashir (Israel) and The Class (France). Departures is a family drama involving the mortuary business, so it's not exactly the cheeriest of subject matter, and at 72% on Tomatoes, it wasn't as well reviewed as foreign films tend to get. But still, interest based on the Oscar win must have been high enough, because the movie's nine theater opening took in a respectable $8,327 average. In the weekends following its May 29th release, the film went up to 16, 23, and finally 27 slots; as custom has it, the average gross dipped down in the process, bottoming out at $3,167 and a total gross, so far, of $612,518. Frankly, that tally is bigger than I would have expected - it may be that most people have never seen a mortuary movie where the dead don't actually come back to life, and wanted to know what one was like.

Also on the foreign film circuit lately was O'Horten, a Norwegian drama about a retiring train driver. The director, Bent Hamer, previously helmed Factotum, the Matt Dillon movie that was sort of about Charles Bukowski. At 87% on the TomatoMeter, O'Horten had an absolutely impeccable critical mandate, but do I really have to tell you that it didn't do very well at the box office? $197,000 is about what it's pulled in so far. If you want to look at the plus side, though, I could tell you that this tally may well make it one of the highest grossing Norwegian films in the U.S. That's something, right?