Weekend Forecast
By David Mumpower
July 1, 2009
BoxOfficeProphets.com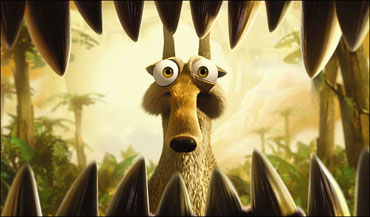 ---
In an odd Leap Year-related calendar quirk, there has not been a July 4th that fell on a Saturday since 1998. For those of you too young to remember Armageddon's opening weekend performance, suffice it to say that there is a reason why studios have decided to release this week's blockbusters, Ice Age: Dawn of the Dinosaurs and Public Enemies, on Wednesday. Rather than be negatively (and artificially) impacted by an unfortunate calendar configuration, Fox and Universal have both decided to claim five days worth of box office instead. It's a smart play that should make both films sound like big hits when weekend estimates are announced on Sunday whether they have proven successful or not.

Before we discuss the individual openers, let's flash back as to why the Wednesday debut is requisite. When the final day of 1998 ended, the top earning film of the year was Armageddon with a final gross of $201.6 million. Six weeks later, Saving Private Ryan would ride the Oscar buzz of 11 nominations to become the biggest grossing release of 1998, but that's not the point. Armageddon was on paper the most noteworthy release of the year and its box office performance largely bore this out.

Despite all of its success, however, Armageddon opened to a hugely disappointing $36.1 million during its first weekend of release. Why did that happen? Its first Saturday in release was also the July 4th holiday in the United States. The negative impact saw a title that earned $13.6 million on Friday drop 23% to $10.5 million on Saturday before rising 13% on Sunday to $11.9 million. Anyone following box office for any of length of time realizes that Saturdays are supposed to be the largest box office day of the weekend and they absolutely should not be outperformed by Sundays as a rule. Armageddon suffered exactly this fate for one reason and one reason alone.

A Saturday July 4th is bad for business at movie theaters. American people want to have cookouts and go see fireworks rather than go see a movie as is their usual wont on a Saturday. This is the reason why Armageddon opened on a Wednesday. The studio hyped the still-disappointing $54.2 million five-day result to anyone who would listen, because it sounded better. It was also more honest, something we all know is unnatural behavior for most studio spin doctors. This time, the folks at Disney had a legitimate gripe, and it was borne out by the fact that the film did almost four times as much after its first five days in theaters. Just to put that in perspective, if Transformers: Revenge of the Fallen behaved similarly, we'd be talking about an $800 million domestic performance, enough ticket sales to make even James Cameron envious. Armageddon's legs lasted forever, because A) that was the more characteristic box office behavior of the time and B) its first weekend sales were artificially deflated. Since studios cannot depend on A any longer, they have to beware of B as much as possible. And that's why we get the latest Ice Age film and Johnny Depp's next smooth criminal release today instead of Friday.

As for the films themselves, we'll start with Ice Age. When the original film came out in March of 2002, an unnamed box office analyst (with the initials of D.M.) posted a monthly forecast estimating that Resident Evil would be the biggest film of the month. I was only off by $135 million or so. Ice Age's success caught everyone off guard when all of North America decided to watch Scrat try to capture an acorn. The $60 million production earned a whopping $383 million worldwide, making it one of the best movie investments of the decade. What was more impressive, however, was the performance of the similarly frugal Ice Age: The Meltdown. Its $80 million production cost garnered $650 million in worldwide box office, making it the 28th biggest worldwide hit at the time. It remains the 35th biggest global blockbuster today. The two Ice Age films in tandem have earned over a billion dollars in ticket sales. This is one of the largest franchises going today and big things have always been expected of the third film. Why?

This Ice Age movie has dinosaurs.

Sure, the others did as well, but it's right there in the title now. Ice Age is about to take a turn for the Jurassic Park, a meeting of box office juggernauts if ever there were one. Fox has been guaranteed a blockbuster ever since the project was announced. Even so, the trailer that shows Scrat falling in love while learning a valuable lesson about women in relationships might as well be a license to print money. Why then does this title feel a bit outshined? Presumably, it's because Transformers: Rise of the Fallen, the $200 million tentpole title, has been in theaters only seven days. The buzz from it is silencing a lot of talk about the next major kiddie film and while it's accurate to say that Ice Age skews even younger, there is some intersection here. That's the primary reason I am not expecting Ice Age: Dawn of the Dinosaurs to surpass the $75.6 million five-day total of Ice Age: The Meltdown. I expect a Wednesday-to-Thursday tally in the $18 million range followed by a weekend total of around $54 million, giving this a Wednesday-to-Sunday result of $72 million.

While you may experience some difficulty getting excited about another Ice Age film, the other major release this week should have your interest. Public Enemies is a gangster era crime flick starring Batman and Jack Sparrow plus that French chick who recently won a Best Actress Oscar. As far as movie pedigrees go, this one is way up there. Up until a couple of months ago, some may have argued that the biggest name in this film is Christian Bale. He is, after all, the titular star of the second most successful movie of all time. Then, Terminator Salvation came out. Now, we have quite firmly established it's the cowl, not the man, who drove ticket sales on The Dark Knight. That puts the onus of making people want to see Public Enemies on Johnny Depp, just as always should have been the case.

Depp's post-Sparrow career has been exceptionally consistent, save for The Libertine. Ignoring his one arthouse performance, Once Upon a Time in Mexico, Secret Window, Finding Neverland, Sweeney Todd and The Corpse Bride all finished in the $50 million range. That's great news as long as a film doesn't have a $100 million budget, but since Public Enemies does, Universal is clearly hoping for a performance more in line with Depp's biggest non-Pirate themed hit, Charlie and the Chocolate Factory. Neither its $56.2 million debut nor its $206.5 million final domestic take appears likely here, though. Those are instead Ice Age 3's hopefuls. While the combination of Depp and Bale is an enticing one on paper and I'm down for any Michael Mann film (serious, ANYTHING he does), this project isn't showing the signs needed for it to break out. It looks like a period piece version of Inside Man in terms of box office. I expect a $27 million opening weekend plus about $9 million more of Wednesday/Thursday revenue. Like most of Mann's work, I expect this to be a better movie in terms of quality than box office performance.

As for the second weekend of Transformers: Revenge of the Fallen, it's unfortunate that this forecast has to be written in time of Wednesday publication. Later in the week, we'll have a much better idea of what to expect with regards to its legs. What I do know for certain from Monday numbers is that it fell almost 54% from Sunday with $14,853,940. Just to put that in perspective, consider that it shakily claimed $200 million over its first five days in theaters (why must you turn this place into a den of lies, Paramount bean counters?). That was only $3.7 million behind the mind-boggling five-day total The Dark Knight managed last summer. If we compare the films' first Mondays, however, the difference is a full $10 million. Do I expect Transformers 2 to be matching The Dark Knight step for step in its first set of weekdays? Of course not. I do, however, feel that it's not the best news on the planet that the first weekday for Transformers 2 doesn't beat any of the first ten days of The Dark Knight.

If we're comparing it to mortal films, its first Monday does beat Shrek the Third and Spider-Man 3. It loses to both Pirates of the Caribbean sequels, albeit artificially in one of the instances. The first Monday for At World's End was Memorial Day. Dead Man's Chest unequivocally clocks Transformers 2, though. It earned $18.1 million on its first Monday, a full 22% better. Given that the third Shrek and Spider-Man films are not considered leggy while Dead Man's Chest wound up with roughly $416 million, there is some middle ground here for Revenge of the Fallen in this regard. I'm inclined to believe this one will have a second weekend hold on a par with Dead Man's Chest percentage wise since it's dealing in smaller numbers. There is still the issue of July 4th being a Saturday, though. Because of that, I'm downgrading it a bit to a 58% drop and a second weekend of $45.8 million. As for My Sister's Keeper, if you honestly care about what its second weekend makes and you don't work for Warner Bros., it's time for you to go outside. Don't fear Mister Sun. He's your July 4th friend.