Box Office: The Decade at a Glance
The Year 2000: May through August
By Michael Lynderey
June 30, 2009
BoxOfficeProphets.com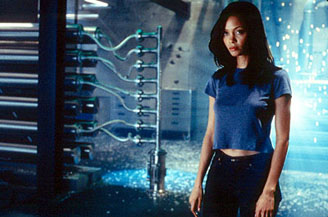 ---
May

By the year 2000, Twister (1996), Deep Impact (1998), and The Mummy (1999) had clearly established that the first ten days of May were indeed the start of the summer movie season. This schedule hasn't been altered since. May 2000 was a solid blockbuster month, with three films becoming big hits (two beyond expectations).

Gladiator was released on May 5th, and became the inspiration for a popular subgenre in the decade's first half: the serious historical epic with no fantasy elements and an attempt, of sorts, at realism. Gladiator opened with $34 million and finished with $187 million, going on to win Best Picture at the Oscars and definitively turning Russell Crowe into a huge star. The second weekend of May certainly didn't take away any of the film's shine - the highest profile of the new films belonged to Battlefield Earth, which totaled $21 million. Battlefield has of course sturdily maintained its reputation as one of the worst movies of the decade, and one of its biggest flops. Was this pre-ordained? Maybe not - initially, Battlefield Earth seemed like it could be an entertaining sci-fi film, and the presence of John Travolta gave it some star power. But in the days before the film's release, all the elements started coming together to ensure that its failure would truly be colossal.

May 19th brought an interesting collection of films. Dinosaur was Disney's entry into CGI animation, after a decade of delivering traditionally animated hits every summer. While the film's gross, $137 million, was not much bigger than its budget, the film was a decisive turning point in the phasing in of CGI. Also released on the same day was Road Trip, a thematic successor to 1999's American Pie - and indeed, that film's Stifler, Seann William Scott, had a key supporting role. Also on hand was Tom Green, at the height of his popularity. The film pulled in $68 million, probably not the best case scenario considering the expectations American Pie set in, but still a decent sum.


And finally, the weekend of May 26th saw Tom Cruise at the very top of his game, with Mission: Impossible II. Coming on the heels of the first film's $180 million total, this one went higher, finishing with $215 million and winning the summer box office sweepstakes. Cruise's star power remained sturdy for a few years more, before weakening somewhat in the decade's second half.

June

As the summer progressed, star vehicles dominated over brand names - something that wouldn't continue to be true of summer movies in the years since. Martin Lawrence delivered his first $100 million earner with Big Momma's House, while Nicolas Cage's Gone in 60 Seconds also just barely squeezed over the three digit mark. 60 Seconds was Cage's third action movie collaboration with producer Jerry Bruckheimer, after Con Air and The Rock, and was generally considered less successful. It did provide Angelina Jolie with her first summer hit, a tradition she would continue to uphold in the Junes ahead.

June 16th brought along Shaft - and thus I suppose I have to admit, begrudgingly, that reboots of old franchises are by no means a new invention. Shaft delivered $70 million, miles ahead of the box office the 1970s series saw (at least unadjusted). While I'd categorize this total as a win, I'm pretty sure studio expectations were much higher (notice the lack of sequels). Btw, if anyone wants to see a particularly arrogant Christian Bale get his just desserts, this is your film.

Next, the Jim Carrey/Farrelly Brothers team up, Me, Myself & Irene, was a disappointment, considering the track records of those involved; this was the Farrellys' follow-up to their surprise mega-hit There's Something about Mary, and teaming with a star as viable as Carrey increased expectations. But the film only grossed $90 million, a figure that Carrey would surpass in the years since, but the Farrellys would not. In fact, Me, Myself & Irene began the brothers' 2000s decline into films that ranged from minor failures to outright flops.


Mel Gibson was prominent in June, with two films - Chicken Run and the Patriot. The former starred Gibson's voice and was a stop-motion animation from the folks at Aardman Studios; it surprised by grossing over $100 million. Since the film occupied the slot usually held by Disney animation, it was yet another sign that the era of traditional animation was coming to an end. This was especially true because Titan A.E., a $75 million-budgeted animated film from Fox, absolutely bombed the week before, finishing with a meager $22 million.

The Patriot, out on the last week of June, was Roland Emmerich's follow-up to the uber-blockbuster Independence Day (1996; $306 million) and the notorious underperformer Godzilla (1998; $136 million). A three hour epic about the American Revolution is a tough sell - even with Mel Gibson in the lead, and even on the weekend before the 4th of July. So maybe the total gross of $113 million was to be expected. While Gibson would deliver another huge hit later in the year, The Patriot plunged Emmerich into an uncertain decade in which he directed only one outright success (the Day after Tomorrow). The Patriot is also notable for introducing a 21-year-old Heath Ledger into the world of summer blockbusters.

The real winner of that last weekend was the Perfect Storm, a man vs. nature film that showed director Wolfgang Petersen and stars George Clooney and Mark Wahlberg absolutely at the top of their game. Audiences evidently preferred the bad weather film over Gibson's historical shenanigans, and the Perfect Storm finished with $182 million. It was Clooney/Wahlberg's biggest hit to date, and the two continued to flourish during the 2000s.

July

While July started out with a minor hit for Bruce Willis (The Kid, with $69 million), the real story was Scary Movie. I remember being denied entrance to this on opening night - not because it was rated R, but because it was sold out. No wonder opening days and weekends have gotten so preposterously big - you try finding a movie that you actually can't get into on opening night. Fat chance. Scary Movie remains the highest grossing spoof ever made, at an incredible $157 million (or $200+ million adjusted). This kind of box office would be absolutely impossible for a spoof to achieve in 2009, and as we go through the decade, we'll see why. The film had two things in its favor - the late '80s boom of spoofs, re-launched by the Naked Gun, had not become as offensively bad as today's batch, and died out in peace around the mid-1990s. So there was no genuine revulsion for the genre on the level that exists today. That sense of revulsion, however, did exist for the slasher film, especially with Scream 3's mixed reception, and so the time was ripe to mock it all. Scary Movie was also the film that gave us Anna Faris. While we've seen Faris here and there in the 2000s, I'd say that she was underused, and being basically date-raped by Seth Rogen in Observe and Report was probably not the best way for her to end the decade. With the exception of Walk Hard, Scary Movie was also perhaps the last genuinely funny spoof made to date. The Wayans Brothers' minor attempt at a return to grandeur, 2009's Dance Flick, at least serves as a sort of closure to what Scary Movie began.

July 14th brought X-Men. This was where another 2000s trend began - it was the first sign that superhero movies could absolutely still be profitable. After the Batman series faded out and many other comic book adaptations (Spawn, The Shadow) received shaky reception in the 1990s, the future of the comic book film was in doubt. But with its $54 million opening and $157 million total (a respectable sum at the time), X-Men changed all that. While I would absolutely credit 1999's Star Wars: Episode I for giving birth to the Fanboy Movie, X-Men was the next logical step, and the confirmation that the Decade of the Fanboy was at hand.


July 21st saw the release of Pokemon: The Movie 2000, a sequel to November 1999's first Pokemon film. The first one pulled in $85 million, while the 2000 version could only muster a little over half that, with a $43 million total. Was this the last film in the franchise? Not even close, but the grosses kept going down, down, down with subsequent films. The third week of July also gave us What Lies Beneath, the last big hit for Harrison Ford until Indiana Jones 4 in 2008. At $157 million, it was a great way for Ford to cap off a decade of mega-hits. It was also one of Michelle Pfeiffer's few early 2000s films; after 2002, she'd take an almost five-year break from the movies. Goodbye, 1990s stars.

The month ended with the Eddie Murphy sequel Nutty Professor II: The Klumps. Murphy had generated a lot of goodwill with his two June hits, The Nutty Professor (1996) and Doctor Dolittle (1998), and went on to skewer both of those away with sequels (Dolittle 2 was to follow next summer). While the film's $123 million total stands up to the original's $128m, generally bad public opinion is what probably ended this series. If the franchise isn't dead, though, please don't tell Eddie Murphy.

August

August started off with the lively Space Cowboys and the disappointing Hollow Man. Cowboys was yet another in Clint Eastwood's "one last hurrah" oeuvre of films, and the combination of aging movie stars brought this one out to a nice $90 million total - a prelude to the unexpected success of Gran Torino. Hollow Man, on the other hand, was another chapter in the "science gone mad" storyline of the 1990s (see Jurassic Park, Outbreak, etc.); this subgenre usually featured a motley team of scientists - led by two or three big movie stars and several character actors - who attempt to thwart some threat to mankind, one that they often inadvertently unleashed themselves. Sounds good on paper, but the film cost $95 million and grossed only $73 million, thus basically ending director Paul Verhoeven's Hollywood career (the fact that his two previous films were Showgirls and Starship Troopers, both box office underperformers to varying degrees, didn't help). It was also the last we'd see of Elisabeth Shue in a major film until 2005.

The month's second week gave us weak star vehicles for Richard Gere and Winona Ryder (Autumn in New York), as well Kim Basinger (Bless the Child). The latter film was one of a cycle of millennium-ending Devil-themed End of the World movies that were all the rage in 1999 (yes, this one was a few months too late). Since pretty much all of those movies weren't very good, I suppose it's comforting to know we won't see another such trend for a good 990 years now. Just enough time to recover. Week 2 also gave Keanu Reeves a mild hit with The Replacements ($44 million), but Reeves saw most of his success this decade in sci-fi, leaving comedy mostly behind.


Speaking of sci-fi, it's a little odd that romantic comedy queen Jennifer Lopez had her first real solo hit with The Cell. A visually neat little combo of serial killer thriller and technological fantasy, the movie opened with $17 million and left theaters with $61 million - a surprise hit of sorts. The surprises continued with Bring It On and Coyote Ugly, two somewhat trashy teen movies that each racked up $60 million plus. To date, Bring it On has inspired FOUR sequels (to be fair, they all went straight-to-video).

Summer 2000 had frankly paled in comparison to its predecessor - 1999 was known for huge hits like Episode I, Austin Powers, The Sixth Sense, and the Blair Witch Project - the latter two coming nearly out of nowhere. Summer 2000, however, saw only Mission: Impossible II cross the $200 million mark.