Box Office: The Decade at a Glance
The Year 2000: January - April
By Michael Lynderey
June 29, 2009
BoxOfficeProphets.com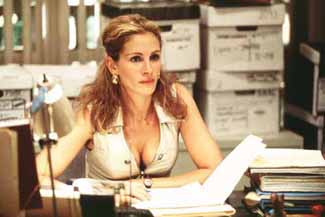 ---
It's almost time for the 2010s, and so the need develops to look back at the ten years that comprised the 2000s. The first year of a decade, I've noticed, has the habit of giving birth to many of the trends of the nine years that follow. 2000, a year that now seems so far away in time, was no different.

January - February

The year began quietly, with what has to be one of the deadest recent Januaries - at least for new movies. The holdovers from December were still doing well, as they should have been - fall 1999 was one of the best Oscar seasons of late. Anyway, January wasn't completely devoid of surprises, as Ice Cube's sequel Next Friday delivered a shocking $57 million, while teen idol Freddie Prinze Jr. starred in one of his many flops - Down to You, which grossed only $20 million, down some from Prinze's earlier hits. It would only get worse from here for Freddie, but things would go the other way around for his co-star, Julia Stiles.


The first weekend of February brought along the much anticipated Scream 3. The first two entries in the series were two of the highest grossing horror films ever made (both having delivered very strong tallies of $100+ million, the first mostly on excellent legs). The third in the series was originally scheduled for December 1998 and then the same month in 1999, before finally being pushed back to February 4th. The release date was fitting in a way, because the two Scream-less years of 1998 and 1999 had brought along a heavy supply of teenage horror and slasher films. This cycle had mostly run its course by 2000, and so Scream 3 served as a kind of closure on the subgenre. While the movie delivered the series' strongest opening weekend, at $34m, its run ended with the series' weakest total, $89m, costing the year one seemingly surefire $100 million earner. Scream 3 marked the last big film roles for both of its leads, Courteney Cox and Neve Campbell, ironic because the first Scream had turned them both into solid movie stars. Cox would have a few minor roles in the years following, while Campbell popped up in the long-forgotten Drowning Mona a month later. It would be her last role in a wide theatrical release, at least as of 2009. We miss you, Neve. The Scream series ended here, as it should have, and one would hope rumors of a Scream 4 are just somebody's idea of a cruel joke.

Elsewhere, Leonardo DiCaprio's the Beach grossed only $39 million, and answered the burning question of just how much star power he'd amassed since Titanic (it was mostly uphill from here for Leo, though). Snow Day was a cute kids' movie and minor hit, grossing $60 million. Ben Affleck's Reindeer Games disappointed with $23 million, but his solid string of hits was still ahead. Meg Ryan starred in Hanging Up ($36 million), which helped us bid farewell to her box office clout and started a trend we'd see a lot in the early years of the decade - A-list movie stars of the 1990s fizzling out, as concept-driven films replaced huge star vehicles. The Whole Nine Yards, on the other hand, represented the peak of Matthew Perry's cinematic escapades, grossing $57 million and sentencing him to star in a few little seen comedies. The same weekend saw the release of Boiler Room and Pitch Black, both of which - especially the latter - introduced us to Vin Diesel's screen persona. A mild hit at $38 million, Pitch Black paved the way for Diesel's casting in The Fast and the Furious (as we later found out, Diesel ended up a bigger box-office factor than his character here, Riddick).

March

I'd say March 2000 was fair but unexceptional. Some spring seasons have a tendency of giving us more than a few $100 million movies (the trend-setter beforehand was March 1990, where The Hunt for Red October, Pretty Woman and Teenage Mutant Ninja Turtles all grossed $100+ million, or $200+ million adjusted). In 2000, however, we just had good old Erin Brockovich, which finally won Julia Roberts her Oscar and pulled in $125 million in the process, after a $28 million opening weekend. Since we were on the subject of '90s stars dying out, it's notable that Roberts had two excellent years in 2000 and 2001, before joining the abovementioned Meg Ryan on the sidelines.

The other event movie of the month was Mission to Mars, a $90 million-budget sci-fi adventure from Brian De Palma, who had just come off the massive hit Mission: Impossible. This was one of two Mars movies released in 2000, and while its $60 million gross is an obvious disappointment, it left the $17 million that Red Planet took in later in the year teeming with envy. Meanwhile, Jet Li had his first American lead role with Romeo Must Die; Romeo happened to be one of only two films singer Aaliyah starred in before her death in August 2001. Romeo grossed $55 million, and Aaliyah could have had a decent future in film - perhaps a career along the lines of Beyonce. We will never know.

On the animated front, the Road to El Dorado had a mixed reception, finishing with only $50 million on a much higher budget. The DreamWorks movie was one of the last big traditionally animated films released by a major studio. CGI would thoroughly win the battle by 2004, forcing traditional animation to go into hiding in Japan and parts of Europe.

The spring of 1999 was notorious for the fact that seemingly every second movie ended in a high school prom, and spring 2000 continued the tradition of piling on teen movies. The following young actors had a film come out this month - Frankie Muniz (My Dog Skip - grossed $34 million - good); Joshua Jackson (The Skulls - $35 million - not bad); Leelee Sobieski & Chris Klein (Here on Earth - $10 million - bad). James Franco had his first starring role, in the largely forgotten Whatever It Takes, which at $8 million was the lowest grossing of the March teen movie bunch. I hate to wallow in flops, but Madonna's the Next Best Thing, grossing $14 million and receiving much critical disdain, effectively killed any good will she had left from her 1996 hit, Evita. Garry Shandling's attempt at film stardom with What Planet Are You From? did not exactly take off either, with only $6 million to show for itself.


On the plus side, March saw the opening of Final Destination. Just as the door on teen horrors appeared shut by the many flops of 1998 and 1999, this film re-invigorated the genre with a fresh twist and a solid gross of $53 million (after only a $10 million opening!). Three sequels followed, naturally, and one hopes that the fourth film in the series, slotted for August 2009, will close the door on the franchise at last.

April

April 2000 wasn't a very strong month, but it did bring in the $77 million-grossing hit U-571, a submarine movie. At the time, the war movie genre was still fairly viable, although this wouldn't be true for long. Other events included the introduction of Kate Hudson (with a supporting role in the teen flop, Gossip), the establishment of Christian Bale as a serious indie film actor (with the long-awaited, and ultimately little-seen, American Psycho), and the end of the Flintstones franchise (as the sequel, which shall not be named, pulled in just barely a quarter of the original's $130 million gross).

The month also saw middling, neither-here-nor-there type star vehicles for David Duchovny (Return to Me - good movie, okay $32 million gross), Sandra Bullock (28 Days; $37 million - not one of her best), Natalie Portman (Where the Heart Is; $33 million - one of her few attempts at conventional romantic comedy) and the tag-team of Samuel L. Jackson and Tommy Lee Jones (Rules of Engagement; $61 million - fine, but I wouldn't go raving about it). April also saw the release of Paul Newman's second-to-last live action film, Where the Money Is (not to be confused with the Portman film mentioned above). While this one would go completely unseen, considering its $5 million total gross, that wouldn't be the case for Newman's next, and last - Road to Perdition.