Weekend Forecast for June 26-28, 2009
By Reagen Sulewski
June 24, 2009
BoxOfficeProphets.com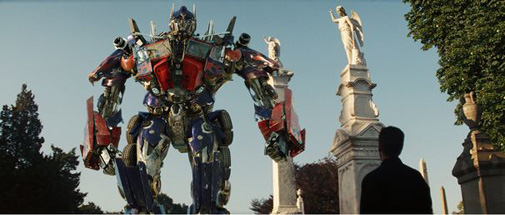 ---
Although a couple of surprise films have broken through this summer, the season has so far lacked a film that truly defines summer blockbuster – with that massive opening weekend built on hype. All signs point to this weekend finally providing such a weekend, though if we've learned one lesson this summer, it's not to count on anything.

Transformers: Revenge of the Fallen is the sequel to 2007's astoundingly successful toy-commercial-cum-action-movie directed by Michael Bay. After opening to $155 million over six days and earning close to three-quarters of a billion worldwide, Bay has to be looking to up the ante on the sequel, making it louder, shinier and explodier. Megatron is somehow back and organizing the Decepticons to recover an artifact that Shia LaBeouf's character stumbled upon ... and I feel silly for even taking this remotely seriously. Explosion!

The 2007 film veered between some undeniably gripping action scenes and outright ridiculousness, or in other words, the Michael Bay that we all know and love to hate. Explosion! It also introduced us to Megan Fox, for which you may either curse or worship Bay for at your leisure.

Reviews of the sequel are more or less abysmal (Explosion!), although that didn't stop people from going to see the first film. In this case, it might end up being a case where even though the general public knows the film will be ridiculous, there's sort of a mass-cultural hypnosis to see it - sort of the opposite of "nobody goes there anymore, it's too crowded". Explosion! It also seems to be more overtly kiddie this time around, which probably doesn't hurt things, since it's firing at the 13 and under demo almost primarily.

Opening in approximately 4,000 venues starting with midnight showings on Wednesday, the second Transformers movie looks to be the sort of loud assault on the senses that this summer has been lacking, for better or worse, and with pent up demand from a lackluster June lineup, a massive five day opening weekend total of $165 million should be in the works. Explosion!, Linkin Park song over credits.

In the non-transforming robotic world, My Sister's Keeper tells the story of a young girl, played by Abigail Breslin, conceived specifically to help save her sister's life from leukemia. When it becomes clear that she'll need to give up her kidney to her sister, she sues her parents for emancipation, bringing a whole host of issues to bear about what her rights and responsibilities to her family, and what theirs are to her, really are.

Directed by Nick Cassavetes and also starring Cameron Diaz and Jason Patric as the parents and Alec Baldwin as Breslin's lawyer, it's almost like a less gimmicky version of Irreconcilable Differences (does anyone other than me remember that film? Probably not), but with a much higher cry factor. A film like this is never going to be anything resembling a blockbuster, but it looks like Cassavetes has gotten some strong performances out of Diaz, as a mother out of her mind with worry, and Breslin, as a young girl attempting to take control of her own life. It's also pretty much the only drama out there right now, and those seeking blockbuster relief might end up flocking to this if it can gather any momentum from word-of-mouth. I'd look for it to bring in about $12 million this weekend.

Among returning films, The Hangover keeps rolling along, actually improving on its week-to-week holdover in its third frame. A drop of just 18% earned it $26 million for the weekend and moved it over the $150 million mark, making a gaudy total of $225 to $250 million or more in striking distance. Think about that for a second – the highest grossing R-rated comedy of all time could be a film starring Bradley Cooper, Ed Helms and Zack Galifaniakis. Anyone saying they saw this particular scenario coming is a liar or a madman, or both. Pencil this in for another $20 million this weekend.

This should be just ahead of last week's number one film, The Proposal. A romantic comedy starring Sandra Bullock and Ryan Reynolds, this pairing proved to be a chocolate and peanut butter situation, as its $33 million opening blew past Bullock's previous record for a first weekend, and was significantly better than anything you'd give Reynolds solo credit for in the past. A perfectly inoffensive movie, it's not about to turn into a Hangover like sensation, but also it won't drop off the face of the Earth. I'd expect about $19 million for it, further solidifying Reynolds' leap to the big time.

Up will very temporarily take over the reins as the highest grossing film of 2009 after this weekend, passing Star Trek's approximately $245 million, as well as moving past Cars and Toy Story 2 in the Pixar hierarchy. The moving animated film has shown relatively uncommon legs for summer, and is part of the "quality trio" that also includes The Hangover and Star Trek that have surpassed expectations and their opening weekends. With another $14 million, it should get to around $250 million, and very possibly could reach $300 million by the end of its run.

Year One's $19 million is kind of a mixed bag. It's not really a flop, but with the star power of some of the actors, Jack Black specifically, it really should have done more. It's not a bad place to start for a movie, but no one believes this is going to have any legs. Give it about $10 million for its second weekend.

Elsewhere down the ladder, The Taking of Pelham 1 2 3 is about done after its second weekend, and is looking at around a $70 million final total, solid but not spectacular for Denzel, Travolta and Tony Scott. Night at the Museum 2 has turned what looked like a disaster into a respectable $156 million so far, with about $175 looking like its final total. Star Trek might hit $260 million, while Land of the Lost is going to peter out short of $60 million. And the less said about Imagine That, the better, for Eddie Murphy's sake.