Weekend Wrap-Up
Hangover Still Strong But Bullock Breaks Out
By John Hamann
June 21, 2009
BoxOfficeProphets.com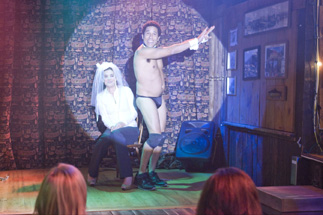 ---
Sometimes the weekends that seem to be the least interesting at the box office become the great ones, and that's what we have this frame. Back-to-back weekend champ The Hangover took on two new comedies - Sandra Bullock and Ryan Reynolds in The Proposal, and Jack Black and Michael Cera in Year One. With all of these potential yuks, one would have to fail, right? If there were three action films competing for top spot, at least one would definitely miss, right?

Our number one movie for the first time in two weekends is not The Hangover (although it did very well). Instead, somewhat surprisingly, it is The Proposal, Sandra Bullock's new rom-com co-starring Ryan Reynolds. Sandra Bullock had never had a $20 million plus opener – until this weekend – as The Proposal broke out to a surprisingly strong $34.1 million over three days. The Touchstone (Disney) release opened at 3,056 venues and had a theatre average of $11,163, by far the best in the top ten. Considering there are seven (!) other comedy features in the top ten, this is even more of a surprise, but with some soft openings and holds over the last couple of weekends (My Life in Ruins, Land of the Lost, The Taking of Pellham 1 2 3), The Proposal was well timed to break out. It obviously drew men as well as women, and was the Friday night date movie of choice, as it eclipsed The Hangover by almost $8 million.

For Sandra Bullock, The Proposal is a big step up over her previous work. Her former biggest opening - due mostly to inflation - was March 2007's Premonition, which opened in third to $17.5 million behind the second weekend of 300 and the third weekend of Wild Hogs. Premonition was critically reviled, scoring only 8% fresh at RottenTomatoes. Her second biggest opening was another much-hated flick. In this case, it was the disaster that was Speed 2: Cruise Control, which opened to $16.2 million in 1997. Between those films, though, Bullock opened 13 films between $9.1 million (Oscar winner Crash) and $16.1 million (The Divine Secrets of the Ya Ya Sisterhood), and was one of Hollywood's most consistent bets over more than a decade. She has had four films gross more than $100 million, and The Proposal should be her fifth.

Why did The Proposal break out over opening weekend and not something like Two Weeks Notice, despite having very similar mixed reviews? It just may be Ryan Reynolds, the goofy comedian who has definitely worked hard to raise a name for himself. Reynolds was most recently in X-Men Origins: Wolverine as Wade Wilson (aka Deadpool), which is certain to raise an actor's profile, but also through a string of comedies where Reynolds was able to convey a certain charm and charisma. Films like Adventureland, Just Friends and Definitely, Maybe were not huge hits, but did create a following for the young actor. Reynolds has been waiting to break out in a movie like this, and will hopefully replace the smarmy Matthew McConaughey as the go-to-guy for rom-coms.


The Proposal cost Touchstone, Mandeville Films (Beverly Hills Chihuahua, Raising Helen and the upcoming Surrogates) and Kurtzman/Orci (the executive producers of Star Trek) only $40 million to make. That means that this rom-com is going to be a great investment for its producers, as Sandra Bullock is just as reliable overseas as she is in America. Domestically, The Proposal has the romantic comedy genre all to itself until mid-July when the Ugly Truth opens with Katherine Heigl. However, it will run into chick-flick territory when My Sister's Keeper opens next Friday.

Second spot goes to The Hangover, and despite dropping to second, the shine certainly has not come off the comedy that would make The Proposal blush. The Hangover enjoyed its third weekend of release with a gross of $26.9 million, which joins its other solid weekends of $45 million and $32.8 million. The biggest news for The Hangover this weekend is its slim drop. The Warner Bros. flick fell only 18%, which is an amazing hold for any film in its third frame. This one is still doing impressive weekday business as well. In the last week, The Hangover did not have a gross less than $5 million, as it pulled in about $22 million from Monday-to-Thursday. At this point, it looks like The Hangover is going to easily outgross even Wedding Crashers, which finished its amazing Summer 2005 run with $210 million. So far, The Hangover has earned $152.9 million, and could be on its way to as much as $250 million, all against a budget of only $35 million.

Third spot was a showdown between Jack Black and Michael Cera in Year One, and Pixar's Up. The winner was Up, which has another fabulous frame. After finishing the previous weekend with a $30.8 million, Up drops 31% this weekend to $21.3 million. Up crossed the $200 million mark on Thursday, its 21st day of release, which means it took one day longer than Finding Nemo did in 2003. Up now has a cumulative gross of $224.1 million, as it looks to finish toward the upper ranges of $200 million. It should have another healthy frame next weekend even against Transformers, but then it may be called Down in the following weekend when it faces off against Ice Age 3, as it will lose its 3-D venues

Up's third place finish means that fourth goes to Year One, which grossed a slightly higher-than-expected $20.2 million from 3,022 venues. It had an average of $6,684. Personally, I'm quite surprised that Year One managed to gross as much as it did, considering it had a stream of unfunny TV ads (starting with the Super Bowl) and trailers. Reviews were as bad as I expected them to be (20% fresh at RT), and I can only guess that the Paul Blart fanclub drove this one above $20 million. For Jack Black, this debut is right in line with some of his other opening weekends like School of Rock ($19.6 million opening), Shallow Hal ($22.5 million opening) and Tropic Thunder ($25.8 million opening). For Michael Cera, this is another strong first weekend to add to his resume, after Nick and Norah's Infinite Playlist ($11.3 million opening), Superbad ($33.1 million opening) and Juno ($143.5 million domestic finish). I think Year One will pay more of a price when Transformers: Revenge of the Fallen opens next weekend than The Proposal, but one never knows.

All of this success usually means someone has to lose, and the loser this weekend is The Taking of Pellham 1 2 3. Despite starring Denzel Washington and John Travolta, and not having any new action competition this weekend, Pellham took it on the chin, bringing in only $11.3 million and dropping a severe 52%. Word-of-mouth seems to be all going to The Hangover and Up, so Pellham suffers badly this weekend. The Taking of Pellham 1 2 3 has a domestic total of $43.3 million.

Sixth goes to Night at the Museum: Battle of the Smithsonian. After a lower-than-expected opening frame ($54 million) and a calamitous drop in its second weekend (54%), Night at the Museum has leveled off nicely. This weekend's gross comes in at $7.3 million, and compares nicely to last weekend's gross of $9.6 million, as it finishes with a drop of only 24%. The production that cost $150 million to make has now earned $156 million domestically, and over $175 million from overseas cinemas.

Despite finishing last weekend with a little above half of Land of the Lost's gross, Star Trek – in its seventh frame - is able to climb over the Will Ferrell comedy. The Star Trek reboot earned another $4.7 million and slips a very slim 14%. The JJ Abrams directed flick has now earned a powerful $239.4 million.

Eighth is the ugly Land of the Lost. The Will Ferrell flick earned only $4 million and drops a woeful 56% in this frame after dropping 52% last weekend. The $100 million Universal comedy with the $200 million negative cost now has a total of $43.7 million, and looks to finish just above $50 million.

Ninth goes to Imagine That, which continues to struggle a bit after bombing with a $5 million opening last weekend. The Eddie Murphy family film earned $3.1 million and drops 44%. The $55 million film now has a gross of $11.4 million.

Finally in tenth is Terminator Salvation, as it spends its last weekend in the top ten. The Christian Bale step backward earned $3.1 million in its fifth weekend, and drops 36%. Terminator Salvation now has a domestic gross of $119.5 million, and an overseas take of about $165 million.

Overall, the weekend box office finally has a frame that beats last year. Over the June 20-22, 2008 frame, the box office, Get Smart led the pack with $38.7 million, but the Love Guru flopped, leaving the top 12 films with a $138.4 million gross. This year, thanks to a big success from The Proposal and a great hold from The Hangover, the top 12 took in $140.7 million. Next weekend, things will be even bigger, when Transformers: Revenge of the Fallen appears.