Friday Box Office Analysis
By Kim Hollis and David Mumpower
June 20, 2009
BoxOfficeProphets.com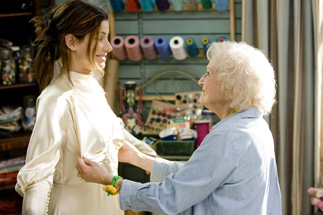 ---
If you like comedy, this is the weekend for you.

The Proposal

The Proposal, which pairs up Sandra Bullock and Ryan Reynolds in a movie about a boss who forces a younger employee to marry her, earned an outstanding $12.4 million on Friday. While the movie will be Reynolds' second best opening in the last six weeks, it will be the best of Bullock's career. Surprisingly, a staggering percentage of her movies open directly in the $14 million range, with Premonition being her previous best at $17.6 million. That record will have been broken by the time you read this. Credit it to an under-served demographic that was hankering for a night out with friends. The Proposal should earn around $33 million for the weekend.

Year One

From the time the disastrous Super Bowl ad aired, Year One felt like a loser. It looked like a pale imitation of movies like The Life of Brian and Mel Brooks' The History of the World Part I, and it seems as though audiences have more or less sniffed this one out, though it's not a total disaster by any means. In fact, with an $8.5 million Friday and a likely $21.2 million weekend, it's going to fall right in line with other "Jack Black movies" like Nacho Libre ($28.3 million opening), School of Rock ($19.6 million opening) and Shallow Hal ($22.5 million opening). However, Year One is probably going to struggle to earn its budget back on the domestic front.

Notable Holdovers

Hangover earned another $8.5 on Friday, keeping it even with Year One, though it's going to relinquish the number one spot to The Proposal for the weekend. It's continuing its magical run, as the comedy with no stars is down only 17.5% from last Friday. On an interesting trivia note, Friday is only the fourth day that The Hangover has not been in first place. The previous three days, it had been beaten by up. It should bring in another $26.3 million for the weekend as it continues its remarkable stay in theaters.

The Taking of Pelham 1 2 3 got clobbered, falling 61% from last Friday as it earned $3.2 million. This is a bit troubling for a movie that didn't have that large of a Friday to begin with. It will recover some over the weekend, and the studio will probably estimate it at around $10 million. After ten days, it should have a total around $42 million, which will make it a mediocre Denzel Washington performer rather than an exceptional one.

As for Up, it became the second movie of 2009 to cross the $200 million mark on Thursday. Comparing its 22-day total to 2009's other big performer, Star Trek, and Pixar's biggest performer ever, Finding Nemo, Up had earned $209 million versus Star Trek's $200.3 million and Finding Nemo's $213.7 million. Essentially, it's outpacing Star Trek and stands to become the year's biggest movie (though there are some serious contenders in the coming weeks) and holding its own against Nemo. The Pixar flick took in an additional $6.2 million on Friday, which is only a 29% decline. It should earn another $21.7 million for the weekend, which would put it ahead of Year One if our predictions hold true.