Weekend Wrap-Up
Hangover Chucks Up From Top Spot (Again)
By John Hamann
June 14, 2009
BoxOfficeProphets.com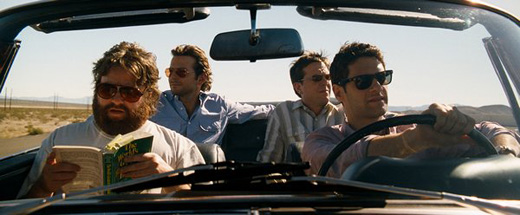 ---
Box office analysis got turned on its head last weekend, as tracking not only missed a very strong movie in The Hangover, the weekend estimates were also wrong, putting Up too far up (still with me?). It took until Monday to figure out that The Hangover had chucked Up out from top spot, making Up not the number one film for two weekends in a row (if you're confused, take notes). Then, The Hangover had a lot of hangover from the weekend, as its weekday scores were unbelievably strong, setting up a showdown again this weekend between Up and The Hangover. And there were two openers this weekend – like you care.

It's been a goofy ten days, but I'm very happy that what happened in Vegas, didn't stay there. The Hangover is suddenly the big thing at the cineplex, finishing last weekend with one of the biggest R-rated comedy openings of all time, and then holding those scores surprisingly well throughout the week. On Sunday, The Hangover was estimated to have finished second, earning $43.3 million over its first three days; but when actuals were counted on Monday, the correct three-day figure ended up being pushed up to $45 million. An under-estimation of weekend box office is something we almost never see. Films are often over-estimated so that studios can tell the press that their film is number one, even though they know that's not the case. An under-estimation of $1.7 million and a move from second to first is mind-blowing, so much so that I can't remember the last time it happened to such a degree at the box office. Things didn't slow down from there. The Hangover then had four consecutive weekdays over $6 million, something that Terminator Salvation couldn't do (it dropped to $3.7 million on its first Tuesday), Star Trek couldn't do (its first Wednesday and Thursday both came in around $5.7 million), and Wolverine and Night at the Museum didn't come close. American Pie 2 and Sex and the City - the two R-rated comedies that out-grossed The Hangover over opening weekend – didn't come close either. All of a sudden we know we have something very special happening at the box office, as we may be preparing to anoint the biggest domestic earner ever for an R-rated comedy. According to the LA Times, movies for adults are dead, so there must be a lot of corpses showing up for The Hangover.

Our number one film is The Hangover, Todd Phillips' hilarious word-of-mouth comedy, starring no one. After a fantastic opening six days, The Hangover continued its strong run into the weekend, recording a Friday gross of over $10 million. The movie finishes its second weekend with a fantastic gross of $33.4 million. It recorded a weekend-to-weekend percentage drop of only 26%, and had an electric venue average of $9,960 from its 3,355 screens, 86 more than last weekend. That hold is crazy good – the top R-rated comedy opener Sex and the City dropped 63% in its second frame and the second biggest, American Pie 2, fell 53%, as both of these films had big built-in audiences. Probably the best comparison now is Wedding Crashers, the surprise comedy of 2005, as the original American Pie is too old to be relevant and opened with less than half of what The Hangover did. Wedding Crashers, on the other hand, opened to $33 million ($12 million less than The Hangover, but still in the neighborhood), and dropped a similar 24% in its second frame. The Owen Wilson/Vince Vaughn flick also had strong opening weekdays, not recording a weekday gross below $4.63 million, which is pretty much proportionate to The Hangover given the difference in opening weekends. The Wedding Crashers was unique because it didn't see the number one spot until its third weekend, as it had to deal with Johnny Depp and Charlie and the Chocolate Factory for the first two weekends. The Hangover could actually be number one for three consecutive weekends, as next weekend's openers are The Proposal and Year One. Sandra Bullock has never opened a film above $20 million, and Year One is far from a sure thing.

What may be the biggest surprise here is that The Hangover is doing what it's doing without any big stars, or a big gimmick. As we are going to find out later in this column, the movie business has become less about the big names attached to movies, and more about gimmicks - and in the case of The Hangover, good, funny, well-marketed ideas. The marketing didn't give up on The Hangover like we see with so many other films – one weekend and out is the theme in the movie business – but here we saw a continued advertising push, and combined with word-of-mouth, we have a film that could repeat at number for three consecutive weekends. Budget data for The Hangover has been stated at between $25 and $35 million. Using that $35 million, The Hangover has more than doubled that amount before the second weekend even started, and even if we consider that prints and the extensive marketing campaign cost another $50 million, the production companies involved here are still seeing a return on their investment only ten days into release. The Hangover now has a domestic cumulative total of $105.4 million, and will see at least $175 million before it's done domestically.

Neither opener takes the number two spot (if you're waiting for Imagine That, get comfortable), as Pixar's Up has another weekend in that position. After a $44 million haul in the previous frame, the animated adventure earned $30.5 million, and drops a still fantastic 31%. For summer-released Pixar films, Up is having a great ride so far. As of this Thursday, Up was behind only Finding Nemo for the highest grossing Pixar film after 14 days of release with a total of $156.7 million versus Nemo's $163.1 million. Up outgrossed Nemo and the rest of its Pixar brethren on Friday night, and records the biggest third weekend gross ever for a Pixar film, beating Nemo's $28.4 million. At this point, I would say that Up is pretty much a lock for $250 million; however, it will be interesting to see how much of an effect Ice Age 3 has on those key late-run weekends for Pixar flicks. For example, Nemo had three late-run weekends where it dropped less than 20%. Up has now grossed a fantastic $187.2 million, already out-grossing its large production budget of $175 million.

The Taking of Pelham 1 2 3 is our number three film, despite starring A-listers Denzel Washington and John Travolta. Pelham earned an okay $25 million from 3,074 venues; it had a venue average of $8,133. Unless you are a regular reader of this column, it may surprise you that this opening is actually toward the top end of Washington's opening weekends. His biggest opening came in 2007 with American Gangster with Russell Crowe – that one opened to $43 million – and was by far the biggest of his career. Usually with Washington, his wheelhouse opening weekend shows up between $16 and $22 million, with only American Gangster and Inside Man ($29 million) opening above that range, and only The Great Debaters ($6 million) and The Siege ($14 million) opening below that range since 1998 (and a few platform releases). Travolta, on the other hand, is more like Nic Cage, with mostly bad films opening all over the place. Denzel Washington flicks are supposed to be all about legs, and that may be a problem for The Taking of Pelham 123. Reviews were split right down the middle, with RottenTomatoes recording a score of 51%, with 61 critics liking it, and 59 not. It may hold okay next weekend, but the weekend that follows brings Transformers 2, which will crush all on its wake.

It was a close battle between the four-weekend old Night at the Museum: Battle of the Smithsonian, and the two-weekend old Land of the Lost. Night at the Museum: Battle of the Smithsonian managed to take the number four spot after four weekends of play. Museum 2 had a much better weekend than Lost, as The Ben Stiller comedy pulled in another $9.6 million and drops a not bad 34%. Night at the Museum 2 has now grossed $143.4 million – still short of its $150 million production budget, but it has earned over $150 million overseas, so it has a worldwide gross approaching $300 million.

That means that Land of the Lost winds up in fifth place for the weekend. After a poor opening last weekend at only $18.8 million, the Will Ferrell flick gets drubbed again, recording another poor showing of only $9.2 million. That's a horrendous drop of 51% for this effects-filled comedy, the type of film that should have good holds, not bad ones. Land of the Lost, with its bloated $100 million production budget and $200 million negative budget, now has a total of $35 million and will be lucky to bring in $50 million. Land of the Lost is all of the sudden the biggest tank of the summer, outdoing Terminator Salvation and potentially Imagine That.

Speaking of Imagine That, the Eddie Murphy movie finishes an ugly sixth this weekend, and is the actor's second consecutive comedic bomb following last summer's Meet Dave disaster. Imagine That opened to a sad $5.7 million, as audiences are obviously well aware now of Murphy's highly questionable script choices. For some reason, Paramount decided to open this one at 3,008 venues, and ended up with an embarrassing venue average of $1,895. This one actually received better reviews than Meet Dave (20% fresh) as Imagine That managed a not-quite-fresh rating of 43%. Obviously, audiences are feeling 'once bitten twice shy' with Murphy these days. Unfortunately, budget data isn't available, but if Meet Dave cost $60 million, I don't see this one being much different. Even worse news is that Imagine That is following Meet Dave's earning pattern, and Dave dropped a scary 68% in its second frame. I keep saying it, but no one listens. Eddie, stop doing family comedies. Now.

Star Trek finishes seventh, as its long, fantastic run approaches an end. This weekend, its sixth, Star Trek earned $5.6 million, and was off 33%. Star Trek has now earned $232 million, and continues to be the summer's top earner so far. Its also grossed more than $110 million overseas against a production budget of about $150 million.

Eighth goes to Terminator Salvation, the summer's other big flop so far. After drops of 61% and 50%, Terminator does it again, with a gross of $4.7 million and a drop of 43%. This one had a production budget of $200 million, and has now made just over half of that, as its domestic total sits at $113.8 million.

Ninth goes to Angels and Demons, which earned another $4.2 million. It dropped 36% and has a domestic total of $123.3 million, and an overseas haul of just short of $300 million.

Drag Me to Hell finishes tenth, as the Sam Raimi flick has failed to catch on. Hell earned $3.9 million this weekend, and drops a much better 45% after plummeting 55% in the last frame. The well-reviewed horror flick has now earned $35.1 million.

Overall this weekend, this year's box office got spanked by last year's for the third consecutive weekend. Last year, with The Incredible Hulk on top, the top 12 films brought in a massive $175.8 million, recording one of the biggest top 12 grosses of 2008. This year, the news isn't as good. The top 12 films brought in an okay $134.4 million. The news isn't going to get much better next weekend, with The Proposal and Year One being pretty tepid new releases. Will The Hangover rule for three consecutive weekends? Check back next weekend to find out.