Weekend Wrap-Up
Land of the Lost Lost at Box Office; Hangover Strong
By John Hamann
June 7, 2009
BoxOfficeProphets.com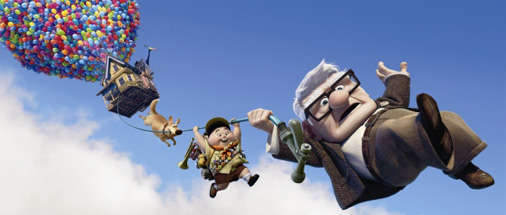 ---
Despite no $100 million openers, or even $50 million openers, this may be the most exciting weekend we've had at the box office for Summer 2009 so far. New openers included Will Ferrell's very expensive Land of the Lost, the scathingly reviewed re-invention of the 1970s kid series; The Hangover, a comedy that actually looks funny, was reviewed well, and starred no one; and My Life in Ruins, Nia Vardolos's attempt at cashing in on the success of My Big Fat Greek Wedding, five years too late. It's not often that the cash-grab movie and the star-driven film for idiots fail, while the little guy wins, but that's exactly what happened this weekend.

Our number one film of the weekend is Pixar's Up, and is our first back-to-back weekend winner since Tyler Perry did it with Madea Goes to Jail in February (which was a fluke due to the Jonas Brothers flop), and prior to that we're talking about Paul Blart: Mall Cop in January. Repeating at the top of the box office is not an easy task anymore, especially in the summer movie season. Up has done it, earning $44.2 million and dropping a slim 35% after earning $68.1 million in its opening frame. Up is the first Pixar film since Cars to repeat in top spot; the middle-America 2006 Pixar entry dropped 44% in its second weekend, taking top spot away from Jack Black's Nacho Libre flick ($28.3 million opening), and The Fast and the Furious: Tokyo Drift ($24 million opening). Last year, WALL-E dropped to number two in its second weekend against Hancock. Somewhat amazingly, Pixar has never seen a 50%+ second weekend drop, despite some of the bigger openings ever for animation. With a 98% fresh rating, Up was pretty much bulletproof from a big drop, especially considering that Land of the Lost was fading all week leading up to release. Up crossed the $100 million mark on Friday, its eighth day of release, and joins fellow Pixar releases like WALL-E, The Incredibles and Finding Nemo, which all reached $100 million at a similar pace. Up has now grossed $137.3 million, and pretty much has the kid market to themselves until Ice Age 3 opens in July.

Second place is a nice surprise, as The Hangover comes in with a jaw-dropping weekend take of $43.3 million. Starring no one except maybe Bradley Cooper (Alias, He's Just Not That Into You, Yes Man), but directed by the always good but under-the-radar Todd Phillips (Old School, Road Trip, Starsky & Hutch), The Hangover relied on a svelte marketing campaign from Warner Bros. and excellent reviews to not only show up this weekend, but take down a very heavy player. The Hangover is a much bigger comedy surprise than films like Role Models ($19.1 million opening) and I Love You, Man ($17 million start) or even The 40-Year Old Virgin ($21.4 million debut) or The Wedding Crashers ($33.9 million). Judd Apatow must be squirming today, as his closest to this is Talladega Nights, which opened to $47 million. The Hangover is the biggest comedy opening of 2009, outpacing Madea Goes To Jail's $41 million, and puts Paul Blart's $31.2 million open to shame. Adam Sandler has had only one film, The Longest Yard, with a $47.6 million opening, which even comes close to this. This is a historic opening weekend, as this may be the biggest sleeper surprise since The Blair Witch Project.

Reviews were unexpectedly hot for The Hangover, and those that liked it didn't just like it, they loved it. At RottenTomatoes, The Hangover is 74% fresh, which is a fantastic score for an R-rated comedy, much like Knocked Up, which had a 90% fresh rating. Knocked Up was another film to come out of nowhere, but even it pales in comparison to this opening weekend, as the Seth Rogen flick opened to $30 million before going on to reach $150 million in domestic sales. As I mentioned above, the marketing campaign for The Hangover was everywhere, and it created a sense of have-to-see, which has paid off in a very big way.

Because The Hangover has no big stars, production costs were kept very low. The NY Times said the production budget for Hangover came in at between $25 and $30 milllion, so costs got covered quickly this weekend. If we assume that marketing came in at around $50 million, Warner Bros. will be seeing real dollars by the start of the third weekend, if not earlier (I wonder how the producers of Terminator Salvation feel about that). Even if The Hangover discombobulates, we are still talking about an R-rated comedy earning $150 million, a feat no one would have predicted two weeks ago, or even two days ago.

Finishing in a floppish third is Land of the Lost, which swung below tracking estimates by as much $15 million. Expected to finish the weekend with $35 million, Land of the Lost is in some very big trouble, as the opening weekend came in at only $19.5 million from 3,521 venues. The production budget here was $100 million, and the LA Times all week reminded us that with prints and marketing, this is a $200 million bet for the folks at Universal. With this opening weekend, all they will likely see out of Lost is maybe $50 million. Usually, Universal excels in summer, and Land of the Lost wasn't even a really bad idea, but it was poorly executed. Someone needed to decide how they were going to use the source material, and it seems that a number of ideas were all thrown together, and nothing worked. Land of the Lost was a disturbing 25% fresh at RottenTomatoes, and the marketing stunk of desperation leading up to release. Universal was lucky enough to have Will Ferrell's fanbase show up over the opening frame, making Lost akin to some of Ferrell's more notable lowlights, like Semi-Pro ($15.8 million opening) and Bewitched ($20 million opening). I didn't think Ferrell could open another TV retread lower than Bewitched, but here it is. It's a good thing Universal moved Fast & Furious to April, as now that profit can pay for this disaster.

Fouth this weekend is Night at the Museum: Battle of the Smithsonian. The Ben Stiller effects-filled comedy had a better weekend than the last frame (when it dropped 55%), but there still isn't enough to get excited about here. Museum 2 had a third weekend gross of $14.7 million, and drops 40%. After 17 days, the original Night at the Museum had already earned $163.8 million; the sequel, on the other hand, has earned $127.3 million. Night at the Museum: Battle of the Smithsonian cost Fox $150 million to make, and likely another $75 million to market, so the studio will need a couple more solid weekends to make this one a decent investment.

Hanging on to fifth spot this weekend is Star Trek, which has another great weekend in its fifth frame. The Star Trek reboot earned another $8.4 million and drops a slim 33%. The JJ Abrams flick has become the leggiest blockbuster so far this summer (but Up will catch it), as it has a domestic total so far of $222.8 million. The $140-150 million budgeted flick has also earned over $100 million from foreign box office.

Dropping to sixth is the ugliness that is Terminator Salvation, but at least it has a fellow flopper in Land of the Lost. Terminator got dropped on its head again this weekend, earning $8.2 million; it was off 50% after the stunning 61% drop it saw last weekend. The $200 million flick finally crossed the $100 million mark on Saturday, and is looking like it will finish with about $125 million in domestic sales. It has a current domestic total of $105.5 million.

Seventh is another disappointment for Universal in Drag Me to Hell, but at least this one didn't cost $200 million to make and market. In its second frame, the Sam Raimi flick earned $7.3 million and was off a large 54%. While horror does drop large, Drag Me To Hell carried a 93% fresh rating, which made me think the drop wouldn't be so bad. After two weekends, Drag has earned $28.5 million.

Angels & Demons falls to eighth place. The Tom Hanks starrer earned $6.5 million and sees another big drop of 43%. The movie based on the Dan Brown novel has earned $116.1 million against a production budget of $150 million. The good news for Sony is that this one has earned $240+ million at the foreign box office.

Our final opener, My Life in Ruins, finishes way back in ninth this weekend, but I can't count it out because of that damned Big Fat Greek Wedding (I had to write about that one for 18 consecutive weekends – it's my own personal hell). My Life in Ruins earned $3.2 million this weekend, and will hopefully disappear fast, as I struggle with the spelling of "Vardalos".

Finally in tenth is Dance Flick, the opposite of The Hangover. Dance Flick is done. It earned $2 million, was off 58%, and has earned $22.7 million.

Overall this weekend, the box office had a time keeping up with last year, despite the dominance of The Hangover and Up. Last year, Kung Fu Panda was deservedly on top with $60.2 million, which led the top 12 to $171 million. This year, the top 12 earned $160.1 million, but because of the surprise with The Hangover, feels like a win anyway. Next weekend brings an Eddie Murphy family comedy in Imagine That, and Denzel and Ravolta in the Taking of Pelham 1 2 3.