Friday Box Office Analysis
By Tim Briody
June 6, 2009
BoxOfficeProphets.com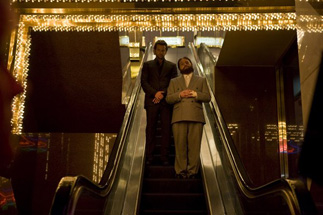 ---
Pixar's Up and one new release fight it out over the top spot, and it's probably not the one you were thinking of.

The [tm:4694_]Hangover[/tm]

The surprise winner on Friday is the comedy The Hangover, earning $16.6 million. With no real stars, all it took was a funny trailer and the complete lack of comedies in the last month (and also maybe Mike Tyson) to produce a breakout opening. It's a bit ahead of [tm:4502_]Up[/tm] right now, but these two are going to have a dogfight for the top slot when the weekend estimates come in. Looking at weekend multipliers for big comedy films from previous summers, Knocked Up earned a 3.13 in 2007, and also that year Superbad had a 2.68. The 40 Year-Old Virgin had a 3.03 multiplier in 2005 and Wedding Crashers scored a 3.28 earlier that summer. The Hangover should perform in a similar vein to those comedies, with around a 3.0 weekend for a pretty solid $49.8 with some overestimation to push it over $50 million and/or ahead of Up entirely within the realm of possibility.

Up

The Pixar release holds well in its second weekend, off 38% from last Friday with $13.3 million. While they've established such a franchise that these CGI films open like fanboy films, they always rebound nicely in the second frame, behaving much more like the family films that they are. WALL-E had a 2.72 opening weekend multiplier, but came in with 3.61 on the second weekend. Up came in with a 3.17 last weekend, and what likely helped WALL-E gain so much was the fact that the second Friday was July 4th. Up has much less further to go to reach something the 3.6 mark and it should do that fairly easily. That would give Up $47.8 million in its second weekend, with certainly some room to move. I still like The Hangover to overestimate enough so that it ends up on top for the weekend.

[tm:2502_]Land of the Lost[/tm]

And now the big disappointment of the weekend, [bp:121_]Will Ferrell[/bp]'s Land of the Lost. It earned $7.1 million on Friday. Perhaps the problem here is that it's Will Ferrell's Land of the Lost, thus likely quashing any nostalgia older audiences might have had. I'm giving it some benefit of the doubt that it is a viable family film and will thus earn $22 million for the weekend, but that's way behind the top spot and the fight for first place between The Hangover and Up.

My Life In Ruins

Nia Vardalos returns and nobody cares again. [tm:4834_]My Life in Ruins[/tm] earned $1.1 million on Friday. Oddly enough, the other film you forgot she made after My Big Fat Greek Wedding, Connie and Carla, also made that on its first day. So we've identified how much of a built in fanbase Nia Vardalos has. Call it $3 million for the weekend.