Weekend Forecast for June 5-7, 2009
By Reagen Sulewski
June 5, 2009
BoxOfficeProphets.com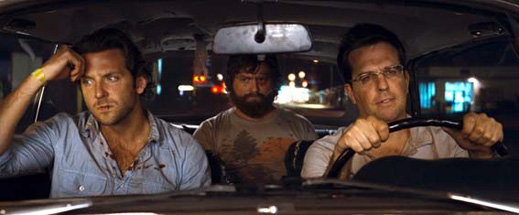 ---
It's comedy weekend at the movies, as three new films test what has suddenly turned into an uncertain summer marketplace.

Leading the way – it hopes – is Land of the Lost, the Will Ferrell-led adaptation of the 1970s children's adventure series from Sid and Marty Kroft. Ferrell stars as a park ranger/amateur physicist (possibly throwing under Denise Richards for "least believable scientist in a film") whose research accidentally sends him, his research assistant (Anna Friel) and a survivalist (Danny McBride) backwards... forwards? ... somewhere, in time and space, where they'll have to survive dinosaurs, weird little alien things and all manner of dangers in order to try and get back home.

As a mostly family-friendly action adventure film (Brendan Fraser is kicking himself over missing this one), Land of the Lost straddles a few weird demographics – Will Ferrell fans, nostalgic boomers, and bodily fluid-joke loving pre-teens (OK, there's some overlap there).

In a lot of ways, it feels like a misstep, in that those that were fans of the series either have outgrown it, or wouldn't care to see Ferrell crap all over it in the way he seems to be doing here. As Ferrell attempts to inherit the reins as Top Film Comedian from Adam Sandler, he's proven to be not entirely bullet-proof – Semi-Pro was a swing and a miss, and Blades of Glory showed that even when he was on his game, his fans weren't willing to follow him just anywhere. The action elements of Land of the Lost should be enough to make up for the film's apparent shortcomings in humor, but this definitely has "summer disappointment" written all over it. Then again, You Don't Mess With the Zohan was a hit, and that looked even worse than this. Watch it open to $38 million this weekend.

The second new comedy out there has a lower profile cast, but potentially a much higher ceiling. The Hangover stars Bradley Cooper, Ed Helms and Zach Galifianakis in a story of a bachelor party in Vegas gone wrong. Directed by Todd Phillips of Old School, it's very much in that vein of comedy, of random hijinks and a celebration of crazy, borderline anti-social behavior.

In the film, the three friends wake up from a night in Vegas only to discover that their man of honor, the future groom that they were showing a good last time to, is missing. Only pieces of info are available to them about what happened, and even those don't make much sense.

A semi-tribute to the free-for-all attitude of Sin City, The Hangover is selling itself with the same "anything can happen" mentality that the city itself does. Mixing a tiger, hookers, tasers, Mike Tyson and a baby seems like the setup to either a tragedy or a comedy, and it's that knife's edge that the film seems to hope to live on. The trio of leads seem to work best, though Helms and Galifiankis make a lot more impact than Cooper, which has probably got to worry him some.


One side-effect of this approach is that the audience for The Hangover will be extremely weighted towards men, somewhat hamstringing its initial box office potential. There's lots of chance for legs here and this ought to be the breakout comedy for Summer '09. Watch it to follow in the footsteps of Old School and 40 Year-Old-Virgin and Knocked Up, and start with a $31 million opening weekend.

With action comedy and buddy comedy covered, that leaves romantic comedy for the third film, My Life in Ruins. A quasi-sequel to My Big Fat Greek Wedding, it stars Nia Vardalos as a travel agent who goes to Greece with a tour group as a kiss-off to her job, only to find her spirits revitalized by the motherland and a big Greek bohunk.

While MBFGW was the shock of 2002 with its unheard of legs, Vardalos was one of the quickest passing fancies, as we collectively realized we spent $200 million-plus on tickets to what was essentially a big budget sitcom. Anyone hoping for that process to repeat itself with My Life in Ruins should probably brace themselves right now – it's probably not going to make a tenth of that. Also, the Tooth Fairy isn't real. Opening on 1,164 screens this weekend, it should start with about $7 million.

The door is open then, for Pixar's Up to hold on to the top spot for a second straight weekend, if it can manage any kind of legs. Its $68 million puts it in the upper end of Pixar opening weekends, which goes along with the de-rigueur-at-this-point critical fawning. Of course, as much as this has been consistent throughout the years for this company, it's also kind of taken for granted. Very few people are taking a wait-and-see attitude with Pixar at this point, so all their films kind of run true at the box office. Look for a drop to about $35 million this weekend, and a shot at grabbing the top spot if either of the two big comedies this weekend fails to break through.

Were Night at the Smithsonian 2 not already free falling, Land of the Lost would probably be a death blow for its box office. The Ben Stiller action-comedy sequel just hasn't connected with audiences like the first film did, and while it may have been a flaw to put it in the summer season, I tend to think that it's more a case of a thin premise running out of ideas. Still, it's going to end up close to $175 million when it's all said and done, so perhaps I'm being too harsh. Look for $13 million from it this weekend.

It's harder to be kind to Terminator Salvation, for which the adjective "apocalyptic" describes both its setting and its box office. One of the expected tentpoles of summer, it's now going to be lucky to see $125 million total and may have effectively closed off the franchise for good. Apparently Fox knew what they were doing in canceling the TV series. It'll have a third weekend of just $7 million or so.

Despite some of the best reviews for a horror film in some time, Drag Me To Hell failed to distinguish itself box-office-wise amongst them, opening to just under $16 million. Sam Raimi's return to horror grabbed the attention of his not-inconsiderable fanbase, but didn't branch out very far from there. And given the comedic tone of the film, certainly different from what today's splatter-porn audiences have been conditioned to expect from this genre, it may see a pretty steep fall this weekend. It should manage just $7 million this weekend as well.

Star Trek hopes to pad its lead as the highest grossing film of 2009 this weekend (holding on until Transformers 2 blows it out of the water) and should see about $7 million as well in this frame. It looks headed for about $250 million at this point and has definitely raised expectations for a sequel.

Angels & Demons is our other significant film in the box office charts right now, with a running total of just under $110 million so far – which is nothing to really sneeze at, even for a Tom Hanks-led film, but still leaves a bit to be desired relative to The Da Vinci Code. While foreign box office will continue to tell the story for profitability for this film and any chance for another in the series, we're looking to tap out at around $130 million for this one.