Take Five
By George Rose
June 2, 2009
BoxOfficeProphets.com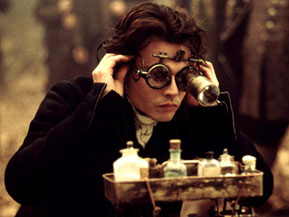 ---
Things aren't always as they seem (as I say so often). Friends and coworkers can sometimes prove to be two-faced and selfish. On the other hand, rainy days can end up providing some of the brightest moments in life. It's all a coin toss, much like the box office. Just when we thought Wolverine would redeem X-Men 3 (crossed fingers), we got a Ghost Rider (sigh). Just when we thought Star Trek would be Star Wars: Episode I (a lackluster attempt at a franchise reboot), it proved to be a Batman Begins (joy!). Then come three highly anticipated blockbusters in the making (Angels and Demons, Terminator Salvation, Night at the Museum 2) that received lukewarm reviews and receipts at best. But how do we cap off our May 2009? Lifted back to grace with Up.

That's what makes Hollywood a pleasure to follow. Like with sports statistics, trends tend to fluctuate. Sometimes the expected homerun hitter can't even manage an RBI, throwing off the balance and shaking up the fans into a frenzy. How did May 2009 do? Hollywood starts the season off with a .333 batting average, meaning of the six at-bats (the six major releases) it hit two (Star Trek and Up), but boy were they knocked out of the park. Still, I'm quite shaken up.
Expectations were at an all time high for these movies. How could they not be? The month of May has become the launching ground for franchises and fandom but seems to be puttering out after a hotter-than-usual spring (thanks to Gran Torino, Paul Blart, Taken and Monster vs Aliens). T4 was the best of the worst but will probably end up earning the least. Studios are dropping the ball left and right and it's up to June, July and August to pick up the slack. Unfortunately the lineup looks to have as wide a variety as life itself.

June is... well... June. It has the variety but will still lack the punch of the other summer months. It will never quite live up to May or July but usually has a hit or two more than the late August push. There is only one guaranteed success of massive proportions (Transformers 2), a few hopeful hits that might make around $100 million (Land of the Lost, Taking of Pelham 1 2 3, Year One) but not much more, some good chick flicks (The Proposal) and some bad chick flicks (My Life in Ruins, My Sister's Keeper), the surprise hit in the making (The Hangover) and the outright bomb (Imagine That).

When you deconstruct it like that, it sort of takes some of the fun out of watching the month unfold as it happens. All of May was expected to be huge, as the new movies were mostly sequels, prequels and reboots. The shocks came in the disappointments since the studios hoped all would open to massive numbers. June's variety of expectations may lead to a more accurately guessed outcome, since BOTH the expectations and the outcome will have hits and misses. I hope I'm wrong, so as to restore a bit of that wild-card wonder of the spring season but from the looks of it now we are on a pre-fixed path laid out by the Hollywood execs.

As I said above, June looks (or at least I hope) to have a surprise hit in the making: The Hangover, opening this Friday, June 5th. I'm not talking a Titanic-sized hit but rather a Superbad-sized one. Its biggest star is Bradley Cooper, who is relatively unknown to the mainstream but has the looks and charm of a less-meathead Mathew McConaughey. I didn't think much would be made of the film but I've been hearing lots of people talk about it in the past two weeks at work. As a part-time server working with 30 twenty-somethings who don't often go to the movies, I was expecting most of them to talk about T4 or Land of the Lost as their "one movie every four weeks" selection. Instead, it appears The Hangover is the talk of the town. I'm expecting a rather comfortable opening weekend, paired with Apatow-style legs.

Which brings me to this week's Take Five picks. No, they are not summer movies that had low expectations with high results, but rather films I had the pleasure of watching this week on TV. I actually managed to score an extra day off this week to sit around, drink some beers and watch some movies. My major surprise of the week (since Up was meant to be big and then followed through – AMAZING movie, people, go see it!) came in the form of Fios. My parents got rid of our Comcast package in exchange for Fios and I must say that I am very, very pleased. The Internet is fast and for less than the price of the HBO/Stars Comcast package you can have ALL the movie channels IN HIGH DEFINITION with Fios! I would quit my job in a second and sit around all day, every day watching TV if it was safe to relocate it into the sun. But it's not, so I won't. In any case, here are some of the movies I have seen in the past (and again in the past few days) that Fios was kind enough to remind me of.

In the Bedroom (2001)

In my freshman year of high school (2000-2001) I met an older girl, a junior, who was kind enough to take me under her wing. We were both among the less-cool crowd and had a pension for deeper thought, not make-out partiers and weekend binge drinking. Her name was Greer and she was the one that introduced me to the notion of independent movies. She was the first one to take me to an independent movie theater (until then I was only aware of the more massive multiplexes) and showed me that even though a movie doesn't make much money at all or lacks in special effects and big budgets that it can still move you in ways the blockbusters can't. In the Bedroom was one those films.

The cast wasn't A-list (Sissy Spacek, Tom Wilkinson, Marisa Tomei) but was certainly critically acclaimed. Spacek and Tomei have both won Academy Awards in the past and Wilkinson was nominated for two. The film itself didn't win any but all three actors were nominated for awards as well as the film for Best Picture and Best Screenplay. It was a fairly simple plot: a college freshman (Nick Stahl) is brutally murdered by the husband of the older woman (Tomei) he had been having an affair with. The film follows his parents (Spacek and Wilkinson) after the tragedy and how they deal with the loss of their son, the unfortunate release of the obvious murder suspect and forgiving themselves and Tomei for their part in the matter.

While it didn't win any of the awards it was nominated for, it put all three lead actors back on the map (in my book, anyway). If there was any confusion over Tomei's acting ability and questionable Oscar victory for My Cousin Vinny, In the Bedroom is sure to remove it all. She - along with Spacek and Wilkinson - is brilliant and helps make the movie heartfelt and gut-wrenching. I can't thank Greer enough for taking me to see the movie and introducing me to the world of independent films. Every time you see one on the Take Five list, it is in part because of her, how she took me away from the popular mainstream blockbusters and made me comfortable being a lesser known, independent thinker.

Sleepy Hollow (1999)

For those of you who have been following the article, you are aware I just moved home after graduating college. Step One in making myself at home again was setting up my entertainment center in the basement. HDTV – check. Blu-Ray player – check. DVD collection – check. Fios – check. Nintendo Wii – check. Wii update – not so check. It sure takes a long time to update the Wii but while I was waiting, I was exploring the many movie channels of the Fios package.
Luckily, Sleepy Hollow was on TV! The tale of the headless horsemen is a familiar one, as The Legend of Sleepy Hollow is a classic short story that was first written in 1820 by Washington Irving. Basically, there is a horsemen (who lacks a head) that goes around the small town of Sleepy Hallow cutting off people's heads, in search of the one he lost long ago at war. Who better to take this classic bonfire tale and turn it into a Hollywood production then the creepiest director alive, Tim Burton? Pair him with Johnny Depp and a pale-faced Christina Ricci and you have Sleepy Hollow.

The movie is dark and graphic yet beautiful and exciting. There isn't just a bevy of beheadings but also interesting back story, action sequences and genuinely frightening moments. Elements were added to the plot to help extend the length to fill a feature film but none are outright unnecessary. Depp's Ichabod Crane is pumped up with scientific knowledge and the intricacies of the townspeople are complicated and compelling. Burton is a master of gothic allure and, if Sleepy Hollow is any indication, his upcoming reimagining of Alice in Wonderland is sure to be more treat than trick.

Smart People (2008)

Backtracking to independent films, I stumbled onto Smart People this week on TV. Unlike In the Bedroom, this film wasn't nominated for awards and did not receive the critical reception the cast was likely hoping for. Why then would I add it to my list? Because sometimes a movie doesn't need to be earth-shattering good for it to be enjoyable. As Aristotle once said, "the whole is more than the sum of its parts." In this case, it is the opposite: the parts are more than the whole.

This thinking isn't often appreciated by critics, though I have met some friends that agree with me. Smart People is about, well, smart people. Lawrence Wetherhold (Dennis Quaid) is a pretentious professor who is smart and knows it. He is a widower with two children, one of which is an equally intelligent high school senior daughter (Ellen Page) and the other a more free-wheeling college student son (Ashton Holmes). The drama starts when Lawrence's brother (Thomas Haden Church) shows up to live with the family and one of Lawrence's previous students pops up as his doctor-love-interest (Sarah Jessica Parker). Take these five characters, mix them up in awkward interactions and poof – you have a movie that revolves more around acting ability than the plot itself.

At times the film is slow and feels a bit forced but the actors all do a tremendous job. It is because of them that I saw this film so it was fitting that they were the main reason I enjoyed it. Smart People was a great follow up to Juno for Ellen Page; the more serious film needed on Sarah Jessica Parker's resume; the post-Spider-Man 3-disaster Thomas Haden Church needed to redeem himself; and a good role for Dennis Quaid to take on before gearing up for this summer's G.I. Joe. All are actors who have been in, and will be in, much bigger A-list roles, but Smart People was a smart independent choice for the interim. While not the success they were looking for, it was a great way to flex their acting chops.

The Cell (2000)

This choice is the complete opposite of Smart People. While Smart People was a film I saw because of the wonderful actors, despite only a moderately appealing plot, The Cell is a film I only saw because of the plot, despite actors I didn't appreciate. After all, what about Jennifer "Serial Fiance" Lopez am I supposed to get all hot and bothered about? She has commercial appeal but, seriously, the woman's only role of true value has been Selena. Throw her into the scary movie mix with known-comedian Vince Vaughn and you have yourself a hit horror movie? Surprisingly, yes.
Lopez stars as Catherine Deane, a psychotherapist who is part of a revolutionary new technological treatment that allows the doctor to enter the mind of her patients. While inside, she walks through their visual interpretation of life, problems and despair while trying to find the reasoning behind their madness. When a serial killer, known for abducting and hiding his victims, is found in an irreversible coma, it's up to Catherine to enter his mind and discover the missing girl's location before it's too late. Vince Vaughn (the funny man from Wedding Crashers and Old School) is there to help her out and actually does a great job. Who knew these two stars, known for other genres, could be a part of one of the best horror films of the new millennium?

More appealing than the plot or the stars are the films visuals, which are probably the main reason the movie is worth watching. The mind is a tricky thing that cannot be explained but the mind of a serial killer is most likely (and is for the sake of the film) twisted, horrifying and extravagant. The worlds that Lopez's Catherine finds herself in while in the minds of her patients are stunning, places that can only be made real by the hand of Hollywood. The costume designs and makeup artistry are on the quality-level of Pan's Labyrinth, which explains the Best Makeup Academy Award nomination the movie received. It's a beautiful film to watch, the only other movie (besides Selena) that I can watch starring Jennifer Lopez and one of few serious turns from Vince Vaughn that I can take seriously.

Alpha Dog (2006)

This film is a tribute to the summer movie season old and new. First I must note the plot, so as to get it out of the way for the more interesting reasons for the films selection. Inspired by true events, the story follows drug-dealer Johnny Truelove (Emile Hirsch) as he kidnaps the younger brother (Anton Yelchin) of one of his fellow drug-dealers (Ben Foster) who owes him money. Yelchin's character gets a little too comfortable being kidnapped and gets friendly with his captors, but when Foster's crazed character refuses to pay and begins hunting down Truelove, things start to get out of control.

Why is this in honor of the summer season? Nick Cassavetes (the man behind the summer hit The Notebook and the upcoming My Sister's Keeper) directs this cast of summer stars, including Anton Yelchin of this year's T4 and Star Trek (he sure hired the right agent), Emile Hirsh of Speed Racer (who hired the wrong agent and has been working all too hard for his breakthrough), Ben Foster of X-Men 3 (I'm sure the Archangel spinoff is right around the corner), Amanda Seyfried of Mamma Mia! (boy did she strike gold) and Justin Timberlake of... ummm... was he in anything other than The Love Guru? Let's not forget Bruce Willis and Sharon Stone. You may have heard of those names before, too.

While the movie underperformed at the box office, the directing/acting team behind it should have propelled the film a bit higher. I didn't expect much of it because of Cassavetes, who is best known for tugging at our heart strings, but was pleasantly surprised. Considering the stars were all still up-and-coming, the acting was extremely believable and I definitely started to form tears toward the end. There was no way I could have predicted I would have enjoyed the film, since it was before most of these actors made it big and what I knew going into it was enough to make me run from the theater, but despite all it had against it I am glad Fios forced it upon me once again.

Some movies have low expectations but turn out great (Star Trek). Some movies look great and turn out bad (Wolverine). Some look bad and are bad (Angels and Demons) and some look good and are good (Up). While Alpha Dog is no Star Trek, it falls into the category of films that didn't have much going for it that turned out to be a hidden gem. Now that all the stars have gone onto bigger and better things, go back and watch Alpha Dog. I saw it before the stars released their summer blockbuster offerings, but if you haven't yet, then it should appeal to you in the same way Smart People appealed to me: a more serious film full of stars you know and love that does more for your enjoyment as a fan of actors than it does for box office receipts.