Weekend Wrap-Up
Pixar Dominates Box Office With Up
By John Hamann
May 31, 2009
BoxOfficeProphets.com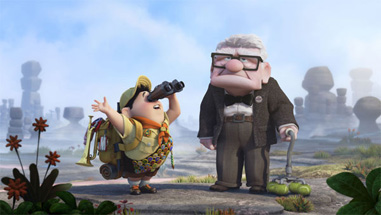 ---
After a disappointing Memorial Day Weekend at the box office, and an unexciting May in general, moviegoers get a rare summer treat this weekend – two well-reviewed, audience-friendly flicks to choose from. Opening this weekend were Pixar's Up (98% fresh) and Universal's Drag Me to Hell (94% fresh), which should be enough to wash the bad taste left after the release of Terminator Salvation (33% fresh) and Night at the Museum: Battle of the Smithsonian (44% fresh).

Our number one film of the weekend is Pixar's Up, the studio's tenth release, and its tenth consecutive winner on all fronts. Distributed by Disney, and available on 3-D screens, Up had all the benefits that a sequel does heading into release, as Pixar has become almost a bullet-proof franchise, like no other. Pixar manages film quality like my wife manages money – extremely carefully – and the benefits are on display – only one sub-$60 million opener in the studio's last six releases, and four consecutive $16.4 million plus opening days. And now you can make that five.

Pixar opened Up to $21.4 million on Friday, which led to another fantastic weekend gross of $68.2 million. Disney opened Up at 3,766 venues this weekend, and had a stellar venue average of $18,109. Around 40% of those venues were of the RealD variety, which means that theaters will charge more for patrons seeing Up in 3-D compared to regular prices for 2-D. Up opened higher than last year's WALL-E ($63.1 million opening), and Cars ($60.1 million opening), and came close to both Finding Nemo ($70.3 million opening) and franchise champ The Incredibles ($70.5 million opening).

While Up was similar to its brethren in terms of opening weekend numbers, the internal part of the weekend played out somewhat differently. Up's internal multiplier (Friday box office divided by weekend box office) came in at 3.2 – a higher than expected figure that is due to the 3-D aspect of this release. BOP has noticed that family-targeted 3-D films tend to have higher weekend multipliers than 2-D films aimed at the same demographic. Monsters vs Aliens, a 3-D release which opened this spring to $59.3 million, carried an opening weekend multiplier of 3.54, versus a normal multiplier that would usually be in the 2.9-3.0 range. You may scoff at the half point difference, but really it's like Derek Jeter hitting versus David Ortiz. Had MvA carried the 2.9 multiplier, its opening frame would have been $48.5 million instead of the much higher $59.3 million – a difference of more than $10 million over three days. Why is this trend happening? With the onslaught of advanced ticket sales, patrons are booking seats for 3-D screenings during non-rush times, which means Saturday and Sunday daytime screenings are becoming more popular than with regular 2-D films, with a film like Up selling out those screenings during the day. The bigger question may be where Up would have finished in terms of weekend gross -without- the ticket price increase of a 3-D film. Would Up have finished above $60 million without 3-D? The honest answer is probably not.

In the end, is Up a disappointment for Pixar and Disney due to the fact that Up didn't dominate the Pixar record book even with the 3-D price increase? No way, no how. For digital animation, Up represents the top tier of earnings, the highest since The Simpsons Movie earned $74 million in July of 2007. It finished ahead of some of the DreamWorks releases like Kung Fu Panda ($60.2 million opening) and Madagascar 2 ($63.1 million opening), but really, it's the legs and foreign box office where Pixar cleans up. Count on an opening-to-domestic finish multiplier around 4.0, and then foreign totals that will either meet or beat its domestic grosses. Then, after all the box office cash is counted, count on an Oscar nomination, and more money on a DVD released just in time for Christmas. As mentioned, Up was 98% fresh at RottenTomatoes, with only three negative reviews out of a possible 144. Pixar has again set the bar on film quality for the rest of the year, and hopefully other films will match it (not like last year after WALL-E's debut).

With Up dominating the family scene, we are left with the question as to how much pie would be left for Night at the Musueum: Battle of the Smithsonian. The answer is not good news for the folks at Fox, and once again I'm scratching my head at scheduling decisions. First off, the business: Night at the Museum 2 earned $25.5 million in its second weekend, a number that is not nearly good enough. Let's remember that the Ben Stiller family-friendly adventure-comedy debuted last weekend to a listless $54.2 million – despite being a long weekend – and the gross this weekend gives Night at the Museum 2 a woeful second weekend drop of 53%. The first Museum picture was successful for one reason, its second weekend. As 2006 was turning into 2007, the original flick earned $30.4 million over its opening frame, but then shocked everyone with an increase in its second frame to $36.8 million, a 20% increase from the weekend before. Who at Fox thought moving this franchise to summer was a good idea, and who thought snuggling it up to a Pixar film was the right angle? Did they think Up looked like a weak sister compared to the rest of the Pixar lineup? Sure, Museum 2 swung low over Memorial Day weekend by $25 million, but even so, the scheduling here is a complete disaster. The good news for Fox is that Museum 2 is over the $100 million mark after ten days with a total so far of $105.3 million. The bad news is that it's going to swing under the original's domestic gross by about $75 million, leaving that cash on the table.

Third spot goes to Drag Me To Hell, the new horror flick from Spider-Man director Sam Raimi. With no real stars (sorry Justin Long, you need to keep working) Drag Me To Hell managed an opening weekend gross of $16.6 million, coming in lower than expected. Drag Me to Hell opened at 2,508 venues – lower than the average summer release – and managed a venue average of $6,630. The big difference with Drag Me To Hell compared to its other horror compatriots was those wonderful reviews – 94% fresh at RottenTomatoes – so why couldn't it convert those fantastic notices into a bigger box office weekend? The Strangers with Liv Tyler and Scott Speedman opened higher over the same frame last year with $21 million, but did have a better marketing campaign in my opinion, as well as above the title stars. I believe Drag will have much better legs than The Strangers did, due to those reviews, and the direction by Raimi. Raimi has been known for launching cult classics of horror (Evil Dead, Darkman) and I don't see any difference here. Universal may not have a huge opening weekend, but they may have a birth of a franchise, which is way better.

Well back in fourth is Terminator Salvation, now an official disaster at the domestic box office. The only thing that was going to save Terminator was a $20 million plus second weekend, and the answer again for this franchise is Fail. Terminator Salvation earned $16.1 million in its second frame, and was off 62%, which will pretty much end the story, as this one now looks to finish with as low as $125 million – a number I was thinking it might pull down over opening weekend only a month ago. McG is turning into a franchise killer, as he laid the Charlie's Angels franchise to waste with two ridiculous films. So now we follow the money. The rumor mill says that Halcyon Films (the production company behind Salvation) sold the domestic rights to Warner Bros. to distribute in North America for $50 million, and sold the foreign rights to Sony for $75 million. Now these two studios will have to pay for promotion and prints as well, so I am imagining both deals for the studios are not good, as we have to remember that theaters keep about half the grosses on average. Terminator Salvation is looking like the film to end the franchise at this point, and we will most likely have to wait a decade for the reboot, and for someone to finally do it right. Sigh.

Fifth goes to Star Trek, one of the few bright spots from the month of May. After earning $22.9 million over the long weekend, Star Trek held up okay, earning $12.8 million and dropping 44%. The JJ Abrams flick crossed the $200 million mark on Friday, its 22nd day, which ties The Incredibles and The Lion, The Witch and The Wardrobe. It has a gross so far of $209.5 million, and if Trek can hold steady, it could reach $240 million.

Angels & Demons, like Terminator Salvation, is a franchise killer. After a 53% drop last weekend, things aren't improving much for the Tom Hanks starrer (find other work Tom, and hurry). Angels & Demons earned a slim $11.2 million, and drops a better – but still not great – 48%. It looks like A&D will finish similar to Terminator Salvation, but it will at least do better overseas. It has already earned over $160 million from foreign box office, and has a running domestic total of $104.8 million. The Ron Howard flick cost $150 million to make before prints and advertising.

Seventh is Dance Flick, and, as expected, the comedy fell on its face, earning $4.9 million and dropping 54%. This one cost Paramount $25 million to make and has now earned $19.2 million.

Eighth goes to X-Men Origins: Wolverine. This franchise needs to thank its fanbase, as they opened this one to $85.1 million, which saved the franchise. After drops of 69%, 44% and 45%, Wolverine earns $3.9 million in its fifth weekend and drops 52%. It has a domestic total of $170.9 million, and a foreign total of $161 million.

Ninth and tenth are the also-rans. Ghosts of Girlfriends Past earned $1.9 million and has a total of $50 million. Tenth is Obsessed, which earned $665,000 and has a total of $67.5 million. Both will be gone next weekend when three new releases arrive.

Overall this weekend, and just like the last frame, things versus last year are remarkably similar. Over the same frame last year, Sex and the City dominated the box office with a $57 million opening, leading the top 12 to $164 million. This year, with Up on top, the top 12 films earned $163 million. Next weekend brings the dreadful looking Land of the Lost, the funny looking Hangover, and the My Big Fat Greek Wedding-looking My Life in Ruins.