Weekend Wrap-Up
Memorial Day Weekend Disappoints at Box Office
By John Hamann
May 24, 2009
BoxOfficeProphets.com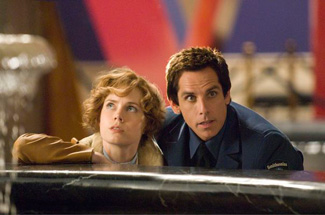 ---
It was supposed to be the showdown of showdowns – Terminator Salvation versus Night at the Museum: Battle of the Smithsonian – two tentpoles destined to be huge, both opening over the biggest box office weekend of the year. They were two films that weren't supposed to play as competition; they were targeting different audiences, one adult males, the other families. In the end, they both opened with okay scores at best, making the battle of the box office more like Paul Blart versus Seth Rogen.

The winner of the box office showdown is Night at the Museum: Battle of the Smithsonian, but like the original, it's going to need some serious legs to show a return for its studio, 20th Century Fox. The Ben Stiller comedy opened to $53.5 million over the three-day portion of the weekend (Friday-to-Sunday) from a massive 4,096 venues. Tracking was looking for $80 million over four days, so unless something very odd happens, it's going to throw well under that score. Night at the Museum 2 cost Fox $150 million to make, and it's probably safe to add another $100 million for prints and advertising, making this a $250 million bet for the studio. Domestically, this is probably a $200 million dollar finisher, and the original's foreign tally actually outscored the domestic, so in the end this will be a win, but not the lotto victory the suits at Fox would have been expecting.

Night at the Museum 2 opened Friday, a day after Terminator Salvation hit screens. Museum's Friday gross came in at $15.3 million, not far off the $12.1 million the original earned on December 22, 2006. This was immediately bad news for Fox. Sequels are supposed to debut much larger than originals, especially on opening night, as moviegoers are familiar with the characters and the plotline, making such movies a safe choice. Reviews were largely ignored when the original opened; Rotten Tomatoes registered a rotten rating of 44% but the film still went on to be incredibly leggy. The original opened to only $30 million over its first three days, but managed a $250 million domestic gross, thanks largely to an abundant holiday season. This time out, Fox isn't going to be as lucky. The original Night actually increased its take in the second frame, moving from $30.4 million to $36.8 million, an increase of 21%, something virtually unseen at the box office today. With the sequel, Night at the Museum and Fox aren't going to have the same luck. The reviews this time out are remarkably similar at 43% fresh, but this is a sequel so adults will be more apt to avoid this one if they didn't like the original. Secondly, Pixar and Disney launch Up next weekend, whereas the original Night at the Museum had zero competition from new films over its second frame – no new openers whatsoever.

Fox was obviously banking on a huge opening weekend for Night at the Museum: Battle of the Smithsonian, to the point where I have to beleive this missed by as much as $25 million (this opened lower the Prince Caspian). What happened? The original Night had a stellar marketing campaign; the idea of the running fossilized dinosaur stuck with people as it was original, and the trailer and TV ads were everywhere. Did Fox think that because this was a sequel they didn't have to create as much awareness? I think the marketing campaign let this one down – Terminator Salvation was everywhere, whereas Night at the Museum was nowhere.

That brings us to number two, and if we know that Night at the Museum 2 grossed $53.5 million in the number one spot, the news for Terminator Salvation can't be great, and if someone trotted out the word "disaster" I wouldn't completely disagree.

After opening Wednesday night to $3 million from midnight screenings, and an additional $13 million on Thursday, Terminator Salvation only increased its take from Thursday by 14% on Friday, recording a gross of $14.9 million. If you read David Mumpower's analysis regarding the Thursday box office for Terminator, you know the suits at Warner Bros. are suicidal this morning. David looked for a worst-case scenario of a 25% increase from Thursday-to-Friday, so to basically get half that amount spells serious trouble. Terminator Salvation finished this weekend with a disappointing Friday-to-Sunday gross of only $43 million, and has earned $56.4 million since it opened. This one cost $200 million to make, and from my point of view had a much bigger ad budget than Night at the Museum did by a country mile. This is an ugly opening considering that Adam Sandler's The Longest Yard took in $47.6 million over Memorial Day Weekend in 2005, finishing second behind Revenge of the Sith.

By taking John Connor into the future, and replacing Arnie with Batman, Termination Salvation should have been huge. A franchise re-invention a la Star Trek this one wasn't, and when reviews started coming in, the writing was on the wall. Surprisingly, this has traditionally been a well-reviewed franchise. T2 is 97% fresh at RottenTomatoes, and T3 was 70% fresh. Audiences expect good, solid action films from this franchise with a touch of humor and humanity. With Salvation, Terminator fans got a 38% fresh effects-extravaganza without the humor or the heart. That was enough to put me off seeing it, as personally, a Terminator movie without Arnold is just I, Robot, and that's not saying much.

Terminator Salvation should have been the movie to turn Christian Bale into Harrison Ford, working on multiple super-successful franchises concurrently. Bale's success in The Dark Knight should have carried over to Terminator, but it inexplicably didn't, maybe due to the wooden style the actor portrayed in Batman Begins and The Dark Knight. Bale still has another shot at summer box office glory as the busy actor next appears in Public Enemies, which opens in early July. He co-stars with Johnny Depp in the Michael Mann film. However, for now, Bale has to be wondering about opportunities lost, as this result could make Terminator 5 a no go.

Finishing third this weekend is Star Trek, which managed to get ahead of Angels & Demons, the movie that won the weekend in the last frame. Star Trek, now in its third weekend, didn't have that great of a weekend either. The rebooted franchise earned $22 million over the three-day portion of the weekend, giving it a bigger than expected drop of 44%. Usually long weekends make way for lower percentage drops, as there is more time to see a film. Last year over Memorial Day, Iron Man dropped 36% in its fourth frame. An argument could be made that with the two top films opening so wide, there was little room left for a film Star Trek, but that doesn't work as Paramount added almost 200 more venues to Trek's run. What the space actioner did lose was its access to IMAX screens, so the inflated prices at about 200 venues is now gone, which may have led to the higher percentage drop. Star Trek will have to wait another weekend to cross the $200 million mark, as its current total sits at $183.6 million.

Angels & Demons expectedly takes it on the chin, as the Tom Hanks thriller gets washed out by openers and competing holdovers this weekend. Angels earned $21.4 million this weekend after debuting in the last frame to $46.2 million. It drops 54%, which we could say is actually better than expected. There is more good news for Sony, Columbia and Hanks, as A&D has already surpassed $100 million in overseas grosses, so the $150 million spent on this one may not be such a bad investment (it's this year's Troy). On the domestic front, A&D has earned $81,5 million, and we will get a better understanding of where it's going to finish next weekend.

If any film in the top ten beat expectations, it's Dance Flick, the latest super-stupid parody film from the Wayans boys. Dance Flick earned $11.1 million over its opening frame from 2,450 venues. While not the big grosses seen in the Scary Movie franchise, or even the medium grosses from Wayans flicks like Little Man or White Chicks, it does improve on films like Superhero Movie ($9.5 million opening) and Disaster Movie ($5.8 million opening). The budget for this one came in at a modest $25 million, so this is a good start.

Sixth goes to X-Men Origins: Wolverine, as Hugh Jackman and company get pushed to the back of the pack. Wolverine earned $7.8 million in its fourth frame, and has another large drop compared to last weekend at 47%. The good news for Fox is that Wolverine has finally outgrossed its production budget ($150 million) domestically, as it has earned $163.1 million. The even better news is that it has earned a similar amount overseas.

Seventh goes to Ghost of Girlfriends Past, the rom-com that has held on longer than it has any right to. The Matthew McConaughey starrer earned $3.7 million in its fourth weekend, and now has a running total of $45.9 million. Just keep thinking, in a few more weekends, it will be gone.

The lower rungs are filled with non-factors. Eighth is Obsessed, and despite losing 1,031 venues this weekend, the Beyonce thriller still earned $2 million. It was off 56% and now has a running total of $65.9 million against a budget of only $20 million. Ninth is Monsters vs Aliens, which continues to claw its way towards $200 million. MvA earned $1.3 million, was off 58% and has a total so far of $193 million. Tenth is 17 Again with Zac Efron. The Warner Bros. flick grossed $1 million and was off 70%. It has a total of $60.3 million.

Overall, things are the opposite of where they should be. The top 12 took in a much lower than expected $168.3 million from Friday-to-Sunday, well off of the record of $199 million set in 2007, and just a touch higher (.48%) than the $167.5 million earned over the same weekend last year. At least next weekend looks 'Up", as Disney and Pixar open Up in 3,700+ cinemas. Add to that Sam Raimi's return to horror with Drag Me To Hell, a horror flick that actually looks scary.