Weekend Forecast for May 22-25, 2009
By Reagen Sulewski
May 21, 2009
BoxOfficeProphets.com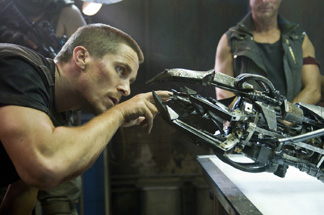 ---
Summer box office finally gets to the fireworks factory with the Memorial Day weekend. This week's new releases include two of the films expected to be the biggest of the year, going head to head in what could be a record setting weekend.

Getting a jump on the weekend is Terminator Salvation, the fourth film featuring robots trying to kill John Connor. Starting with midnight Wednesday screenings and a full day of shows on Thursday, it's going for a five-day opening weekend that's undoubtedly been calculated to ensure it the number one spot on the weekend, versus Night at the Museum: Battle of the Smithsonian. I don't think it quite needs it, but they've decided to stack the deck, I suppose.

T4 jumps past the angst of trying to prevent the near-annihilation of the human race in Judgment Day by leap-frogging over it into the war against the Machines, led by an adult John Connor. As his ever-dwindling band of resisters tries to break through against the seemingly unstoppable Skynet, a new threat emerges – Skynet is taking human prisoners and replicating? cloning? breeding? humans for some nefarious purpose, to the point that its products actually believe they're human. Adjacent to and tangential to this plot, things blow up, which if you're honest, is why you really want to see this movie.

Christian Bale takes some time out from being Batman to stake his claim on yet another movie franchise (this, the first of a potential new trilogy set in the future), playing Connor, and is joined by fellow resisters Bryce Dallas Howard, Anton Yelchin, Helena Bonham Carer, Moon Bloodgood and the... well, we don't quite know what he is just yet Sam Worthington. After the relative anonymous direction of Jonathan Mostow for T3, the reins are passed, somewhat troublingly, to McG, he of Charlie's Angels and The O.C. Not a guy known for substance in his films, he'll at least make it look pretty.

Reviews are a little disturbingly poor for the film, with the general consensus being that it's not much more than a noisy action film, which is disappointing but perhaps predictable. This might be the rare case where reviews actually affect a blockbuster's take in a negative fashion, though the astoundingly well-put-together trailer should keep buzz going through at least the opening weekend. And of course, you can't buy publicity like the kind that resulted from Bale's leaked profane rant against the film's cinematographer (and its associated dance remix). And even when the franchise had almost no buzz, such as with the release of Terminator 3, it still managed $44 million for opening weekend. Imagine what it can do when people are excited about it.

Opening in about 3,400 venues, Terminator: Salvation should win the holiday weekend with a massive total of $110 million over five days, including midnight showings.

The strongest one-two punch in opening weekend box office history will conclude with the sequel to the surprise 2006 hit Night at the Museum. Subtitled Battle of the Smithsonian, it sees Ben Stiller return as his museum security guard Larry Daley, who was center stage when the exhibits at the Museum of National History came alive at night and ran amok. The sequel moves him to the titular Smithsonian Museum, where one of the exhibits, an Egyptian Pharaoh, is planning to come back to life using the magic of ... something or other. Listen, I didn't see the first one, don't ask me to explain it.

Opening at Christmastime, the first Night at the Museum was the hit of the season, earning $250 million when all was said and done. Ticking a lot of boxes as a comedic action-adventure film that was safe for families, it's getting the promotion to the summer season and made bigger, and grander and noisier. Most of the principles of the star-studded cast, which in addition to Stiller includes Owen Wilson, Steve Coogan, Robin Williams, Christopher Guest, Hank Azaria and Amy Adams, who joins the group as Amelia Earhart, a potential love interest for Stiller's character.

Compared to Terminator 4's PG-13, Night at the Museum 2's PG rating does give it some breathing room in terms of competition, although not as much as it would have were T4 an R (as it should have been, but that's another rant). But for families, this might as well be their Terminator. Reviews aren't all that great for this film either, and it has every look of a cash-in, but basically everyone who bought a ticket for the first one will be out again this weekend. Look for an opening weekend of $82 million over four days. Together, the top two films could be the highest combination of new opening films on one weekend, compared to last year's grouping of The Dark Knight and Mamma Mia!, at $186.2 million.

Bringing up the rump for new films is the latest in the line of films to darken the good name of parody, Dance Flick. Apparently the "Movie" appellation has been so sullied by Jason Friedberg and Aaron Seltzer that the Wayans family felt they had to search for another synonym so as to maybe fool some of the dumber moviegoers out there (and perhaps just in time to save us from a title like Movie Movie). While the Wayans have admittedly done this sort of recycled comedy better than some other parodists, that's not saying much of late.

Dance Flick tackles the already dated genre of dance movies, giving those films like Save the Last Dance and Step Up their apparently deserved zinging. But it's difficult to imagine anyone caring enough about that genre to want to see it skewered, even toothlessly. Standard not-my-friend-if-you-see-this rules apply, though we're looking at only around $10 million for the long weekend for it.

A couple of returning films will still add significantly to the box office, with Star Trek probably sneaking past Angels & Demons into third place. The sci-fi reboot held up fairly strongly, dropping 45% off its opening weekend and pushing the $150 million mark. While it undoubtedly faces the stiffest direct competition of any film this weekend, Memorial Day Weekend is one where there's room for multiple big films. Over the four-day frame, I expect it to come in with $34 million.

Angels & Demons, on the other hand, might be considered to have stumbled out of the gate with a $46 million start, especially compared to The Da Vinci Code. Given the rapid disappearance of that film from theatres two years ago, I wouldn't be shocked to see Tom Hanks' latest end up with a holiday weekend figure of $30 million or less.

Wolverine also hit the $150 million mark last weekend, though in taking a week longer to do so than Star Trek after a significantly better opening weekend, it has to be a bit of cold comfort. The X-Men spin-off is pretty firmly entrenched as this summer's first disappointment, and this will likely be its last major earning weekend. Give it $9 million for the next four days.