Weekend Wrap-Up
Dan Brown and Catholic Church Declare a Tie
By David Mumpower
May 16, 2009
BoxOfficeProphets.com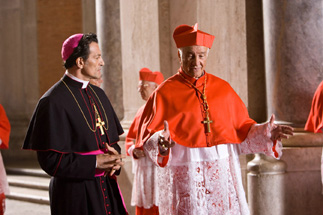 ---
This weekend was ceded to Sony Pictures, Tom Hanks and Ron Howard. Their latest release, Angels & Demons, was given carte blanche, the only one of the six May heavyweights to have no competing releases. The move was logical since the last film that united Hanks and Howard, The Da Vinci Code, opened to $77.1 million and finished with over $750 million worth of worldwide box office. A sequel to such a film seems like a slam dunk on paper. Unfortunately for Sony, sometimes things look better on paper than in execution.

Angels & Demons finished in first place this weekend with an estimated $48 million and a per-location average of $13,609. What is taken from this result is entirely in the eye of the beholder. An opening that is $30 million less than its predecessor is generally considered a disappointment if not a failure. In the case of this Dan Brown adaptation, I am not certain this is the case. The aspect of The Da Vinci Code that made it such a box office phenomenon was its name recognition. People knew of the bestselling novel and even those who hadn't read it wanted to know what all the buzz was about. What they discovered was a befuddling movie that satisfied almost no one, neither obsessive fans of the novel nor curious onlookers. Out of all of the $200+ million domestic earners in box office history, none has a lower RottenTomatoes score. It was critically reviled to the point that it could have been directed by Uwe Boll and no one would have noticed a difference. For Academy Award winners such as Ron Howard and Tom Hanks, this type of scorn was largely unprecedented, The Bonfire of the Vanities notwithstanding.

A sequel to such an unpopular, popular film (I know of no other way to describe it) was always a dicey proposition. A seven figure investment was required as a follow-up to a $125 million production that had made boatloads of money while being universally disliked. In addition to the foul taste left by The Da Vinci Code, Angels & Demons also suffered from Prince Caspian Syndrome. It too was a sequel to a film that had its own singular name recognition. That film opened only $10 million lower than its predecessor, The Chronicles of Narnia: The Lion, the Witch and the Wardrobe, but its final domestic take wasn't even half of the better known property. With a strong opening weekend, Sony appears to have avoided the doomsday scenario of a domestic take short of $110 million for Angels & Demons. Given that worldwide receipts were always going to carry the day here (it's already pulled in $103.4 million overseas), I don't expect this film to wind up remembered as the huge disappointment that Prince Caspian was. That could change with a monumental second weekend drop, though. At this point, Angels & Demons' fate is up in the air a lot more than is ordinarily the case after opening weekend.


The rapturous reception to the Star Trek franchise reboot continued this weekend. The 2009 take on a sci-fi staple earned an impressive $43 million, falling only 43% from its $75.2 million debut. As of Friday, Star Trek had already become the most successful film in the franchise in terms of actual domestic revenue. It surpassed previous record holder Star Trek IV: The Voyage Home's $109.7 million. Of course, once we adjust for inflation, there is still a lot of work left to do. The Voyage Home has the 2009 ticket price equivalence of $207.9 million, and it's not even the strongest performer. The first Star Trek movie adaptation (rather shockingly) inflation adjusts to $236.0 million. This franchise once was a juggernaut and J.J. Abrams has done an impeccable job in reminding the world of this fact. With glowing reviews and a ten-day box office total of $147.6 million, it is only days away from surpassing Star Trek: First Contact's inflation-adjusted tally of $149.3 million to become the most successful Trek since the 1980s. A $200+ million domestic take is a mortal lock at this point, meaning this is the rare sci-fi action flick that is not hugely frontloaded. Note that you may see some larger percentage drops listed around the net for Star Trek, but those reflect the $79.2 million number last week that includes $4 million accrued prior to official Friday box office.

Speaking of heavily frontloaded action flicks, Wolverine is dissipating at a rate best described as a snowball in a microwave. A 69% drop last week is followed by another 44% this weekend as the film earns only $14.8 million. The poorly reviewed and received origins film has a running domestic total of $151.1 million, meaning it should avoid the fate of being the least successful X-Men film. The number to beat is the original X-Men's $157.3 million; this too is misleading since that title inflation-adjusts over $200 million, though. Wolverine is performing somewhat similarly (albeit better) to The Scorpion King relative to The Mummy franchise in the way that any success it is having is based largely upon name brand recognition rather than actual film quality. Wolverine's international take guarantees that the $150 production budget is covered, but it's still only a couple of notches above a worst case scenario result. Stating the obvious, the next X-Men film needs to be something other than Magneto or some other origin story.

Rounding out the top five this week are Ghosts of Girlfriends Past and Obsessed. The Matthew McConaughey romantic comedy drops a notch from third place last weekend to fourth place this frame with $6.9 million. This is a relatively solid hold as it falls 33% on the heels of an identical 33% drop last weekend, meaning that the poorly (if not loathsomely) reviewed Dickensian yarn is showing legs almost in spite of itself. A running total of $40.1 million puts this squarely on track to surpass $50 million, making it McConaughey's 11th such hit. Like it or not, he's a star. Boop.

Obsessed is an even stronger performer. The idea of hot catfight action between Ali Larter and Beyonce Knowles continues to draw in flocks of people. Another $4.6 million on the heels of $6.6 million last weekend means a modest drop of only 31% and a current domestic total of $62.6 million. It's not going to break $100 million and it probably won't quite beat The Pink Panther's $82.2 million. Even so, this is Beyonce's fourth $60+ million film in six attempts. She has quickly proven herself to be a solid box office factor, Cadillac Records notwithstanding.

The younger crowd is accounted for with the sixth and seventh place finishers this week. Sixth place goes to teen dream Zac Efron and his film, 17 Again. Another $3.4 million this weekend, a 20% depreciation, gives the film a running total of $58.4 million, Efron's first two major theatrical releases have earned over $150 million combined, giving him some hope that his fate is not inexorably linked to Disney Channel. Co-star Matthew Perry also receives some good news from this turn of events. 17 Again has surpassed The Whole Nine Yards to become Perry's most successful film role. Maybe he won't be stuck as Chandler Bing for the rest of his life after all. Oh, who am I kidding? Of course he will be. Meanwhile, Monsters vs. Aliens, the latest DreamWorks Animation blockbuster, continues to creep toward the magical $200 million mark. Another $3 million this week represents an exemplar drop of 8% from last weekend. This is good enough for seventh place at the box office and it's also across the $190 million threshold. By this time next week, it will have surpassed the original Madagascar film to become the second most successful non-Shrek film from the studio. Kung Fu Panda's final domestic take of $215.4 million is probably out of reach at this point, but stranger things have happened.

Rounding out the top ten this week are The Soloist in eighth place, Next Day Air in ninth place and Earth in tenth place. Another $2.4 million this weekend represents a solid holdover of 39% for The Soloist. Make no mistake on the point, though. The Soloist is a bomb. A running total of $27.5 million is not even half of the film's $60 million budget and even if we throw the box office discussion out the window, there is still no excuse for Jamie Foxx's hair. This one is a mistake all around. The news isn't much better for Next Day Air, a film that wanted to be another Pineapple Express but got derailed somewhere along the way. $2.3 million worth of box office this weekend negligibly bumps up its running total to $7.6 million. Let's just say that Donald Faison is probably relieved that Scrubs got renewed after all. Rounding out the top ten is a different type of film, earth, the first project from the new DisneyNature arm from the Mouse House. Audiences have been intrigued by this title, presumably after having their appetites whetted by the Planet Earth series. Since this is a joint operation with that project, including the re-usage of some of its footage, they have been largely satisfied with more of the same, apparently. Another $1.7 million this week gives the documentary a running tally of $29.1 million, making it one of the most successful nature productions of all time.

Box office for the top ten was up 5.4% from last year. With three of the six biggest titles of May already in release, we are now poised for a true box office showdown next weekend. Terminator Salvation and Night at the Museum: Battle of the Smithsonian both make their debut, with the winner a strong possibility to become the biggest film of the month. Next week shapes up to be one of the biggest and most intriguing matchups of the decade. Can't wait. Can't wait. Can't wait.