The Indie Month That Was: Part II
By Michael Lynderey
May 15, 2009
BoxOfficeProphets.com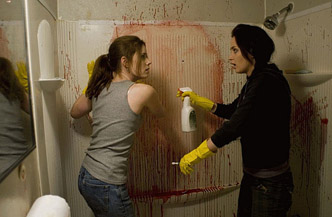 ---
Genre party

As someone who's aware of just how many low-budget B movies littered certain theaters up until the late 1980s (probably over a hundred a year), I always look out for the genre films that still pop up on the limited release schedule from time to time. Their box office is almost always disastrous - but it's a nice feeling, almost of nostalgia, to see that they're not completely extinct. In fact, there's been a slight uptick in those throughout the 2000s (after the dead zone of the 1990s).

Alien Trespass fits the bill - an homage to '50s sci-fi, directed by X-Files veteran R. W. Goodwin. It's all about aliens, astronomers, beautiful blondes and bug eyed monsters in Eisenhower-era California, and it's a comedy, I guess. I don't know what the expectations for this film's 40-screen release were, but without some kind of strong base support from genre fans, such movies almost never get anywhere, even with good reviews (which this didn't have, scoring 36% on the TomatoMeter). And with the biggest star in the cast being Eric McCormack, of Will & Grace, this was never going to be anything other than a curiosity. The average gross out of those 40 theaters? $1,086.

The Mutant Chronicles was another film I'd hoped would jump into the fray. Based on pre-release information, I thought the studio, Magnolia, was going for at least a decent-sized release. The cast includes Thomas Jane, Ron Perlman, and John Malkovich (what?!?), the movie is based on a once-popular role-playing game from the '80s - and if it happens to be bad - well, that's never stopped a good exploitation film before. In fact, I'd give you the RottenTomatoes score, but I think you can pretty much guess. Ultimately though, this one opened in only two lonely theaters - one in LA and one in NY - pulling in somewhere around $2,000+ each. It's hard out there for a genre movie.

Praised indies

Every season has its little gems - low-budget movies with unknown actors and little pedigree that nevertheless come out of nowhere and win some regional recognition, mostly through gushy reviews and word-of-mouth. There were a couple such films gaining some steam this month, and oddly all of them focused on the oft-divisive topic of immigration.

Sin Nombre was one to watch. A Spanish-language film executive produced by actors Diego Luna and Gael Garcia Bernal, it focuses on Mexican gangs and a Honduran family traveling north. Nombre has had sterling reviews across the board (88% on Tomatoes), helping its expansion. Though it initially opened in March, the movie's nationwide path was blazed mostly in April - it went from 24 theaters on April 3rd to 83 on April 24th. Though it's now dipped from its opening per-screen-average (which was in the teen thousands) to between $2-3,000, the movie's already grossed $1.5 million, and will likely reach the $2 million dollar mark before it's through.

Another film from the same mold is Sugar. Directed and written by Anna Boden and Ryan Fleck (previously responsible for the acclaimed Half Nelson (2006), Sugar follows a Dominican baseball player's experiences in the American minor leagues. Like Sin Nombre, it's been propelled by terrific reviews (91% on the TomatoMeter) and some low-key buzz, going from 11 theaters in early April to 51, and grossing roughly half a million dollars.

And finally, there is Goodbye Solo. A sleeper even among this pack, it follows the friendship of two North Carolina men - one a Senegalese taxi cab driver and the other an elderly Southerner with a secret. It's directed by Ramin Bahrani, whose much-acclaimed previous films Man Push Cart and Chop Shop barely made a dent, with $36,608 and $125,045 totals, respectively. This one, with 94% on RottenTomatoes and special commendation from Roger Ebert, has been doing considerably better. It's had a couple of decent per-screen-averages in a handful of theaters, and totaled around $270,000 by April's end.

Documentaries

After the box office triumphs of Bowling for Columbine (2002), An Inconvenient Truth (2006) and especially Fahrenheit 9/11 (2004), documentary films seem to have secured a stable position as art house favorites. The higher-profile documentaries this month fell mostly on the side of showbiz biography, with the political intrigue docs taking a time out. The oddly-titled Anvil! The Story of Anvil and the more direct Tyson led the pack.

Anvil! is all about the heavy metal band from Canada of the same name. Formed in the mid-'70s, the band achieved some mainstream success in the '80s with their album, Metal on Metal, before fading into cult status. The film, tracing Anvil's journey from inception to present day, received an overwhelming show of support at RottenTomatoes, with no less than a 98% fresh rating on the TomatoMeter. But the subject itself must have been too niche even for a limited release audience - after starting with an $11,550 average in its three theater opening, the movie experienced the standard expansion dips in per-screen-average ($5,427 in six theaters; $3,872 in 12, and $3,094 in 16) and is unlikely to see wider shores.

Tyson, on the other hand, has potential for bigger game. Seeming timely in preceding Mike Tyson's possibly funny cameo in the Hangover, this profile of the controversial boxer is directed by James Toback, a friend of Tyson's who previously cast him in his Black and White (2000) and a few other films. Toback's movies range from acclaimed (Fingers) to completely lambasted (The Pick-Up Artist), but most of them have had a mixed reception critically and all of them haven't done well at the box office (the last one, When Will I Be Loved, almost faded from screens back in 2004, despite a juicy Neve Campbell performance). Because Mike Tyson is considered such a fascinating figure by at least a fair amount of people, this is Toback's highest profile film in a while. A mix of archival footage and interviews with the man himself, the film has received heavy critical acclamation (87% on RottenTomatoes) after premiering at Cannes 2008. The first week result - an average of $7,731 at 11 locations - doesn't knock my socks off, but it could lead to at least a somewhat solid run, as Tyson expands throughout May and June and struggles to reach that magical $1 million mark.

Also opening in April was Every Little Step, which at first glance seems like a more realistic version of American Idol. It follows auditions and casting for a 2006 Broadway production of A Chorus Line (a musical which, itself, is about the audition process). At 85% on the TomatoMeter, it's another praised documentary, and while the film played well in New York, Los Angeles, and San Francisco (a first-week average of $8,563 at eight theaters), it probably doesn't have much of a chance for any kind of wider recognition. Indeed, by its third weekend, the film, now at 12 theaters, had dipped to an average of $4,842.

Great titles on movies you'll never see

One of the pleasures of scrolling way, way, way down into the depths of the weekend box office chart is seeing obscure films with incredibly entertaining titles. This April, there were a couple such treats. My favorites were Coyote County Loser (a Southwest-set romantic comedy), Monster Beach Party (a parody, one has to assume, of monster beach party movies), and the misleadingly-titled Nursery University. I say misleading because that name evokes a certain kind of '70s-'80s T &A exploitation film that's gone virtually extinct - Night Call Nurses, Candy Stripe Nurses, or Blazing Stewardesses come to mind. I was therefore thoroughly disappointed to find out that Nursery University was, in fact, a documentary about nursery school admissions - and would thus likely if not certainly contain no T, A, or any other letter representing something exploitative.

And lastly, there was one other title that brought a smile to my face. The very direct, formal Jazz in the Diamond District - it's noSnakes on a Plane, but there's something about it.