The Indie Month That Was: Part I
By Michael Lynderey
May 14, 2009
BoxOfficeProphets.com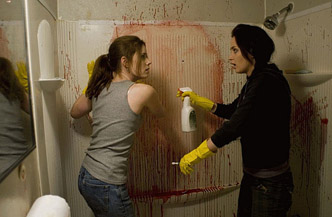 ---
While the box office has been overflowing for 2009's wide release offerings, it hasn't been a very good year for the under-800 theaters crowd. So far, only a few platform releases have found wider acceptance. April, specifically, offered a fair collection of limited release films, most of which didn't get much past the starting gate at the box office. Still, here's a look at the acclaimed, the rejected, and the just plain odd films that played somewhere out there in April 2009.

The A-Lister

The biggest sub-800 theater movie of the year so far has been Sunshine Cleaning, the almost-token Sundance-flavored hit of the season. Everything went according to plan for this release, which follows a pair of sisters who get into the lucrative (?) crime scene cleanup industry. Like all high profile indie films, it first opened up in only a handful of theaters (4), delivering a masterful per-screen average of $54,798. Throughout March and April, it proceeded to expand to 64, 167, 479, 598 and finally 642 locations, and it was only there that the buck stopped (at that point, the per-theater average deflated to $1,527). The indie cred and relative star power of Amy Adams and Emily Blunt brought this one out, despite somewhat middling reviews for this type of film. For Adams, a successful smaller film is becoming almost a March tradition - witness her better received March '08 release Miss Pettigrew Lives for a Day, which brought in $12.3 million in fewer screens than the '09 Adams film. Sunshine Cleaning, on the other hand, has so far grossed $10.4 million, a decent-enough result that proves there's still some power in quirky comedies.

Opening wide... somewhere

The most interesting breed of limited releases are the ones studios open in a couple hundred screens right away, without a platform release or time to grow legs. Occasionally, such movies have a strong niche market - say, a Christian-oriented film like Facing the Giants or an African-American-targeted release like Not Easily Broken - and so they do fairly or very well with this strategy. However, most movies given this type of entry into theaters are just being dumped. That's why studios rarely do it, and there's usually a particular reason why they even bother giving their unwanted product such a wide release.

First on this roster, there's The Informers - a drugs, sex, and rock 'n' roll odyssey about glamorous and troubled people in L.A. On paper, it sounds like a possible winner. It's a Bret Easton Ellis adaptation - a fact that gets a movie at least some interest from a certain demographic. It's set in the '80s, like three recent films (Watchmen, Adventureland and the Haunting in Connecticut). It's got a large cast, mixing big names (Billy Bob Thornton, Kim Basinger, Winona Ryder) with some lesser knowns like Jon Foster and Amber Heard. But then the downsides come in - Ellis films (American Psycho, Less than Zero, The Rules of Attraction) may get some good reviews, but they never do well at the box office. This one went through some heavy cutting (the scenes excised include those featuring Brandon Routh, who played Superman in Superman Returns and has effectively remained incognito at the movies since). And the RottenTomatoes score is 14%.

So it wasn't a surprise that the distributor, newbie Senator Entertainment, sent this one out to only 482 theaters. What was more sore to behold was the weekend gross - approximately $300,000, for a per-theater average of $622. That's too bad for a movie that looked at least kind of cool.

C Me Dance was another film to launch right into this kind of regional release. This one was an attempt by Freestyle Releasing to enter into the oft-lucrative Christian film market. I am not sure exactly what this one was about - but it involved, if I understand it correctly, the battle - either spiritual or physical - between a novice dancer and the Devil. Well, why not? Released in 151 theaters in mostly Southern states, it opened with $28,700 for a per-theater average of $190. This is not good box office. One of the keys to making a Christian-oriented film successful is strong grassroots marketing to your base - and although I'm not totally sure, it didn't seem like this one had it. It also didn't help that Freestyle really doesn't have any experience with this sort of thing - too often, they dump films that no one has any real reason to see onto hundreds of screens, and the result is predictable - see titles like Nobel Son, the now-notorious CGI flop Delgo, and the Halloween-timed but nearly-anonymous Sarah Landon and the Paranormal Hour.

One niche release that did do well was American Violet. Based on an incendiary case in 2000 Texas involving a wrongful arrest, the film raked up 72% on RottenTomatoes and praise for the lead performance by near-newcomer Nicole Beharie. Whatever this movie's target audience was, it worked better than this kind of release usually does, pulling in $243,162 from 61 screens, for an acceptable average of $3,986 per theater. It's not great, but for a little movie like this, it's a sign that something went right. The second-week drop, on the other hand, was worthy of one of this year's frontloaded extravaganzas - 72.6%, effectively killing any chance of a wider expansion (if any was intended in the first place, that is).

Big actors in small films

When analyzing, researching, investigating and probing every pore of the release schedule, I always look for those movies that star one or a few name actors, but are opening in a very limited release. They're not that rare.

We start with The Mysteries of Pittsburgh. This was an interesting one. Good title. Based on a cult 1988 novel by Michael Chabon, it's the second adaptation of one of Chabon's books to reach the screen (Wonder Boys was the first). It's a coming-of-age story set in the 1980s (that decade again) and it stars some good character actors, like Nick Nolte and Peter Sarsgaard. Sienna Miller plays a sexpot, and a comment Miller made to Rolling Stone, referring to the city as "Stsburgh", was even a little controversial back in 2006. Jon Foster (Ben Foster's brother) is the lead, and with his role in both this and the Informers he seems to cement his status as a star of '80s period pieces. Anyway - RottenTomatoes came in at 14%, the film's pedigree didn't help it much, and the buzz was soft at best - so the film, opening in 20 theaters, pulled in only an $1,879 per-screen-average; it dropped down to 11 theaters the next week and that was about it for this one. Chabon's The Amazing Adventures of Kavalier & Clay, if given a major studio treatment, ought to do better. But for now, Chabon's cinematic world isn't at its peak.

Next, there was Lymelife. This one's got a good indie cast - Alec Baldwin, Jill Hennessy, Cynthia Nixon, Timothy Hutton and not one but two Culkin brothers (you might not know this, but the 2000s have seen Culkins of all shapes and sizes starring in indie movies, some of them very good). Also on hand is Emma Roberts, whose Hotel for Dogs got caught in the incredible January movie rush and grossed $72 million, giving her her biggest hit to date by miles. The genre? It's a suburban dysfunction ("sub-dys" for short) movie, following a handful of '70s-era Long Islanders in their turmoil. The sub-dys movies haven't done well at the box office lately (see for example Will Ferrell's Winter Passing), but it seems like there are always one or two out every year anyway. This one had a fair critical approval at 60%, but the $6,940 it pulled in on average from its opening in four theaters was a fairly damning sign. Lymelife grew to 13, 25, and finally 35 locations, seeing its per-theater average deflate down to its current state of $1,486. I don't think it will see 40 screens. What was the problem here? No major draw in the cast, no particular hook in the premise, and reviews that, while good, were not out-of-this-world positive. Indeed, I would stand by the theory that the sub-dys genre is so played out by now, that only one that receives spectacular reviews is going to break out into wider notice.

An even lower-profile release was Gigantic, which starred Paul Dano and Zooey Deschanel, indie stalwarts the both of them. Dano is coming off a noted role in There Will Be Blood and Deschanel's just had a hit-and-miss year in the big leagues (with the Happening and Yes Man). Put together into a comedy-drama that ended up with only 37% on RottenTomatoes, they barely had a chance. After opening in one theater, where it grossed $10,294, this one expanded to 11 and saw its average gross fall down into the $1,000s.

And finally, there was Is Anybody There? This one stars Michael Caine and thus enters into one of those Gran Torino-type scenarios - an actor in his late 70s headlining a film in which his character is a cranky retiree reminiscing about his glory days. It's got a fair 67% on RottenTomatoes as a stamp of approval. But aside from Caine, the film doesn't have much of a strong hook - and could only manage a $7,702 average from its opening in six theaters. The distributor, Stony Island Entertainment, seemed intent on expanding this wider - 54 theaters on April 24th and 122 on May 1st - but both runs brought in per-theater averages of just over $2,000. Still, these numbers gave the film a higher profile than Pittsburgh, Lymelife or Gigantic got, and since it has the best reviews of the bunch, maybe it deserves it.

Check back tomorrow for part two of the column, which examines the rest of April's indie titles.