Monday Morning Quarterback Part III
By BOP Staff
May 13, 2009
BoxOfficeProphets.com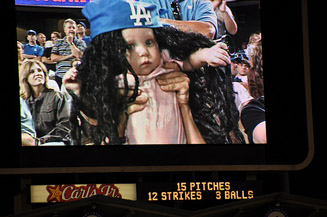 ---
Vulcans own mutants.

Kim Hollis: Wolverine opened $10 million higher than Star Trek, but fell 68% in its second weekend. Which movie will make more in the long haul, Wolverine or Star Trek?

Josh Spiegel: Star Trek, easily. The second weekend drop for Wolverine was almost identical to the drop X-Men: The Last Stand had, which doesn't bode well for it getting to $200 million, let alone $235 million. The reviews for Star Trek are overwhelmingly positive, audiences are eating it up (there was massive applause at the end of the screening I saw yesterday), and the next big blockbuster movie to come out is really Terminator Salvation (sorry, Tom Hanks and Ron Howard). Though Star Trek will have competition next week from Angels & Demons, I don't think it'll be as fierce. That alone will help the film make more money in its second week.

David Mumpower: When I responded to this, I didn't have actuals yet, so I couldn't do as accurate a calculation as I would like on Wolverine. My current guesstimate is a result between $165-$175 million. If we consider the downside of Star Trek as being a heavily frontloaded fanboy film, this is an interesting discussion. If this were any randomly named action/sci-fi franchise with this sort of word-of-mouth and rapturous reviews, however, we would be expecting extreme legs. I'm inclined to believe that is the case here. I do not expect this Trek to behave like previous ones or other fanboy titles. I think it's going to have some staying power and it even has a decent chance at $200 million. We'll know if this thought process is correct or not in only seven days. Right now, I'm betting on Kirk and Spock over Singy-Dancy Jackman.

Pete Kilmer: Word-of-mouth on these projects will be the deciding factor. With the way 20th Century Fox has managed to bungle the Wolverine project and really aggravate the fanbase of the character with a stunningly average movie, I throughly expect Wolverine to fade fairly quickly. Star Trek, on the other hand, has terrific word-of-mouth and can make it to 200 million. Of course, that's going to be tough when Terminator opens.

Tim Briody: Star Trek, without doubt or question.

Max Braden: I could see them being close, but I'm comfortable betting on Star Trek.

Reagen Sulewski: While Trek is going to do better than a lot of other blockbustery films in terms of legs, you still have to qualify that - staying power in this case is $40 million or better next weekend. If it manages that, you're on your way to $200 milllion. Terminator shouldn't hurt either film all that much since Memorial Day is a "big tent" weekend, allowing people to catch multiple films, but they're both going to start losing screens shortly after. Right now I'm laying 3:2 odds on Star Trek.

Sean Collier: It's a close battle. But Star Trek's positive word-of-mouth could mean long legs - at least a long stay in the top ten - which would push it ahead.

Jamie Ruccio: Given the near universal praise for Star Trek, which stands at 96% fresh at RT, I don't think it's even close...Star Trek in a walk. Had I been around this weekend I would have gone to see it again after seeing it on Friday. And given the near universal disappointment in X-Men Origins: Wolverine I don't think there's any doubt which film takes in more.

2009=$$$

Kim Hollis: We're now two releases in on the summer juggernauts so far. How have the box office performances of Wolverine and Star Trek impacted your expectations for the rest of the summer?

Josh Spiegel: I would expect something of a comparable summer performance to last year, if not a bit better. The bigger word-of-mouth movie will most likely be Star Trek, but when a movie as panned as Wolverine makes $85 million, you can tell people are ready for the big movies. I'd be very surprised if movies like Terminator: Salvation, Night at the Museum 2, Up, and Transformers 2 don't rake in lots of cash.

Pete Kilmer: And look for one or two dark horses to become big movies as well. It should be a great summer for movies.

David Mumpower: I had expected both of these films to do generally what they did on opening weekend. Star Trek did a few million more, but nothing has happened here that wasn't generally expected (unless you're Max, who is 0-2 in a rather epic way thus far). What Star Trek reinforces is that IMAX titles clean up, which is something we already knew. Every new piece of empirical data drives this home. All of the titles that get IMAX and 3-D money are going to need their estimates bumped up a bit. Other than that, the only real surprises thus far exist in terms of quality. Star Trek has that in spades. As for Wolverine...well, a better effort had been expected.

Tim Briody: No, this is pretty much expected. Both were in the wheelhouse of where I'd pictured them, with Trek getting the "holy crap it's good" bump that's always worth a couple million on opening weekend.

Max Braden: I think I was off on both because I was stuck in the past and ignoring the current buzz that was available for all to see. With a project like Star Trek I always think back to the re-release of Star Wars in 1997. There were fanboy proclamations of "biggest box office ever" with its second run outgrossing the first, but of course it never came near anything like that. I still think the winning prophets got a little lucky with Star Trek; had Wolverine been a hit with really strong reviews, a decent second weekend would have cut into Star Trek's opening more. In any case, I think the big movies of the summer will be more predictable.

Sean Collier: I think, continuing a trend we saw in the early part of the year, we're going to see more successful films than last year but fewer preposterously successful films - a lot in the $100-$200 million range, not too many above that. But yes, indeed - exciting things ahead.

Yes, another movie opened. You can't be expected to know this.

Kim Hollis: Something called Next Day Air opened to $4 million this weekend. Say something funny about Next Day Air.

David Mumpower: It absolutely, positively had to be out of theaters overnight.

Tim Briody: Turk, if you needed money that badly, you just had to ask.

Max Braden: "Would you like delivery confirmation?" "No, thanks."

Josh Spiegel: Next Day Air is a package that's better off being lost and never delivered.

Sean Collier: Congratulations! You tried to make a comedy, and it got beat by the second freakin' weekend of Ghosts of Girlfriends Past. You have failed utterly.

Ben Farrow: Someone more clever than me could figure out how to work a Cast Away reference into Next Day Air. I guess I shouldn't have done all that glue back in high school.