The Amazing Race Recap
This Is How You Lose a Million Dollars
By Kim Hollis and David Mumpower
May 10, 2009
BoxOfficeProphets.com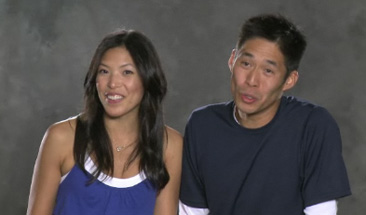 ---
Test your knowledge of this season's TAR with How Well Do You Know: The Amazing Race 14

Previously on The Amazing Race, some woefully unfit beekeepers were eliminated right off the bat. Wait, was that this season? No, this year saw a bunch of married couples display all of the love and support of O.J. Simpson on their way to berating one another all of the way up until elimination. The end result is that the only truly likable team, Amanda & Kris, have been out of the competition for a couple of months now. We've been stuck with a bunch of jerks whose primary purpose in life seems to be reminding the world why America is so unpopular abroad these days.

With the elimination of Kisha & Jen last week, we are left with three teams. Victor and Tammy, easily the best duo this season, have won four out of ten legs and have finished in the top three in every leg but one. We disliked them earlier in the competition when Victor came down with a bad case of Transylvania Psychosis, and we have worried about their lack of ethics a time or two. To their credit, they have settled down as they have gotten deeper into the race and now find themselves as what passes for good guys.

The opposite is true of Margie & Luke, a team about whom I found nothing to dislike during the first episode. In the interim, Luke has turned into a drama queen with his mother enabling him every step of the way. He needs to grow up and she needs to stop treating him with kid (no pun intended) gloves. Meanwhile, their allies, Jaime and Cara, are the Jekyll and Hyde of the competition. Cara is a seemingly nice young woman who has been absolutely mortified by her companion at least a dozen times already. Jaime is a total bitch whom we have dubbed The Amazing Racist for her grotesque behavior, particularly in China. If they win, we're going to petition CBS to give all of the money to Cara then shoot Jaime out of a cannon. Into a wall. Lined with dynamite.

Summarizing: go Victor & Tammy!

To start the final leg of the race, we have Extreme Bunching. The teams are told to journey to Maui, Hawaii, and all three of them are on the same flight, of course. The producers of the Amazing Race couldn't have any one team break out to a big advantage. The flight takes 18 hours, and once they arrive, they are instructed to change into bathing suits and prepare a pig for a traditional island luau. It's pretty gross, really. We've seen this sort of thing done on Anthony Bourdain's No Reservations, and it looked a lot better then. The hardest part of this challenge seems to be carrying the pig from the preparation point to the barbecue stage. The pig is quite heavy, which means that even though Victor & Tammy break out to an early lead, Margie & Luke are able to pass them because Tammy is somewhat lacking in physical strength. Cara is struggling even worse, though, which makes us wonder if Jaime might not just kill her right there on the beach. She berates her teammate constantly, saying, "This is how you lose a million dollars." This quote is also the title of the race. We're not exaggerating when we say that we discussed who we thought would be the person to utter this line, and were certain it would be Jaime. Way to prove us right!

Margie & Luke are the first to finish the task, and their next clue tells them to proceed to McGregor Point. Once they arrive, they have to take a ride on a jet ski to search a "field" of buoys for the *next* clue. Margie & Luke seem to have fun with this at first, but then it takes awhile to find the right one, and they also fall off their jet ski. Margie gets frustrated with Luke for yelling at her. Both Victor & Tammy and Jaime & Cara arrive right after Margie & Luke find their clue, so they are all within very close proximity. They will find yet another clue at a "surfboard fence". Back at the buoys, Jaime & Cara finish just ahead of Victor & Tammy, but this race could go to any team at this point.

At the surfboard fence, the teams finally are told it's time for the Roadblock. One person must create their own surfboard fence. The surfboards have pictures on them that may or may not match up to each leg of their journey so far. If a contestant has a good memory, this should be an easy task. We've seen in the past, though, that this sort of thing can prove to be challenging, particularly after an exhausting physical and mental journey.

Luke takes on the task for his team, and Margie makes the comment that he has been preparing for tis the whole race. And he does indeed seem to have great recall of exactly where they've been, what they've done, and when they did it.

Meanwhile, Jaime & Cara's cab driver is lost, which is probably killing them with regard to their chances of winning this race. Victor & Tammy are stuck behind a slow car in a no passing zone. It's frustrating to be sure, but you can't really blame the other drivers for taking it slow - they are in Maui, after all. It's kind of known for its tourist-y nature.

As Jaime & Cara deal with their lost driver, Victor & Tammy arrive at the Roadblock. Victor elects to do the task for his team, while Luke works on wrapping up his surfboard fence. He does get the last two placed incorrectly, which could prove disastrous since he won't have any indication of where he went wrong. This does cause the young man to get extremely frustrated, and he panics.

While Victor gathers his surfboards and Luke struggles, Jaime and Cara arrive. Jaime takes the task, which we think happens because Cara decides there is no way she's going to be yelled at for 20 minutes. Jaime doesn't seem to comprehend that some of the surfboards have pictures that don't apply here, so she flounders around at the beginning.

Victor is doing quite well and getting close to finishing, and Luke still hasn't figured out his errors. Jaime needs two more. It's extremely close between all three teams, but it's not as exciting as it sounds. In fact, this final leg of the race has been pretty dull. We've actually hit the fast forward button a lot. Victor does finish first, and he and Tammy are instructed to go to King Kamehameha Golf Club and race to the finish line. It's looking like this race will finish just as the good lord intended it to.

Jaime and Luke help each other to finish the challenge, so all three teams are streaking for the finish line, though Victor's strong performance in the Roadblock has given them an insurmountable lead. It's all going to come down to the talent of the cab drivers now, which is perhaps as it should be since Jaime has treated them all so poorly. There's not even any suspense. Victor & Tammy are the official winners of the Amazing Race, followed by Jaime & Cara and then Margie & Luke. This is two straight seasons that the particularly athletic, youthful brother and sister team that has proven to be untouchable. We'd love to see an All-Star race that pits Victor & Tammy against last year's Nick & Starr. Well, we'd love to see it if we liked to watch Amazing Race, anyway.