Weekend Wrap-Up
Bold Box Office for Star Trek
By John Hamann
May 10, 2009
BoxOfficeProphets.com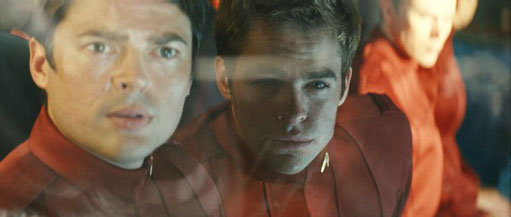 ---
The biggest knuckleball of the 2009 summer box office season opened this weekend in the form of Star Trek, the second huge, effects-laden prequel to launch in two consecutive frames. Could Kirk and company match Wolverine's impressive $85 million rocket launch?

After cruising the galaxy of movie box office for the last 30 years (to up and down results), Paramount finally pulled the trigger on a Star Trek reboot this weekend. Estimates for its success were all over the map, with some studio estimates predicting a $50 million opening, and some analysts looking for as much as $100 million. After receipts for Thursday night midnight screenings came in at $7 million, some got really excited; however, these weren't traditional midnight screenings; it was more of a soft open on Thursday night, with some showings starting as early as 7:00 p.m. The figure for Friday (not including that $7 million from Thrusday) came in at $24 million, and at that point we knew that Paramount had something to be excited about.

Our number one film of the weekend is obviously Star Trek, and while it couldn't tame Wolverine's opening weekend of $85 million, young Kirk and friends did blow the cover off the box office with an opening weekend take of $72.5 million, plus another $4 million from pre-midnight Thursday showings, which gives the movie a running total of $76.5 million so far. Paramount put Trek out to 3,849 venues this weekend, some of them IMAX, and recorded a venue average of $20,428. The debut is huge for this franchise, as the opening frame is more than the combined total of the last three films' opening weekends (Nemesis - $18.5 million opening, Insurrection - $22.1 million opening, First Contact - $30.7 million opening). The debut throws out the trend of Star Trek films opening between $14 million and $23 million, when removing the top and bottom score. The average opening for Star Trek is about $19 million with all films included.

The Star Trek reboot avoids the small bump that the opening frame of Batman Begins ($48.7 million opening) had over the previous film in that franchise, Batman & Robin ($42.9 million opening), as this Trek starts with almost four times the amount of the last Star Trek picture. The 2009 Star Trek outgrossed the last film (2002's Nemesis finished with only $43.3 million in domestic box office) in two days. The average domestic total for the Star Trek franchise was previously about $75 million, so to gross more than that already is a huge plus Paramount; however, the difference with this entry is budget. This Trek cost $150 million to make, whereas the last three films had an average budget of $58.6 million. There was a lot of pressure on Paramount to ensure this worked, as Star Trek has been a valuable franchise for the studio, not only in terms of movie box office, but also revenues from home video and ancillaries as well.

The biggest risk for Paramount may have come with casting, as Paramount chose nobodies Chris Pine as Kirk and Zachary Quinto – the sometimes villain of NBC's Heroes - as Spock – two unknowns to most moviegoers. They did surround them with some up-and-coming movie names, like Simon Pegg, John Cho and Karl Urban, and cast Eric Bana as the villain and put Winona Ryder and Tyler Perry in cameos. Obviously, the $150 million budget was spent on effects, and Paramount did a stellar job of promoting them. The trailer and TV ads were fantastic, and the international rollout was inspired, as the cast moved from city to city around the world promoting the film. This Star Trek needs a decent international showing, as the large budget handicaps the possiblity of making a profit off of only domestic grosses. We usually think of a "true cost" of a movie as double its production budget, as that figure does not take into account prints and marketing costs, and on a summer blockbuster, those costs are huge. Paramout would need a domestic gross approaching $300 million to see an actual profit on a film like this, so they turn to overseas grosses and ancillaries to turn a profit. The last Trek film, Nemesis, earned only $24 million overseas, so the studio is looking for a Stark turnaround (Iron Man earned $260 million overseas last year).

For J.J. Abrams, director and producer of the Star Trek reboot, this is another huge feather in his cap. The man behind Lost, Fringe, Alias, Felicity, Mission: Impossible III, and Cloverfield has now successfully re-invented and reinvigorated a storied franchise that had run into tough times. Mission: Impossible III had slightly disappointed at the box office, with a $47 million opening and $133.5 million finish; Cloverfield opened huge ($40 million) but then imploded, finishing with only an $80 million total. The monster movie did do well overseas ($90 million) so Cloverfield finished with $170 million against a production budget of only $25 million. Star Trek finally removes any stigma Abrams may have had in graduating from successful TV man to successful movie man.

So with a big opening, where does Star Trek go from here? These films have never been extremely leggy, topping out with an opening weekend-to-total domestic gross multiplier between 2.5 and 3.0, at least for the last few films. Paramount would like to keep that multiplier where it is, and apply it to a much bigger opening. I think anything over $200 million domestically will be a big win for the studio, if international grosses are healthy. Paramount has a few things on its side, including stellar reviews. Star Trek has an outstanding 96% fresh rating from the nation's critics at RottenTomatoes, and a slightly lower 91% from the cream of the crop. That's a grand score, considering The Dark Knight was 94% fresh and Iron Man 93% fresh. Star Trek's big critical miss comes from Roger Ebert, who still has some pull with moviegoers. Ebert, like some of the more hardcore Trek fans, pines for the Roddenberry days of Star Trek, an issue that may effect repeat viewings from the fanbase of this one.

Finishing second this weekend is X-Men Origins: Wolverine, last weekend's $85 million opener. With Star Trek dominating this weekend, there were many questions as to how far Wolverine would fall. The drop was dramatic: Wolverine earned $27 million, giving the comic book star a weekend-to-weekend drop of 68%. Wolverine had more trouble than just Star Trek this weekend. It also had to deal with some hefty negative word-of-mouth that has been dumped on it by both fans and critics. This may have been enough to either keep folks at home or propel them towards Star Trek. Despite opening to $85 million, Wolverine still had to wait until Thursday to cross the $100 million mark. Currently the Fox $140 million production has earned $129.6 million domestically and $80 million overseas, meaning that a $200 million finish is no longer likely.

Ghosts of Girlfriends Past finishes third, as the aptly scheduled rom-com provides further counter-programming to fanboy nirvana in Star Trek and Wolverine. Thanks to being one of the very few options for women, Ghosts had a decent hold, earning $10.5 million and falling 32%. This one now has a running total of $30.2 million and will most likely top out around $60 million.

Fourth goes to Obsessed with Beyonce and Ali Larter. After dropping 58% last weekend, the trajectory on this one doesn't improve much. The Screen Gems flick earned $6.6 million in its third weekend and falls 45%. The studio doesn't care, as this was made for $20 million and has taken in an excellent $56.2 million so far.

Fifth goes to Zac Efron and 17 Again, as the slowdown in new releases is keeping this one alive. 17 Again earned $4.4 million in its fourth weekend and drops 31%. The Warner Bros. effort has now earned $54.2 million.

Next Day Air, a new film from Summit Entertainment, opens quietly in sixth. About two guys who stumble across some cocaine (yeah, let's make a movie about that!) Next Day Air earned a small $4 million from 1,138 venues. It was 17% fresh and will likely disappear from the top ten by next weekend.

Seventh goes to The Soloist. The Robert Downey Jr./Jamie Foxx flick has struggled, and earns a slim $3.6 million this weekend, and drops 36%. It has a running total of $23.5 million.

Eighth, ninth and tenth are for the kids. Eighth goes to Monsters vs. Aliens, which earned $3.4 million and drops 42%. It has a total of $186.9 million after seven weekends. Ninth goes to Earth, which earned $2.5 million. It drops 43% and has a total of $26.1 million. Finally in tenth is Hannah Montana: The movie, which earned $2.4 million in its fifth frame. Hannah now has a total of $74.1 million.

The second weekend in May is notorious for being the weak sister in the opening month of the summer blockbuster season. Last year, Speed Racer flopped with an $18.5 million opening, leaving Iron Man to repeat at number one with a $51 million gross. The top 12 films finished the weekend with a total of $117 million, well off the $150 million from the weekend before. In 2007, the second weekend of Spider-Man 3 couldn't get the box office above $100 million, as the top 12 finished with $96 million. In 2006 Mission: Impossible III led the weekend to only $85 million. This year, like most of 2009, things are much different. The top 12 for the second weekend in 2009 earned a fantastic $141 million, well ahead of last year's totals. Next weekend, Tom Hanks opens Angels and Demons, so it should be another big frame at the box office.