Weekend Forecast for May 8-10, 2009
By Reagen Sulewski
May 8, 2009
BoxOfficeProphets.com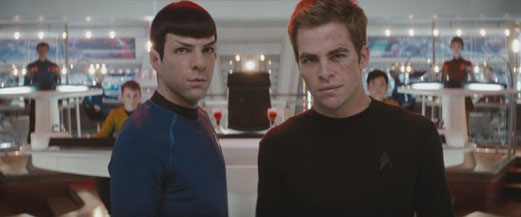 ---
Just two short weeks into the summer movie season and we already have one of its biggest wild cards arriving in theaters, in the reboot of Star Trek. It might not be the most anticipated film of the summer, but it may just be the one that the most people are curious about how well it does.

The first new Trek film in seven years, Star Trek has been brought back to the screen by J.J. Abrams, he of Lost and Alias and Felicity. This sort of Muppet Babies version of Trek goes back to Starfleet Academy and the first meeting of Kirk, Spock, Bones, Scotty, Sulu, Uhura and Chekov.

For a classic series with a rabid fanbase, recasting all the main actors carries its own risks, but it's probably about the only way left to revitalize the franchise, given the failures of the last two movies as well as the last two TV series. Some of them seem to work well — Zachary Quinto seems born to play Spock, the choices of Karl Urban as Bones and Simon Pegg as Scotty are inspired — but Chris Pine doesn't seem very Shatner-like and John Cho as Sulu just seems like they grabbed the highest profile young Asian actor they could find.

Abrams gets around these issues by ratcheting up the action quotient, with space battles and stunt work galore in the trailers. The plot revolves around a time-traveling Romulan named Nero armed with a planet-destroying weapon and a powerful sense of revenge, played by Eric Bana in full scenery chewing mode.

Going back to basics and/or getting grittier seems to be the required move for these kind of reboots of late, as shown by recent Batman, James Bond and to a lesser extent, Mission: Impossible films (mentioned due to its Abrams connection). But all these films share one other characteristic — none opened to nearly what might have been expected for their franchises. Audiences seem to have long memories, and need at least one movie to get their enthusiasm back entirely. The years 1998 to 2005 were not kind to Trek, so I expect that there will be a lot of hesitation here.

Which isn't to say it won't be relatively huge, just not providing the numbers that a lot of people are hoping for. A full Thursday evening of screenings makes things that much more interesting, but I think we're going to see some trepidation to start, with about a $61 million weekend.

The only other wide release for the weekend is Next Day Air, starring Mike Epps and Wood Harris. The pair star as criminals mistakenly delivered a box of cocaine by a clueless courier (Donald Faison). That happens to me all the time! As they try to flip it for quick cash, the dealer who sent it is understandably upset and tries to recover it, thinking that Faison, or his partner, Mos Def, stole it. What unfolds is a complicated twisty plot with bullets, drugs and money flying every which way.

Somewhat similar to Smokin' Aces in that it's a stylized crime-action-comedy, but also in that it doesn't quite seem to know what it is, Next Day Air is unlikely to find a huge audience. With no big stars, jokes that seem to center around people yelling "Dayam!" and kind of a repellent plot, this seems like an afterthought for the weekend. On just 1,100 or so screens, look for around $3 million.

Returning films are led by Wolverine and not much else. The fourth film in the X-Men series and the first to focus on a single character (but: not really), Wolverine is the standard bearer for Fox's new strategy with the X-Men films. In that it's secured a Deadpool movie, it's probably a success. In that we might get a Magneto movie out of it... well, that's something we may come to regret.

Opening to $85 million, it dodged a couple of bullets since its special FX weren't top notch, reviews savaged it, and an Internet leak supposedly was going to cut it off at the knees. It's hard to say any of those ended up mattering, and while it's not going to make nearly what Fox hopes it will in the long run, I think they got the maximum out of it for its first weekend. As far as this weekend ... timber! At the very least, those reviews and word-of-mouth are going to kick in, with most people giving it a solid "meh". Factor in the fanboy element and I think we're going to see a second weekend of just $37 million.

Ghosts of Girlfriends Past offers counter-programming for the second straight week. The Matthew McConaughey/Jennifer Garner film probably underperformed relative to some of both of their recent movies, but as a lower budget rom-com, the $15 million it opened with is at least a solid start. With nothing else like it in theaters right now, there's a good chance for legs, such as they are these days. Look for a little more than $10 million.

Obsessed might pull a little of that away, but suffered a tremendous second weekend drop to $12 million. You might say audiences weren't obsess... ow! Stop hitting me! It's still playing with house money, though, and should end up with a third weekend of $6 million, and about $56 million for a running total.

This might be the last chance for several films in the top 10 – with major blockbusters coming every week, the detritus of spring had better earn or lose its screens ... or earn and lose them anyway. Monsters vs. Aliens still has a shot at the $200 million plateau, but will need a strong hold this weekend to take it there. It's the best of the rest at about $4 million.