Weekend Wrap-Up
Wolverine Warms Summer Box Office
By John Hamann
May 3, 2009
BoxOfficeProphets.com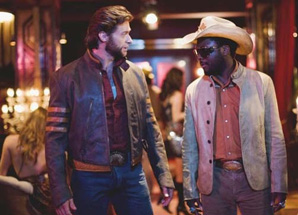 ---
After a furious April at the box office, May was set to start summer with a bang. Fox uncoiled X-Men Origins: Wolverine, while Warner Bros. trotted out some lame counter-programming with the romantic comedy Ghosts of Girlfriends Past. With all the breakout successes so far this year, some thought Wolverine and friends could pull down $100 million over three days, and while that wasn't to be, the $140 million comic book movie still got off to a strong start.

After a 2009 that has brought huge opening weekends for Fast & Furious ($71 million opening), Monsters vs. Aliens ($59.3 million opening) and Watchmen ($55.2 million opening), the table was set for X-Men Origins: Wolverine to have a huge debut weekend. There were a lot of questions regarding this opening, including a leaked print of the film appearing on the Internet in April, as well as some serious questions around the film's quality and franchise continuity. Wolverine is also the fourth film in the X-Men series, so it falls into the trap of "been there, done that," which had the possibility of producing a wait-and-see attitude with the non-fanboy crowd.

Obviously, Wolverine is our number one film of the weekend, the question is how did it finish against box office history. The easy answer is that it did okay. Wolverine grossed $87 million from 4,099 venues this weekend, and had a healthy venue average of $21,225. This is neither a breakout success nor a middling failure; Wolverine finishes right in the middle of expectations – not close to $100 million, and well away from $60 million, which would have hurt the franchise. Tracking and expectations were getting a little out of hand earlier in the week, with some believing a breakout success could be in the cards. Had early word-of-mouth been better, I think we might have seen a $5 million swing to the upside. Still, this opening puts Wolverine in the top 12 opening weekends all-time for the month of May, but it will most likely be top 15 by the time May 2009 is all said and done.

This debut puts Wolverine right in the middle of X-Men opening weekend successes. The first film in the franchise debuted in July of 2000 and generated a $54.5 million opening frame. It finished with $157.3 million domestic and about $140 million from overseas grosses. That one cost Fox a mere $75 million to make, and was hailed as a commericial – and critical - success. The second film, X2: X-Men United solidified the franchise even further. It opened on May 2, 2003, to $85.6 million, a $30 million increase to the original. It finished with $215 million domestically, and $193 million from overseas, and again was a critical success. The second film did show some signs of sequel-itis (higher opening weekend, but poorer legs), but was still extremely strong even in terms of sequels. The third film, X-Men: The Last Stand, improved on all levels except film quality (for which we can blame director Brett Ratner). Fox managed to grab the coveted Memorial Day Weekend slot for The Last Stand in 2006, and turned that scheduling win into a $102.8 million three-day opening, and $123 million over the four-day long weekend. The Last Stand didn't complete the first three-film story arc strongly; it was 54% fresh at RottenTomatoes and certainly didn't play to the strengths of the franchise that the first two films did. The Last Stand was only able to slightly double that big opening weekend, finishing with a domestic total of $234 million, with a similar amount coming from overseas sales. It seems now that the X-Men franchise may have appropriately peaked (in terms of box office) with The Last Stand.

Getting back to X-Men Origins: Wolverine, this one did not build on third film in terms of opening weekend, but that wasn't expected, considering only one character came over from the first set of films. For Hugh Jackman, the Wolverine success only further solidifies the trend that this guy can only score good opening weekends as that character, as the 2009 Oscar host has struggled away from Wolverine. Fans of the series can't be overly happy with this effort either – RottenTomatoes gathered 176 reviews for this one, and only 66 were fresh, leaving Wolverine with a fresh rating of 38% - and in even worse news, this one could repel non-fans, as the "top critics" at RottenTomatoes found this one to be only 15% fresh, with only five positive reviews out of 33. With the May we have ahead of us, legs aren't going to matter anyway, as Wolfy is going to get absolutely crushed by Spock and Co. next weekend.

As my last point on this, I want to talk about the elephant in the room, the leaked copy of the film that landed on the Internet. Did the leak hurt the opening weekend of the Wolverine? My opinion on this is that Fox leaked the copy onto the Internet themselves, causing headlines around the world for their upcoming film. The only people who were going to seek this out on the web are fanboys who will most likely show up again to see the film on the big screen. The leak turns into something much like promotional screenings, creating news and word-of-mouth. Turns out that no one was caught for stealing the film in the first place, which leaves me wondering about the culprit. So did the leak hurt Wolverine? In my opinion, no. If anything it helped the launch.

Finishing second this weekend is Ghosts of Girlfriends Past, the new romantic comedy with Matthew McConaughey, someone I once respected as a film actor (Dazed and Confused anyone?). Ghosts, hoping to be seen as legitimate counter-programming against Wolverine and next weekend's Star Trek, opened to $15.3 million this weekend from 3,175 venues. It had a venue average of $4,827. The score to beat this weekend for Ghosts was the $14.8 million that Patrick Dempsey's Made of Honor (shudder) opened to against Iron Man last year. It did that, but couldn't compete with the kings of May counter-programming, What Happens in Vegas ($20 million against the second weekend of Iron Man) and Notting Hill ($21.8 million against the second frame of Star Wars: The Phantom Menace). Thankfully, Ghosts of Girlfriends Past swings significantly under some of McConaughey's other rom-com "efforts" – a term I use loosely. Other examples of his rom-com work include Fool's Gold ($21.6 million opening), Failure to Launch ($24.4 million opening), and How To Lose a Guy in 10 Days ($23.8 million opening).

One thing that is consistent with McConaughey is film quality – his romantic comedies tend to suck. This one came in at 32% fresh, whereas the three I mentioned above average a 26% fresh rating. Sadly, there is no romantic comedy competition for several weekends, so comedy-seeking couples will be stuck with this one for awhile. Girlfriends Past cost Warner Bros. $60 million to make, so it has a lot of work to do in the weekends ahead.

Finishing third is last weekend's number one film, Obsessed, with Beyonce Knowles scrapping it out with Ali Larter. After opening to $28.6 million last weekend, Obsessed got expectedly kneecapped this weekend, earning $12.2 million. Up against Wolverine and a romantic comedy, Obessesed had little chance of having a hold above 50%, and ends the weekend with a drop of 57%, a number Screen Gems will be happy with. With a $20 million production budget, Obsessed has done what it needs to, as it has a gross so far of $47 million. I'm looking for this one to finish with about $70 million in domestic sales, which will be a HUGE win for the studio.

After dipping 51% last weekend, Zac Efron's 17 Again has another rough weekend, but at least with the high flying competition, the golden boy has an excuse. 17 Again brought in $6.4 million in its third frame, and was off 45% versus the previous weekend. The comedy now has a total of $48.5 million as it moves toward about $65-70 million.

Monsters vs Aliens finishes in fifth, up one spot from the previous frame. Now in its sixth weekend, MvA earned $5.8 milion and drops 32%, which isn't bad considering the amount of time its been in the top ten. MvA has finally earned more than it cost to make domestically, as it has a total of $182.4 million against a budget of $175 million. It has also earned another $143 million from overseas sales.

In at sixth with a so-so hold is The Soloist, the adult drama with Robert Downey Jr. and Jamie Foxx. The Soloist earned $5.6 million and was off 42%. As the only adult fare in the top eight, The Soloist probably could have held on a lot better if word-of-mouth was a little more stellar. It still has a lot of work to do, as it carries a budget of $60 million, and has a total so far of $18.1 million.

Disney's Earth finishes seventh this weekend, after opening in fifth last weekend. The nature documentary ripped from the Planet Earth series earned $4.2 million in its second weekend, and drops 53%. This is another Disney cash grab, so they will be quite happy with a gross so far of $21.8 million.

Rogue Pictures' Fighting takes it on the chin (sorry) this weekend, as it drops from third spot last weekend to eighth this weekend (ouch). After an $11 million opening, Fighting takes in only $4.2 million, which gives it a drop of 62%. It now has a total of $17.5 million and will be quickly done.

Landing in ninth is Hannah Montana The Movie, which has had a tough ride since opening to $32 million four weekends ago. There is good news, though, for Miley Cyrus, as this is the first weekend that this film has not seen a 50% plus drop, as it pulled in $4.1 million and dips 37% compared to last weekend. Hannah Montana now has a total of $70.9 million.

State of Play finishes tenth this weekend as the Russell Crowe/Ben Affleck flick can't gain any traction at the box office. State earned $3.7 million in its third weekend, and drops 47% compared to last weekend. The Universal release has now earned $30.9 million.

Finishing outside of the top ten is Battle for Terra, the last of our openers. An animated film from Lionsgate, Terra had little marketing support from its studio and got buried this weekend. Battle for Terra earned only $1 million from 1,162 venues this weekend.

Overall, after a super hot April, many were curious to see if the top 12 this weekend would be able to stay ahead of the same weekend last year when Iron Man opened to $98.6 million. The total for the top 12 films last year came in at $150.7 million, with Iron Man taking about 65% of the top 12 box office. This weekend, thanks to some stronger films opening in April, the top 12 was still able to stay ahead of last year, but not by much. The top 12 this weekend brought in $154.2 million, keeping the 2009 win streak rolling. Next weekend the roll will continue as well, as the new Star Trek movie is set to pop, and it's up against last year's mega-flop, Speed Racer.