Friday Box Office Analysis
By Tim Briody
May 2, 2009
BoxOfficeProphets.com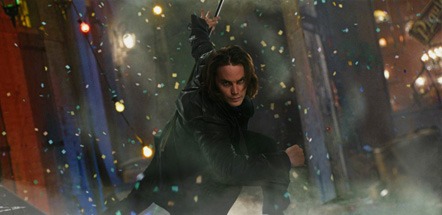 ---
They should really just change the sound effect of Wolverine exposing his claws to "cha-ching!"

[tm:1858_]X-Men Origins: Wolverine[/tm]

The [bp:195_]Hugh Jackman[/bp] spinoff from the X-Men franchise, Wolverine starts off the summer movie season with a bang with $34.1 million on Fridays. The number being thrown around is approximately $5 million on that is from midnight showings. As is customary, we will remove that from the equation, work with a Friday number of $29.1 million and toss it back in at the end.

This is, of course, nowhere near the $45 million X-Men: The Last Stand earned on its opening day back in 2006. That was Memorial Day weekend and the film had earned $102 million before Monday, a weekend multiplier of around 2.27. X2 from this very weekend in 2003 opened to $31 million on the way to $85.5 million for a 2.7 multiplier. The box office is such a different beast now, even six years ago, that the Wolverine would kill for a multiplier that high. What's probably likely here is something around 2.4. Using the $29.1 million figure, that puts it at about $69.8 million. Toss the alleged $5 million back in from the midnight sneaks and that gives X-Men Origins: Wolverine a weekend of $74.8 million.

[tm:4229_]Ghosts of Girlfriends Past[/tm]

There was another wide release this weekend, as the [bp:842_]Matthew McConaughey[/bp] and [bp:185_]Jennifer Garner[/bp] rom-com Ghosts of Girlfriends Past earned $5.7 million on Friday. As counterprogramming, you could certainly do much worse. McConaughey's Failure to Launch had a 2.86 multiplier back in 2006 and five (!) years ago Garner's 13 Going on 30 actually did about the same, so we have an astonishingly good idea of where Ghosts of Girlfriends Past might end up this weekend, which is abotu $16.2 million.

Notable Holdovers

Last week's big winner, [tm:4495_]Obsessed[/tm], plunges 64% to $4.1 million, which is about as much of a surprise as its opening weekend was. The target audience either shifted over to Ghosts of Girlfriends past or was just drooling over Hugh Jackman, it's hard to say. A second weekend of $12 million looks to be the case here.

Obsessed wasn't the biggest drop of the week. That belongs to [tm:4758_]Fighting[/tm], off 70% to $1.4 million. It's not hard to figure out that it was only slightly kneecapped by the presence of Wolverine. Give it $3.9 million.