Weekend Forecast for May 1-3, 2009
By Reagen Sulewski
May 1, 2009
BoxOfficeProphets.com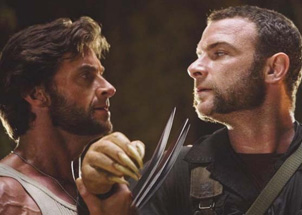 ---
Welcome to the summer movie season. Starting this weekend, for the next four months we'll throw around gaudy numbers for opening weekends that rival the GDPs of small nations, as audiences seek out spectacle.

Getting the honor of launching this year's season is X-Men Origins: Wolverine, the first of a number of planned spin-off movies from the X-Men franchise. Marvel and Fox have definitely chosen wisely for the character that could hold a movie on his own, even if Wolverine has been getting a little overexposed.

But then, it's not really him carrying a movie on his own, is it? While it does purport to tell the story of how Wolverine came into being, it's also populated with a large cast of mutants that they didn't get to in the other three movies (and confusingly, some they did). Joining the group are fan favorites Gambit, Deadpool, Emma Frost... and I just lost the non-nerd population.

To sum it up, the movie offers a look into the Weapon X project (which we already saw in X2, but... whatever) and the start of Logan's feud with Sabertooth (played here by Liev Schreiber, recast from the first movie). To start, though, they're fighting side-by-side against various mutant baddies - which also seems to directly contradict the first movie, but again... whatever, and... wait, they also recast Cyclops? Oh for the love of...

Directed by Gavin Hood, an Oscar winner for Tsotsi, Wolverine appears to be kind of a mess plot- and continuity-wise, and the special effects don't exactly seem up to par either. It's going to take a lot of good will from fans to help this one along, which luckily for them is almost certain to be granted. Wolverine was basically the character that opened the last three movies anyway. Debuting in a massive 4,099 theatres, Wolverine should at least surpass the $85 million of X2, but the Memorial Day influenced $122 million of The Last Stand isn't in trouble. Look instead for a weekend of about $91 million.

Counter-programming takes the form of Matthew McConaughey and Jennifer Garner in The Ghosts of Girlfriends Past. Falling into that rare category of "Films I Know I'll Hate From the Poster" (past entries include Over Her Dead Body and No Reservations), McConaughey stars as a rakish womanizer (oh, a stretch!) who during his younger brother's wedding is visited by the ghosts of his past relationships. Literally.

While I can appreciate that at this point you need to distinguish these painful high-concept romantic "comedies" from each other, the moment in the trailer where this twist is revealed is like a baseball bat to the temple of thinking moviegoers. Yeah, you're riffing on Dickens. Oh, now I get it... how clever. Now go away.

Directed by Mark Waters, who brought us Mean Girls and Just Like Heaven (another member of the FIKIHFTP club), this actually stands a good chance of hitting, as the pairing of the two leads is a good one for people who like romantic comedies. McConaughey's Failure to Launch opened to $24 million, and while Garner hasn't had a lead role in a little while, she's done well with films like 13 Going on 30, where the audience has had to identify with her goofiness. This is probably good for about a $21 million opening.

The third new film of the week, The Battle for Terra is unlikely to make much of an impact, being an animated film from a non-traditional studio (Lionsgate) and opening in just 1,259 theatres. Set on a peaceful alien world, its quiet is broken when humans arrive - refugees from an Earth with its resources used up. As humans hope to terraform the planet, which would render the planet uninhabitable for its previous occupants, interstellar war breaks out, with the fate of both species at stake.

While the animation for the film is above-average and has the de rigueur famous voice cast (Luke Wilson, Brian Cox, David Cross, Rosanna Arquette), it's got the feel of "kids only", with a pretty distinct and heavy-handed moralizing coming through loud and clear. Animation from smaller studios has a tremendously difficult time breaking through, witnessed by the failures of films like Doogal and Fly Me to the Moon, so I don't expect Battle for Terra to fare much better, and it should see only about $3 million.

Obsessed was a bit of a shocker last weekend, not in winning the weekend, but by doing it so convincingly. Starting off with $28 million, it's Beyonce's first unmitigated hit as a lead actress, tapping into heretofore-undiscovered empathy she has as a wronged woman. Surprise hits like this one rarely transform their early success into extended runs, but often that early hit is enough. It should get at least $15 million out of its second weekend on the way to at least $80 million total, which is a huge win regardless.

Zac Efron's 17 Again dropped a little over 50% last weekend, pretty much as expected as his tweenage fanbase moved on to something shinier. While this is going to be a success by any standard and has proven that Efron has some leading man chops, we're looking at more like $70 million instead of $100 million after the big opening weekend.

Elsewhere, we're looking at a pretty big drop for the literally titled Fighting, a moderate one for The Soloist, and just maybe some legs for the nature documentary Earth, though that puts all of these films below $6 million for the weekend, and hoping for scraps in the shadow of Wolverine.