Weekend Forecast for April 24-26, 2009
By Reagen Sulewski
April 24, 2009
BoxOfficeProphets.com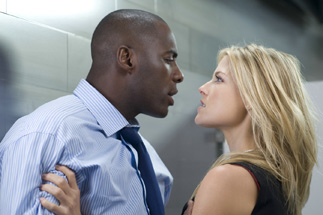 ---
Now this is more what we're used to with an April opening weekend. After the unusually strong run of spring films, studios are bailing on the last weekend of April in order to duck the coming May blockbusters. This gives us three forgettable wide releases as we just bide our time until summer starts, along with a nature documentary.

The film with by far the best chance of breaking out among this meagre group is Obsessed, a sort of update of Fatal Attraction for the new yuppie set. Idris Elba (currently starring on The Office and who totally sounds like the middle part of a palindrome) stars as a mid-level executive who starts to gain the attention of an office temp, Ali Larter, for whom the word "oversexed" doesn't quite cover it.

As she proceeds to stalk him and basically jump his bones, Elba's wife, played by Beyonce, starts to get more than just a little miffed. Before you can say "but *she's* the crazy one", knives and police are involved, and it's a knock-down, drag-em-out battle for her dude.

I mentioned Fatal Attraction above, but it's also a bit of a color-blind version of The Hand That Rocks the Cradle, as Larter tries to replace Beyonce in their domestic setup. Recent ads have played up the tete-a-tete between these two more prominently, a smart move given that this would be almost entirely unremarkable otherwise.

Obsessed is an interesting case of a movie as it's the first to really rely on Beyonce as an actress to open it, as opposed to just having her in a supporting role or singing all her lines. Career transitions have been made from stranger films and I suspect there's a large portion of her fanbase that really wants to see her kick some butt, especially against a skinny white girl (okay, maybe it's not so color-blind). Opening in a little over 2,500 venues, it should see an opening weekend of about $15 million.

This week's Serious Drama is handled by The Soloist, an adaptation of the true-life story of Nathaniel Wright, a gifted but schizophrenic cellist living on the streets of Los Angeles. His plight is discovered when a newspaper reporters stumbles over him, almost literally. As the reporter tries to lift him back onto his feet, while also helping his own struggling career, he discovers that helping may not be quite so easy.

Starring Jamie Foxx and Robert Downey Jr. as the cellist and reporter, respectively, it's a film that wants to be talking about important issues, of race, homelessness, mental illness, the power of music, and society at large. However, it looks as if it's trying to tackle too much and appears kind of saccharine. Another troubling sign is that the film was bumped from last Thanksgiving, and to this month, out of Oscar season, indicating a lack of confidence in it by Universal.

In fact, the film looks more like a slightly more upbeat Reign Over Me, the Adam Sandler vehicle from two years ago. These sort of depressing-yet-inspiring films have a pretty limited audience unless they have overwhelming critical support, which this film doesn't. Opening on 2,024 screens, it should come in with about $11 million this weekend.

The third film this week is Fighting, starring Channing Tatum as an up and coming mixed-martial-arts street brawler attempting to make his way up the ranks. With one of the more direct movie titles since Snakes on a Plane, Fighting seems on the surface to be a straight up sports/action movie, but also seems to crossover the line into genericness.

That fits the makeup of its lead, who's one of those interchangeable blocks of wood that producers keep trying to turn into stars for some reason (though Tatum has had two hits in the Step Up films, even if I give very little credit to him specifically). He'll possibly break out of his position of having been in movies for four years consistently without anyone knowing who he is this summer with GI Joe, but Fighting isn't going to be the film to do it. Look for this to do about $9 million this weekend.

The documentary Earth opened on Wednesday - Earth Day - to a resounding $4 million. While that ordinarily could indicate a gigantic weekend, that Earth Day tie-in looms large. A Disney release, it's a re-edit of the TV series Planet Earth that follows four animal families as part of their natural migration patterns. I'm sceptical that there are too many people that are eager to see this film that haven't already caught the series on TV or have bought the DVD release of it. The first in a planned yearly series of documentaries by Disney, Earth is getting a strong initial release in 1,800 or so theatres, and should have a weekend figure of about $6 million.

Returning films are led by 17 Again, Zac Efron's attempt at being a real boy and not just a Disney construct, which opened to a respectable $23.7 million last weekend, indicating that the High School Musical kid does have some marquee power after all. However, like Hannah Montana before him, his fanbase is among the most eager and fickle, and tend to front-load these films to a large degree. This is a little different than the concert film phenomenon because it's a real movie, but I still expect 17 Again to drop to about $12 million.

State of Play debuted in second place with $14 million, a solid showing for a political thriller with two leads that have lost some of their box office mojo. Quality seems to be winning out here, and it's also done well in midweek box office, leading me to believe that it's got some legs. I see a weekend of just under $10 million in the cards.

Monsters vs. Aliens will butt past the swiftly falling Hannah Montana movie, possibly retaining fourth spot if any of the new films this week fail. It's quietly becoming the highest grossing movie of 2009 (of course not for long, but still) and is rapidly approaching the $200 million mark. Expect it to bring in about $9 million this frame.

The aforementioned Montana movie should find its way to about $6 million this weekend, but preteen audiences are clearly trying to move on to the next big weekly thing. That's not Fast & Furious, which also fell over 50% last weekend and will end up around $5 million, though we're still looking for about $150 million total for it.