Take Five
By George Rose
April 21, 2009
BoxOfficeProphets.com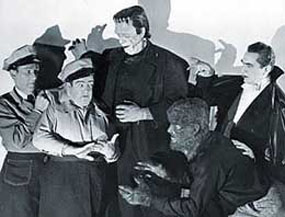 ---
Another week of work has been completed and with that comes another thousand reasons to relax, take a five minute break and watch a movie. While the weather has been rather pleasant these past few days, the complications of life have been as challenging as ever. Easter has come and gone, and we are back to wading through life without the obvious guidance of a holy hand. Instead, we have only Hollywood to turn to in our quest for solutions to problems we can't solve by relating to the Bible (I don't know about you, but Jesus' presumed resurrection isn't going to help me pass my college final exams).

What I can offer is a few films that have brought me joy over the years. Some have even satisfied questions that I was asking at the time of viewing. They may not help with your end-of-semester finals (or job review, raising kids, or whatever it is that burdens you these days) and some of them are well below the Fresh rating on Rottentomatoes.com, but these are movies that for some reason impacted me. Some have held up over time, some have fizzled away into bargain-bin oblivion. Whatever the reason, these films are worth checking out, especially if you can't come up with your own method of coping after your busy work week.

Road Trip (2000)

Having just taken my last undergraduate college final, with graduation just two short weeks away, I'm stuck in a funk that has me reminiscing in the glory days of my education. There are the obvious college-set classics (Animal House and Old School), but one of my own personal favorites has always been Road Trip.

The plot is simple enough: Josh (Breckin Meyer, whose career never took off the way it should have) accidentally makes a sex tape with someone who isn't his girlfriend (the always darling Amy Smart) and has to drive from New York to Texas to intercept the incriminating evidence. Granted, it's a bit of a rip-off of Overnight Delivery, starring Reese Witherspoon and Paul Rudd, but it holds a higher place in my heart. Road Trip is much more perverse and has a hilarious supporting cast that includes Seann William Scott (before he got obnoxious), Tom Green (back when he had both balls) and DJ Qualls (too unknown to make fun of, but boy does he get some of the best jokes of the film).

I probably chose this movie because I will miss college severely after graduation. Anyone who has had any sort of Animal House-esque moments of their own while partying can understand my sadness, but if not, they can at least understand my selection of Road Trip. When it came out in 2000, I was a freshman in high school and had to sneak into the theater to catch a glimpse of all the insanity that was destined to come with college. While I have never been among four white men at a black fraternity, been attacked by a boa constrictor or donated my services to a sperm bank (like those involved in Road Trip), I have partied plenty and will remember those days fondly when I watch the movie again in the future. Hopefully you will too.

Can't Hardly Wait (1998)

Oh, Breckin Meyer, your supporting roles really haven't led you that far, have they? You may have been overshadowed by Jennifer Love Hewitt and Ethan Embry in Can't Hardly Wait, but you were part of a memorable ensemble nonetheless. This comedy was yet another that I idolized growing up, only this time it was because I was a pubescent middle school student who couldn't wait to go to high school. Funny how Hollywood targets the youth with incentives of the future instead of letting them revel in their present. Sounds like an evil marketing scheme, if you ask me.

There are no road trips to be found here, only the graduation party of a lifetime. Who wants to get into cross-country hijinks when you can plot revenge against the pretty-boy jock, try and score with the most popular girl in the grade or be part of an aspiring garage band? Well, I'm always down for a road trip, but when I was 13 my two biggest aspirations were (1) Jennifer Love Hewitt and (2) living the cool life in high school (it never happened). Can't Hardly Wait was my hand guide and kept me preparing for those adventures.

Here Embry plays our leading loser, the guy who never had a chance with Love Hewitt because she was too busy being Peter Facinelli's arm candy (Twilight fans should check this movie out to see what their favorite vampire father was up to at the start of his career). Their recent breakup gives Embry's Preston hope, but the many intertwining sub-plots keep preventing the destined couple from having an easy Happily Ever After. It's easy to guess who ends up together in the end, but some movies are like college; it's not so much about knowing what's coming (graduation, "getting the girl"), as it is about the journey and films that get you there.

Abbott and Costello Meet Frankenstein (1948)

You know now some of what I watched in high school and middle school, so let's go back a little further. In elementary school, the films I watched were limited to those my parents played for us. There were the obvious Disney comedies, but one of my favorites was Abbott and Costello Meet Frankenstein, because my older brother and his friend liked it, and because my dad was an Abbott and Costello purist. He had grown up with the comedy legends and wanted to pass on some of their beloved and inspirational work.

Coming on the heels of the Three Stooges, Abbott and Costello went on to become visionaries in the slapstick genre that would later be the framework for current icons like Jim Carrey. While their Africa Screams and Meet the Invisible Man movies are part of my collection, Meet Frankenstein is my favorite because it also includes Dracula and the Wolfman. I was as big on horror as a kid as I am now, so cramming three of the greatest villains of all time into a comedy with characters my father raised me on was bound to strike a chord.

The actors play two cargo handlers who stumble on a shipment containing Frankenstein. After the bumbling fools learn Dracula is the one expecting the package and Costello becomes the brain harvest for Frankenstein, Abbott wrongly bands together with a gentleman named Larry to stop Dracula's master plan. Naturally Larry turns out to be the Wolfman (thanks, full moon!) and we end the film with an all-out Battle of the Monsters, with our lovable heroes stuck in the middle. As with all lighthearted comedy there is the happy ending you expect, but Abbott and Costello take you on a journey that can make you laugh harder than any of the carbon copies that have been released in the 60 years since.

Death Becomes Her (1992)

It's not quite as ancient or lighthearted, but Death Becomes Her is another historic favorite of mine. Like Abbott and Costello, it was among the many movies my older brother would watch with his friends that I would later watch in private to see what all the fuss was about. Death Becomes Her soon became a film the whole family would watch again and again, as it mixed dark humor and special effects together to make one of the most exciting films of my childhood.

The cast was incredible, with Meryl Streep and Goldie Hawn starring as lifelong enemies who pass around Bruce Willis as their third wheel in a twisted love-triangle tale. The competition escalates and becomes deadly, but not until after the two women discover a potion for immortality. The two women kill each other, or at least attempt to, allowing for plenty of creative and gruesome special effects that would later land the film its Best Special Effect Oscar. There's nothing quite like watching Streep's head twist around like Regan in The Exorcist or Hawn stumble around with a gaping hole in her stomach. These are Academy Award winning actresses, people, and it's great to see them let loose and take a break from all the seriousness.

It's a good thing Bruce Willis' character fixes up dead bodies for a living or else these two cat-fighting starlets would have nobody to make them look, or feel, alive. There is no surprise in learning he has become a raging alcoholic, but who could blame him? When his own mortal life becomes threatened at an event held at the headquarters for this elixir of life, he soon learns that loving either of these women is a death wish and he is better off without them. Unfortunately, we are better off with them, and this movie, so the risk of death is certainly worth the reward of watching Death Becomes Her.

The Fifth Element (1997)

Bruce Willis is wrongly best known for his Die Hard series. They are great films but because of the star power they have afforded Willis, movies like Death Becomes Her and The Fifth Element fall by the wayside. It's a massive injustice, since The Fifth Element is an amazing action movie. Think Die Hard with alien battles, exploding spaceships and the fight to build a love that can bind with the elements to stop the impeding Armageddon (nope, not the one you're thinking of). The reason it stands above so many of the other versions of this plotline is because of the futuristic setting the film takes place in. The environment is energetic, full of clever technology and perfect for an intergalactic brawl.

Despite the lackluster benefits Willis' career saw from making The Fifth Element, it was actually a launching pad for Milla Jovovich. Before she was kicking butt in the Resident Evil movies, she crash landed in Willis' taxi cab and dragged him into saving the world yet again. This time, he faces Gary Oldman, who never fails in completely immersing himself into any character. Oldman's Jean-Baptiste Emanuel Zorg is a weapons dealer and corporate mogul, which fits well into the government controlled world the movie created. Though these three actors set the stage for the well developed and executed plot, the movie should belong to Chris Tucker.

Though I'm not a fan of Tucker's incessant screeching and complaining in the Rush Hour films, he plays the obnoxiously flamboyant Ruby Rhod with such intensity and genuine humor that he carries the film beyond the blandness so many action films fall into. I wish it had been a bigger hit for no other reason than a much deserved sequel. The ending doesn't really set the film up as a franchise and any additional entries would probably be terrible, but the movie is so good (even on many multiple repeat viewings) that I'd rather see the story continue poorly than have their world end where it does. Though I loved Live Free or Die Hard, I can't help but hope Willis passes on Die Hard 5 to go on another voyage through space with Ruby Rhod.