Weekend Wrap-Up
First it was Miley. Now Zac dominates the box office.
By John Hamann
April 19, 2009
BoxOfficeProphets.com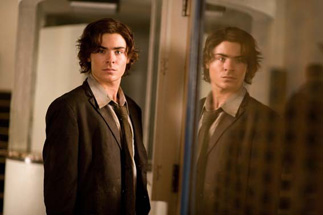 ---
It's been a battle of the young superstars over the last two weekends at the box office, as the Miley Cyrus flick Hannah Montana: The Movie struck gold last weekend, and now Zac Efron is doing it this weekend with 17 Again from Warner Bros. For those looking for more adult fare, that was an option as well, with Russell Crowe's State of Play and Jason Statham's Crank: High Voltage. Was it a blistering weekend like the we've seen over the last few weekends? No. Was it still an extremely strong weekend for the month of April? You'd better believe it.

Our number one film of the weekend is 17 Again, Zac Efron's follow up to the High School Musical franchise. 17 Again earned a strong-for-teen-comedy $24.1 million from a quite wide 3,255 venues. It had an average of $7,39. After a very effective marketing campaign from Warner Bros., Efron was able to engage his audience for this one, and the result shows in the opening weekend figure. Considering that Efron has only appeared in musicals, there was a small gamble in dropping him in to a comedy. However, Efron's success is hard to deny. He's appeared in High School Musical (over $100 million in DVD sales), High School Musical 2 (another $95 million in DVD sales), High School Musical 3 ($240 million in international box office, $50 million in DVD sales and counting), and Hairspray (Efron was a smaller player in this one, but it did open to $27 million and finished with over $200 million at the international box office). So obviously, boy wonder did have an audience, and a slice of that audience came out to 17 Again.

It was fair to think that reviews for 17 Again were not going to be good, as the acting in those High School Musical productions is wooden at best, with Efron winning the pinocchio award. I was suprised to see early reviews as positive as they were, but this was just more effective marketing from Warner Bros. I expected notices to tank as the week progressed, and they did to a point, but leveled off on Friday at 61% fresh, although the 'top critics' number came in at a much lower 43% fresh. Most of 17 Again's audience is not going to care about critical notices; however, if Efron is hoping to attract new fans and have successful films, he's going to have do better than the High School Musical in terms of movie quality. It appears that he has done that, but I will be curious to see if 17 Again has the same kind of legs as Miley Cyrus's Hannah Montana flick, which I'll get to in a while. 17 Again managed a weekend multiplier of 2,53, and can often be an indication of future legs – the closer to 3.0 (or more) can often mean that legs will be there in follow-up weekends.

Universal takes second place with new opener State of Play, the thriller with Russell Crowe, Ben Affleck, Rachel McAdams and Helen Mirren (notice that Crowe now surrounds himself with Actors ever since the Cinderella Man/A Good Year debacles of a few years ago). State of Play was always too murky to be a big breakout success. It opened this weekend with a take of $14.1 million from 2,803 venues. It had an average of $5,030. This opening fits the new model for Crowe, where his films are not blockbusters, and open in the $10 to $20 million range. After A Good Year opened to $3.7 million, Crowe did 3:10 to Yuma, which opened to $14 million, then American Gangster, which broke out due to Denzel Washington with a $43.6 million opening. Next up was Body of Lies, which Crowe did with Leonardo DiCaprio. That one opened to a lower-than-expected $12.9 million, so at least State of Play is a small step up. Even better news is that State of Play is 80% fresh at RottenTomatoes, a big improvement over the 51% fresh rating that Body of Lies earned (and it may indicate a lessening of the Russell Crowe backlash). I'm looking for some decent legs for this one if positive word-of-mouth manages to get out, with a potential $50 million finish.

Monsters vs. Aliens enjoys its fourth weekend in release, and has a pretty strong showing with a finish at number three (though this is due to poor legs from other films rather than a showing of strength from the animated flick). MvA earned another $12.9 million and drops 41% compared to its $21 million weekend in the last frame. Surprisingly, and despite its $162.7 million gross, Monsters vs. Aliens has still not matched its production budget. MvA was made for $175 million, but the good news for Paramount and DreamWorks is that this one is approaching $100 million in overseas sales, so its combined gross will easily surpass the production budget. Look for MvA to finish with about $185 million in domestic ticket sales.

Finishing fourth is Hannah Montana: The Movie, and the news is certainly not as good for Miley Cyrus as it was last weekend. After opening to a very strong $32.3 million (which was eerily similar to the Best of Both Worlds concert movie, which opened to $31.1 million), Hannah Montana fell 61% to $12.7 million. As a point of reference, the concert movie dropped 67% in its second weekend, but could be considered high due to the 3-D aspect of the concert movie, and the fact that Disney told Miley's fans that the concert movie would only open for a single weekend. The question now is where this one finishes. With the dip, Hannah Montana doesn't have a chance at being a $100 million film, but if it can do a little bit better in later weekends, it might be able to get over $80 million. Considering that this one was probably made for about $15 million, Disney will be quite happy with a gross so far of $56.1 million.

Universal's Fast & Furious picks it up a bit after having a tremendous dip last weekend from its huge $71 million opening three weekends ago. Last weekend, F&F fell a hefty 62% to $27.2 million, but has a better hold with a gross of $12.3 million and a drop of 55% (any movie that opens to more than $70 million in April is apt for some big drops). This one cleared its $85 million production cost after only eight days of release, has already earned almost $100 million overseas, and has a running total so far of $136.7 million on the domestic front. Does Universal love Vin Diesel? Oh yeah, baby.

Sixth spot goes to our last opener, and probably our biggest disappointment, Crank: High Voltage. The Jason Statham action flick threw under the original Crank opening of $10.5 million with an opening gross of $6.5 million. Obviously, fans of the original didn't come out in force this weekend for the sequel, but I think this one was more of a money decision to go forward than a fanbase decision. The first film cost Lionsgate and Lakeshore Entertainment $12 million to make and it earned almost $30 million stateside and another couple of million overseas. It earned a similar figure from DVD sales, so the fanbase should have been there for the sequel, but obviously, they are waiting for the DVD.

The garbage pile of the top ten starts in seventh with Observe and Report. After opening last weekend to $11 million, solely on the strength of the Seth Rogen fanbase, Observe and Report discombobulates in its second weekend, earning only $4.1 million. That equals a drop of 63%, and was completely predictable, as the tone of this comedy is a 180 degree turn from what we're used to from Rogen. This one is destined to become a cult hit on DVD, and has a gross so far of $18.7 million against a production budget of $20 million.

Eighth spot goes to Knowing, the Nic Cage disaster flick that is now five weekends old. Knowing earned $3.5 million and was off 46%. The Summit Entertainment release now has a total of $73.7 million.

I Love You, Man finishes ninth this weekend, and I find it somewhat surprising that this one never managed to get ahead of Cage's Knowing. I Love You, Man, also in its fifth weekend, earned $3.4 million and was off 46% from last weekend. The Paul Rudd comedy has now earned $64.7 million, and it looks like it will outgross Rudd's last movie, Role Models, which surprised with a $67.3 million finish.

Finally in tenth is The Haunting in Conneticut. The Lionsgate flick has gotten lucky throughout its run, and I imagine the studio is ecstatic to have earned $3.2 million from this one in its fourth weekend. It was off 47%, and now has a total of $51.9 million.

Overall this weekend, the box office continues its blistering pace. Last year, throughout April, the top 12 films finished between $80 and $82 million. In 2009, the box office was already ahead by $100 million after only two weekends in April, thanks to Fast & Furious and Hannah Montana. The same weekend last year saw an $82.9 million top 12 on the strenght of The Forbidden Kingdom, which opened to $21 million. The top 12 this weekend - thanks to five $10 million plus films – earned $99.4 million. Next weekend brings some interesting titles, but nothing on more than 2,400 screens. Opening films include Obsessed with Beyonce Knowles, The Soloist with Robert Downey Jr. and Jamie Foxx, Fighting, and Earth. Is this a dump prior to the Wolverine opening? Check back next weekend to find out.