Weekend Forecast for April 17-20, 2009
By Reagen Sulewski
April 17, 2009
BoxOfficeProphets.com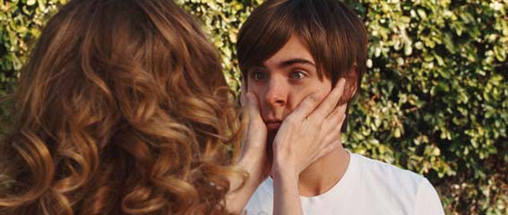 ---
It's a teen idol throwdown at the box office this weekend, as Zac Efron attempts to prove that boys rule, and girls, in fact, drool.

Efron, the High School Musical star, gets his first lead role outside that series with 17 Again, and makes it back-to-back weeks with Disney stars leading the way after Hannah Montana (though 17 Again is in fact a WB film). Yet another example of Hollywood going back to something it's done to death before, it's a call back to the body switch comedies of the late 1980s like Big and Vice Versa (and, okay, 18 Again). Efron stars as the 17-year-old incarnation of Matthew Perry, an underachieving dude whose life hasn't turned out the way he wanted. After wishing for a do-over, he winds up back in his teenage self with a chance to make things work out the way he wanted this time.

This, of course, means looking cool and keeping up with trends, but it also includes trying to fix his current relationships with his children and wife surreptitiously. Because that always works.

17 Again is a weird case of a film that's really more for adults (it's the reverse of 13 Going on 30) but has as its lead someone whose appeal doesn't extend much beyond teenagers. It's kind of a gamble – if you can get a teen audience to go to a film more relevant to adults, and if you can get adults to accept a teen idol lead, you've won twice. Films generally attract an audience based on their surface, though, and I expect that adults aren't going to see a real reason to see a movie with Efron in it.

The High School Musical phase may be basically over at this point, but it's theoretically given Efron enough of a push that he can fly out of the nest on his own now. Warner Bros. has been giving this a pretty decent push and in about 3,200 theatres, it should open to about $21 million, giving Miley Cyrus the win among recent opening weekends for teen idols.

Like 2001's Oscar-winning Traffic, State of Play is a remake of a British television series, chopped down to two-and-a-bit hours and transplanted to a US setting. Ben Affleck stars as a high profile young politician who ends up embroiled in a scandal when one of his aides/mistresses is found dead in an apparent political hit.

The reasons why are murky until an investigative reporter, played by Russell Crowe, starts to uncover that Affleck may be involved in some underhanded dealings, and that his aide may have been killed for what she knew. As Crowe's character digs deeper, the cover-ups become thicker and the personal dangers to himself and those around him even greater – if they've killed before, won't they kill again?

Sort of a call back to an era where it seemed like independent investigative reporting actually went on in the halls of power (and movies like All The President's Men were made about them), State of Play has the look of a superior intrigue film. While this doesn't always mean a lot for a film's box office, the rather strong positive reviews for it certainly help. The stars are possibly a different story. Crowe could be considered mild box office poison at this point – last year's Body of Lies, which shares some thematic similarity, opened to just $13 million. Affleck was missing from screens for over three years until this winter, as he was away starting his directing career. As such, his box office potential is kind of up in the air. The female lead, Rachel McAdams, has also been mostly absent from screens for a couple of years since her breakout years of 2004-05.

So, this will largely live and die on its genre, which isn't always the most popular one the first time around. Things like the Manchurian Candidate remake come to mind, which despite the presence of Denzel Washington, only earned $65 million total. This looks to be more in the area of a $14 million opening weekend, perhaps buoyed some by its reviews.

Perhaps one of the more unlikely and ridiculous sequels to come along lately, Crank: High Voltage is the third of this week's new wide releases. Jason Statham and Amy Smart return for this film, which sees Statham's apparently indestructible character on the verge of death unless he can keep his body electrically charged. Meanwhile, Asian gangsters have stolen his heart.

Someone got paid money for this script.

Like the first Crank, High Voltage likely defies criticism, analysis or rational thought. The phrase "if you like this sort of thing, this is the sort of thing you'll like" applies more than ever and acts as a sort of throwing down of the gauntlet to ridiculous action movie fans. Opening at 2,223 venues, Crank: High Voltage should manage about $11 million this weekend.

This brings us to last week's champ Hannah Montana, which won with $32 million, but will be hoping to avoid the precipitous drop of the Jonas Brothers movie. Without the 3-D issue to worry about, it shouldn't be as much of a problem, but with a directly competing movie in its core audience, and with the fickleness of tweens, a steep fall in weekend number two seems unavoidable. Look for around $14 million this weekend.

Fast & Furious dropped the inevitable 60% for its second weekend, though after its stunning opening weekend, that still made for $27 million, and $122 million in a running total to this point. All the more stunning, it actually beat Hannah Montana on Saturday and Sunday. Fast cars going boom still sell, apparently. This kind of box office is unsustainable for an action sequel, and we should see a fall off for Vin Diesel and company to around $14 million.

Monsters vs. Aliens continued its strong showing in third place last weekend by adding another $22 million to its total, shaping it up to be, if not a Shrek, at least an Ice Age in animated film parlance. Look for it to join the logjam at $13 to 14 million.

Observe and Report was the other film last weekend with Seth Rogen in it, and survived its thoroughly unlikeable characters to earn $11 million in its opening. I expect this one to have almost zero legs, as this is kind of a cult film that escaped into the mainstream world, and was designed to tick people off and unnerve them. This basically never translates into word-of-mouth. As little as $4 million could be in store here.