Weekend Wrap-Up
Hannah Montana Rises Over Easter Weekend
By John Hamann
April 12, 2009
BoxOfficeProphets.com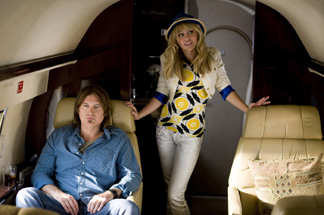 ---
One weekend ago, box office analysts expected Fast & Furious to open in the $30 to $40 million range. It blew out expectations, pulling down $71 million over three days. This weekend, Hannah Montana: The Movie was tracking to show up in third, grossing in the high teen millions. Instead of giving it away in the first paragraph, I'll just say this weekend is more like Groundhog Day than Easter.

I read numerous news stories this week that the shine was coming off of the franchise that is Miley Cyrus, after those damned Jonas boys flopped with their concert movie over opening weekend. Group Think said the Miley Cyrus/Hannah Montana Best of Both Worlds concert movie was just a flash in the pan, constructed by Disney, who told kids Miley would only be in theaters for one weekend (yes, they lied). I was told to belieive that Hannah Montana: The Movie would open low, and that this movie release was a setup for home video sales. What have I learned this weekend? That Kanye West has a big ego, and that it isn't time for Miley Cyrus to give up on her movie career.

So our number one movie isn't Fast & Furious or Monsters vs. Aliens. It is Hannah Montana: The Movie, as Miley doubles up on expectatations, just like Fast & Furious did last weekend. Hannah Montana earned $34 million for Disney from 3,118 venues, and had a venue average of $10,904. This one earned as much on Friday ($17.4 million) as it was supposed to all weekend, and must have tracking firms running for cover. Hannah Montana outgrossed Hilary Duff (remember her?) on Friday night alone, as The Lizzie McGuire Movie earned $17.3 million over its entire opening weekend. The Friday was the big number for Hannah Montana, as tween girls used a day away from school on Friday to see the movie. Hannah Montana: The Movie finished with an internal multiplier of 2.0 (weekend gross divided by Friday gross) and it was decidedly low due to the frontloaded Friday and the Easter Bunny on Sunday.

Hannah Montana outdueled some serious competittion from the past. The Hannah Montana/Miley Cyrus: Best of Both Worlds Concert Tour opened to $31 million in February of last year, and would have been bigger if it had played in more than 683 venues. That film cost Disney less than $7 million to make, and it earned $65 million at the North American box office, $6 million from overseas grosses, and another $18 million from DVD sales. High School Musical 3 opened to a higher $42 million, but due to some idiotic scheduling moves from Disney, it finished with only $90 million domestically, and a shocking $151 million overseas ($240 million combined). HSM3 made another $50 million from DVD sales, and cost the studio only $11 million to make (I still maintain that they left a large amount of money on the table, due to opening the film the weekend prior to Halloween, and two weekends before Madagascar 2). Hannah Montana also opened the same as Enchanted, which debuted to $34 million in November 2007. Hannah will never find the legs of Enchanted, though, as the Amy Adams film finished with $127 million domestic.

What happens with the character now will likely depend on Miley Cyrus. Obviously, these movies and TV shows are disturbingly cheap to make (a guess puts the budget here at approximately what this one made on Friday), so I would expect Disney to wheelbarrow out a load of cash to the young star to make another Hannah Montana movie. I imagine that if this one opened where it was supposed to (high-teen millions) the Montana character may have perished (Lizzie McGuire never made a sequel, despite success). Over the weekends ahead, I expect calamitous drops for Hannah Montana, but this one should still make $100 million domestic before all is said and done.

That makes Fast & Furious, our expected number one finisher, a distant second. Folks obviously figured out that Paul Walker is back in this one, as Fast & Furious fell furiously, dropping a large 59%, earning $28.8 million. A drop around the 60% mark was expected, as sequel-itis always plays a large part in the second weekend, especially with a franchise like this. Still, the return of Vin Diesel pulled this one past the $100 million mark in only seven days, a feat accomplished by only 30 other films in history who either meet or beat that mark (It took Monsters vs. Aliens ten days to hit $100 million). F&F now has a running total of $118.0 million, but it will surely expire before hitting $200 million.

Monsters vs Aliens drops to third, as Paramount takes a slight hit from Disney and Hannah Montana. MvA earned another $22.6 million and drops another 31%. Last weekend's plunge was 45% after opening the weekend before to just short of $60 million. When combined with foreign grosses, the domestic haul of MvA has now surpassed its budget, as this one has earned $141 million domestically, almost $50 million from overseas, and cost $175 million to make. I'm looking for Monsters vs. Aliens to top out with just short of $200 million.

Seth Rogen's new comedy, Observe and Report, finishes its debut frame in fourth spot this weekend. Observe and Report opened at the low end of expectations, earning $11.1 million from 2,727 venues, giving it an average of $4,085. This one was dark, hard to like and R-rated, which didn't cause audiences to rush out and see it. It opened toward the bottom end of Rogen's resume. Zack and Miri Make a Porno, another tough-to-market movie, remains his lowest opening at $10.1 million. It may be hard to believe, but Rogen's second lowest live action flick was The Pineapple Express, which opened to a quite strong $23 million. Critics were mixed right down the middle on Observe and Report, with RottenTomatoes score coming in at 51%. Just to get something like this made has to be considered a success for Rogen, even if it tops out at $40 million.

It was a close race to see who would close out the top five films this weekend, and the winner is Knowing, the Nic Cage flick that has hung on longer than most expected. In its fourth frame, Knowing earned $6.7 million and fell 18%. The fact that Knowing has not seen a drop above 50% has to make distributor Summit Entertainment happy, even if the domestic gross sits at an only okay $68 million. Combined with the foreign sales, Knowing will eventually be a $100 million film.

I Love You, Man, the now four-weekend-old comedy from Paramount, finishes in sixth place. I Love You, Man earned another $6.4 million and was off a solid 17% compared to last weekend. Paul Rudd and Jason Segel have now turned this small comedy into a $59 million film, with likely another $15-20 million to come.

The Haunting in Conneticut falls from third place last weekend to seventh this weekend. Haunting earned $5.7 million and drops 40%. Still, the Lionsgate release, which must have been made for a song, now has a running total of $46.3 million, which is likely double its budget.

Our last opener this weekend is Dragonball Evolution, which fails badly, finishing eighth. Obviously tween girls were more of force at the box office than tween boys, as Dragonball opened to only $4.6 million from 2,181 venues. That gives this Fox release a brutal venue average of $2,132. This one was 17% fresh and should be bounced out of the top ten by next weekend.

Ninth and tenth go to two movies that never caught on with moviegoers. Ninth is Adventureland, the good movie that everyone missed when it opened last weekend. Adventureland grossed $3.4 million and dropped 40%. It has a disappointing total so far of $11.5 million. Tenth is Duplicity, the Julia Roberts/Clive Owen flick. Duplicity earned $3 million this weekend and was off 28%. Duplicity has now earned $36.8 million against a budget of $60 million.

The total for the top 12 films continues to amaze. A year ago, the box office was mired in the April struggle, with totals just managing to stay above $80 million. Over the same weekend last year, the top 12 at the box office earned $80.8 million, which is significantly less than what the top three films earned this weekend (about $85 million). Overall this weekend, the top 12 earned a powerful $130.2 million, and marks the third consecutive weekend with a breakout box office (the last two weekends were $149 million and $138 million). Next weekend we get Zac Efron in 17 Again, so we could have another big weekend in the next frame.