Weekend Forecast
By Kim Hollis
April 10, 2009
BoxOfficeProphets.com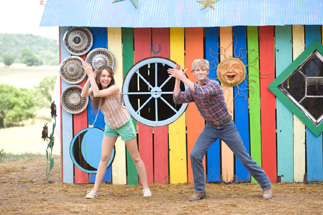 ---
So, last weekend happened. And frankly, we don't know what to believe anymore. Needless to say, when BOP's Reagen Sulewski predicted last weekend that new release Fast & Furious would make $41.4 million, he was off by a factor of nearly $30 million. That's...a lot. The thing is, anyone who told you that they fully believed that the Vin Diesel/Paul Walker reunion would open to that kind of cash would have been lying right through their teeth.

Still, it's a new week. We'll pick ourselves up, dust ourselves off, and go out and try it all again. Two of the three new releases this weekend are a little easier to gauge, but there is one that could definitely prove to be a wild card itself, though surely not to the degree of Fast & Furious.

The movie that seems to have the best shot at knocking Fast & Furious out of the top spot is Hannah Montana the Movie, though this is far from certain. The latest movie to try to capitalize on Disney Channel popularity, Hannah Montana stars the ubiquitous Miley Cyrus in a movie that appears to be tracking best amongst seven- to 13-year-olds. We do have a couple of data points to assist us in our assessment of Hannah Montana the Movie's chances of breaking out at the box office. The first, of course, is last year's surprise smash Hannah Montana/Miley Cyrus: Best of Both Worlds Concert Tour. That movie opened to a ludicrous $31.1 million from a tiny 683 venues. Though it was supposedly only set for a one-week theatrical run, Disney changed their minds and kept it in theaters for a few weeks. In the end, the concert film earned $65.3 million domestically, a staggering number when you consider that this was a film with a small demographic target and also that it was a teeny-bopper concert flick. With concerts selling out across the country and parents doing anything they could to get their hands on tickets, this was a simple solution that allowed everyone to see Ms. Cyrus if they wanted to.

Of course, there were chinks that emerged in the Disney Channel armor after this. High School Musical 3 made oodles of money, but a lot of people expected more from it than a $42 million opening/$90 million domestic total. And then came the Jonas Brothers, Miley Cyrus's tween boy counterparts. Their concert film fell below expectations fairly significantly as it debuted to $12.5 million and has a domestic take of $19.2 million to date. Sure, this is a fantastic number for a concert film, but given that it was a 3-D experience and had "those cute Disney boys" at its center, it certainly feels that money was left on the table.

So where does that leave us with Hannah Montana the Movie? My belief is that Hannah/Miley is still a fair amount more popular than those pesky Jonas boys. With families visiting each other for Easter weekend, the Sunday number is going to stink, but it's a decent family choice for the other two days. Unlike the Miley Cyrus concert movie, Hannah Montana the Movie is going ultra-wide, at 3,118 venues. The movie's easy availability should counter-balance the fact that the character's popularity has likely declined over the last year. An opening of $22 million should be in the offing, a number that Disney ought to be pleased with since this theatrical release is effectively an advertisement for the impending DVD anyway.

Our second new wide release for the weekend, Observe and Report, features a guy who has been a little bit up and down with regard to feature film openings over the last 12 months. After effectively bursting onto the scene in 2007 with Knocked Up ($30.7 million opening, $148.8 million domestic finish) and Superbad ($33.1 million opening, $121.5 million domestic finish), Rogen did some voice work in a number of animated movies before The Pineapple Express hit theaters in August of 2008 ($23.2 million opening, $87.3 million finish). He followed that up in the fall with Kevin Smith's Zack and Miri Make a Porno, which followed the Smith pattern more than the Rogen pattern. It opened to $10.1 million and had a domestic total of $31.5 million. So after his hot start, fans seem to be experiencing a bit of Rogen overexposure. I love the guy (a lot), but it does seem like he has a movie out every other week, whether that's true or not.

Observe and Report does have an extra ace in the hole in the form of Anna Faris, who had a nice-sized little hit last summer in The House Bunny. That comedy opened to $14.5 million and wound up with a final domestic tally of $48.3 million. Sure, she's not seeing similar numbers to Rogen, but she certainly has her own fans. It feels like an odd weekend to open a movie like Observe and Report, and it also might look to some people like it's a copycat of Paul Blart: Mall Cop (though for my part, I'd rather watch Observe and Report any day of the week). I think the film is headed for a debut around $18 million, and Rogen should expect bigger bucks this summer with Funny People, which reunites him with Judd Apatow and has him co-starring with Adam Sandler.

Finally, and barely worth talking about, is the third movie seeing wide release this weekend. Dragonball Evolution is a live-action adaptation of a ludicrous animated series that is itself based on a Japanese manga. After making a pretty huge impact in Japan, Dragonball made its way over to the United States and has been airing on Cartoon Network for some time now. I never understood the show, particularly, and I say that as someone who actually buys Pokemon games when they are released. The movie is notable if only because it features James Marsters, otherwise known as Spike from Buffy the Vampire Slayer and Angel, but that's just a tiny fanboy aside. There's no real reason for anyone over the age of eight to have interest in this, and I suspect that not many kids under the age of eight do, either. $5 million sounds about right for this.

For returning films, it seems likely that Fast & Furious will repeat at the number one spot, though Hannah Montana could potentially surprise. Given the massive rush factor that this movie saw, it's going to take a nosedive at the box office, likely in the range of 60% or more. I think a best case scenario is probably around $27.5 million, though a bit worse wouldn't shock me at all.