Weekend Wrap-Up
Fast & Furious Races To Over $70 Million
By John Hamann
April 5, 2009
BoxOfficeProphets.com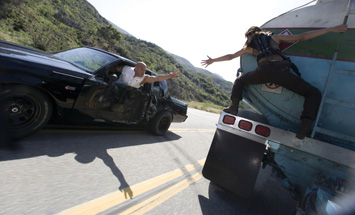 ---
New model, original parts, same boffo box office. Summer starts early as we have a movie with a summertime opening weekend in spring – the only unfortunate thing is that it stars Paul Walker.

Most of the above was the tagline to the new Fast & Furious flick, as Vin Diesel and BOP non-fave Paul Walker return to the franchise that brought them to the A-list (at least briefly, in Walker's case). With the original stars, and the director of the third film (Justin Lin of Tokyo Drift), Fast & Furious opened April furiously, recording the biggest debut for an opening weekend in April. Also opening this weekend is a much better film in Adventureland, and I'm somewhat sad that the scores for Fast & Furious and Adventureland aren't turned around.

Our number one film is Fast & Furious (whether I like it or not) and its fan base blew the roof off movie theaters. The fourth film in the series (I've had the pleasure of writing about each one) opened with a record-breaking gross of $72.5 million from 3,461 venues (F&F, Monsters vs. Aliens and Knowing ate up an amazing 10,893 venues this weekend). Fast & Furious had a venue average of $20,950 and is a huge win for the folks at Universal. Fast & Furious was originally scheduled to be a summer flick, but Universal – one of the shrewdest studios out there – moved this one back into April to avoid the other high-flying competition that dominates the summer months. I have always pushed the theory that schedule be damned – opening a film that people want to see can happen big over any weekend of the year. In this case, Anger Management and its $42 million opening on April 11, 2003 is now the second biggest opener in April, as Fast & Furious dominated that score by $30 million.

The history of this franchise is quite awesome. The first film opened to $40 million on June 22 2001, surprising many and out-grossing the supposed-to-be-strong Dr. Dolittle 2, which showed up with only $25 million. The Fast and The Furious finished with $144.5 million domestically and turned in another $62 million from overseas grosses. All of this occurred against a budget of $38 million, which means Universal earned over $100 million on this picture alone. The second film, 2 Fast 2 Furious, opened bigger but finished smaller, which Universal didn't mind. 2 Fast opened to $50.5 million in 2003 without Diesel, and it finished with a lower-than-expected $127.1 million, about $20 million short of the original. It made another $109 million overseas, but this time the budget was bigger, costing Universal $76 million, twice the budget of the original. Overall, 2 Fast made more than the original, but at double the price, and plunged 63% in its second weekend, a worrisome trend for future sequels. In 2006, The Fast and The Furious: Tokyo Drift opened, and signaled that the party may be over. Both Paul Walker and Vin Diesel dropped out, and the third film opened to a quiet $24 million in 2006, showing up behind the second weekend of Pixar's Cars, and the debut weekend of Jack Black's Nacho Libre (ouch). It finished domestically with only $62 million, but did manage $95 million from overseas business. Budget data was not released, and it looked like the franchise was finished.

Luckily for Universal, the two stars of the original, Diesel and Walker, were almost down and out when approached for the fourth film. Diesel had flopped with The Chronicles of Riddick ($24 million opening, $57 million finish), did a positive kids movie in The Pacifier ($30.5 million opening, $113 million finish), but then had two bad flops in Find Me Guilty, which pretty much failed in every department, earning less than $2 million, and followed that up with Babylon AD, which opened to $9 million and finished with $22.5 million. For Walker, the afterglow of 2 Fast 2 Furious was remarkably similar to that of Diesel. He had three films that opened to less than $8.4 million (Timeline, Into the Blue, Running Scared), had a small hit with the kids' flick Eight Below ($20 million opening, $80 million finish), and appeared in Clint Eastwood's Flags of our Fathers, which disappointed on a number of levels. Walker was pretty much done until Fast & Furious, so I will blame this movie for resurrecting his career.

This brings us back to the fourth film, Fast & Furious, which represents a remarkable reboot for this franchise, much like the Friday the 13th re-issue we saw earlier this year. After opening to $30 million on Friday, Fast & Furious had an internal multiplier of 2.41, which indicates extreme front-loading and a quick burnout to come. However, if this one even manages to double its opening weekend gross stateside, this is going to be a huge win for Universal, as it cost Universal $80 million to make, and the studio finds the equivalent of summer success in early spring. This is the smartest scheduling move I've seen in a very long time.

Second spot goes to last weekend's supposed juggernaut in Monsters vs. Aliens, a film we thought had opened big with $59 million until Fast & Furious showed up. In somewhat of a suprise, MvA grossed only $33.5 million and fell a large-for-animation 44%. Usually films like this perform much better in their second frames; however, the 3-D angle may be causing some front-loading. Fast & Furious also may have had an effect, dominating the larger theaters at googleplexes across the continent. The good news for Paramount and DreamWorks Animation is that this sophomore weekend is still in the top five weekend grosses for the month of April, and MvA has a total so far of $105.7 million.

Third goes to the horror flick The Haunting in Connecticut, which debuted last weekend with a surprisingly strong $23 million. Haunting did about as expected, earning $9.6 million, and dropping 59%. Haunting now has a running total of $37.2 million, and is having a better time in theaters than Lionsgate could have ever dreamed of.

Nic Cage and Knowing land in fourth, as Cage actually enjoys a film with some sort of legs, instead of stumps that end at the knees. Knowing earned $8.1 million in its third weekend. The disaster porn flick from Alex Proyas was off 45%, but that is still a good hold for Cage and the material. From Summit Entertainment, Knowing has a total of $58.2 million so far, and an $80 million finish isn't out of the question.

Fifth goes to the comedy I Love You, Man with Paul Rudd and Jason Segel. Now in its third weekend, I Love You, Man earned $7.9 million and was off 38%. That's two consecutive strong holds for this one, as it performs admirably amongst some solid competition. As an off-shoot, there was a story in my morning paper today about where to go on man-dates in California. This one may turn into the next Paul Blart, but let's wait another weekend to get into those comparisons. I Love You, Man has now earned $49.3 million, and is well ahead of where Forgetting Sarah Marshall was after three weekends ($44.7 million), despite similar opening weekends.

Sixth goes to our other new film in release this weekend, Greg Mottola's Adventureland. With an opening in sixth, Adventureland is obviously no Superbad ($33 million opening on 2,948 screens), but it did okay considering. Adventureland opened to $6 million from a slim venue count of only 1,862, giving it a rough average of $2,127. The biggest problem for this flick is how busy it is overall at cinemas. Adventureland and its 88% fresh rating at RottenTomatoes got squeezed out of the box office pie, as the comedy failed to have a hook to draw patrons. I'm hoping Adventureland doesn't go away after one weekend, and that word-of-mouth propels this one in the future.

Duplicity takes the number seven spot, as the Julia Roberts/Clive Owen flick has failed to gain any traction at the box office. Duplicity earned $4.3 million this weekend, its third, and drops 44% compared to last weekend. The $60 million production has now earned $32.4 million.

Eighth goes to Race to Witch Mountain, as The Rock battles to get his flick into the $70 million area. He has a better weekend than last, when Race dropped 55% against the open of Monsters vs. Aliens. This weekend, Race to Witch Mountain earned $3.4 million and drops 42%. It has a running total so far of $58.4 million.

The Fox and WWE flick 12 Rounds lands in ninth. Expectedly, the John Cena action flick earns $2.3 million and falls 57%. Time to give this one the hook with a gross so far of $9 million.

Overture Films' Sunshine Cleaning finishes tenth despite being out to only 479 venues. The comedy, which stars Amy Adams and Emily Blunt, brought in $1.9 million, an increase of 48% from last weekend when it was out to only 167 venues. This one is 67% fresh at RottenTomatoes, and has a running total of $4.8 million.

Overall this weekend, things are very, very good. With the surprisingly large open for Fast & Furious, on the heels of Monsters vs. Aliens, the top 12 films earned an awesome $152.3 million, a figure we didn't see last year until May, but this year, with the economic downturn, have seen a remarkable three times. A year ago over the same weekend, the top 12 films earned only $80 million, a far cry from what we are seeing this weekend. Next weekend, things could be big again. Miley Cyrus opens Hannah Montana: The Movie for Disney, Seth Rogen opens Observe and Report which looks an awful lot like Paul Blart: Mall Cop (except this one might be funny), and Fox brings up Dragonball Evolution. See you next weekend.