April 2009 Forecast
By David Mumpower
April 3, 2009
BoxOfficeProphets.com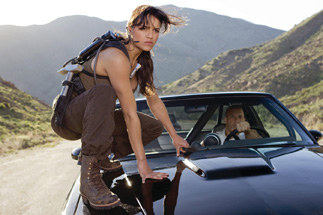 ---
1) Fast & Furious

We saw it with Friday the 13th's latest update/abomination, we saw it with Watchmen, and we will see it here. Fast & Furious is going to dominate the box office for one weekend then it will fade from our memories quicker than Sanjaya Malakar. Two and a half years ago, Tokyo Drift was released, and it pretty much confirmed the fact that the franchise had run out of steam. After the original opened to $40.1 million and the sequel brought in a $50.5 million haul with its debut, the redneck-on-foreign soil version of the story failed completely. It opened to only $24.0 million and its $62.6 million final domestic take wasn't even half of the 2 Fast 2 Furious abomination. Fast cars and slutty women is a great film concept; it is also one that had reached a saturation point.

To their credit, the kind people at Universal Studios took a long look at the formula and accepted the truth. There had only been one good film in the franchise and that was the first one, the one that starred Vin Diesel. Since that actor's career hasn't exactly exploded in the days since xXx, he didn't have much choice but to turn to his most popular film, starting with a surprise appearance at the end of Tokyo Drift. The end result is that some excitement has been created for the fourth film in the franchise, but this is the last time Universal will get blood out of this particular stone. After the weekend is over, all that will remain is some scorched tire marks, nitrous oxide fumes, and a solid opening weekend take. But don't worry, Paul Walker. You're still a good driver, bro.

2) Hannah Montana Movie

G-rated films are in. Disney's last two releases from their cable channel division have seen opening weekend box office of $31.1 million and $42.0 million, respectively. The Mouse House has brought in about $320 million in worldwide receipts from a couple of properties that cost a combined $17.5 million to produce. Face it, Disney continues to play on an entirely different playing field from everyone else. The question with Hannah Montana is whether a movie based on the television series is a year too late or 20 years too early for a re-make, depending on perspective. I'm inclined to think that this project is going to "suffer" from the same fate as High School Musical 3: Senior Year, making solid box office but not as much as could have happened last year. The end result is that I project an opening weekend just a bit short of the concert movie and box office receipts somewhere in the same range as it, probably a few million short as well. It's time for Miley Cyrus to begin her slut phase a la Lindsay Lohan or risk following the path of Hilary Duff. Wait, is it better to be remembered as skanky trash or largely forgotten? Hmm, tough call.

3) State of Play

The British version of this stars every recognizable actor in England. I'm only 70% joking about this. We have had the DVD of this miniseries since Christmas, but we have yet to watch it. I have heard wonderful things, and I have huge concerns about the American adaptation. The main reason for this is that five and a half hours worth of television are being truncated into two hours of cinema. Anyone who was just frustrated by Watchmen is hearing alarms and sirens right now. The good news is that Kevin Macdonald, the director of The Last King of Scotland, has helmed this version. The question becomes whether this is good Russell Crowe (3:10 to Yuma) or the disaster we saw in Body of Lies last year. With a phenomenal cast and a lot of positive buzz about the premise, Universal Pictures has bought itself a solid opening weekend, just as was the case with Fast & Furious above. The key is whether this one will maintain momentum after its first three days. The fact that it's being released prior to awards season and not even during the summer troubles me a great deal. I hope I'm wrong, but I don't think they have it here.

4) Observe and Report

It seems like we're getting a new film from the Apatow group every month. There really hasn't been a dud yet in the bunch unless you include The Promotion in that grouping, which I do not. There also hasn't been a $100 million blockbuster in a while, either. Role Models earned $67.3 million and I Love You, Man is headed for a performance in that range. Seth Rogen's credibility as a lead actor went from nothing to...something in the past couple of years, but unless he got an unexpected bump for his voice work in last weekend's Monsters vs. Aliens, he's not a big enough name to turn this into anything more than those two films. I'd like to be proven wrong, as I think Observe and Report looks hysterical, but I'm not holding my breath.

5) 17 Again

See above re: High School Musical 3. Coming on the heels of Zac Efron's decision to drop out of the Footloose re-make, 17 Again becomes that much more important to the 21-year-old actor. He doesn't currently have another project confirmed. While he is too popular at this point to see his career vanish, the reality is that Efron is still largely an unknown. Was High School Musical a fluke that could have happened to any actor or is there something about Efron that raised the bar for what was expected to be a mediocre one-off cable flick. I'm inclined to believe it's the latter, but if 17 Again disappoints, the comment I made earlier about Hilary Duff applies. She was given four opportunities to star in a movie (not counting the Cheaper by the Dozen franchise, War, Inc. and The Lizzie McGuire Movie). Three out of the four earned $38.3 million in combined revenue. This is exactly the reason why she' s having to make movies like War, Inc. That fate could befall Efron if 17 Again doesn't buy him more political capital in the industry.

All of this is relatable for the film's other star, Matthew Perry, who wanted to leverage his starring role on Friends into a movie career. That never happened as five out of his six starring roles were in films that earned less than $30 million, domestically. He's considered a television actor who gets occasional work in films, making him a humorous counterpart to Efron in this film. Body swapping was the all the rage for a five year period in the industry starting with Big, but we've only had one movie with this concept in the 2000s, 13 Going on 30. I'm inclined to think 17 Again is cute enough to do more than most of Perry's movies, but I don't think it's going to beat his most popular film to date, The Whole Nine Yards, which earned $57.3 million.

6) Obsessed

I've seen some crazy-high estimates for this film, which frankly blows my mind. It's a Fatal Attraction rip-off that has been done a million times on Showtime After Dark, and the cast isn't anything special, either. I like Idris Elba a lot, but he's not a box office draw. Judging from the $8.1 million performance of Cadillac Records, neither is Beyonce. In fact, I would cynically note that the only member of the cast who has had any box office success whatsoever is Ali Larter, although it's a huge stretch to say that the two Final Destination films and the Resident Evil sequel in which she appeared were in any way successful due to her presence. Having said that, Screen Gems is quite good at getting the most out of its movie debuts. I think Obsessed could do very well on opening weekend before vanishing from theaters.

7) Crank: High Voltage

I think I've ranted about Crank just about enough over the years since I saw it. I like Jason Statham and Amy Smart a lot. So, their love (?) scene in the movie absolutely broke my heart. It was the cheesiest thing this side of America's Next Top Model. I see no reason to expect a significantly stronger box office performance with the sequel than the original's $10.5 million debut and $27.8 million domestic tally. It may start stronger, as sequels regularly do, but it will taper off even faster, leading to a similar overall result.

8) Fighting

The scary thing about this title is that you just know there were several top level meetings about what to name the film. Someone in the room must have spoken up with the query, "What is the most on-the-nose title we could possibly give it?" From there, the debate probably ensued about descriptions such as "Punching Faces", "Beating Bitches Down", "Hero Wins Fight, Later Penetrates Girlfriend" and the like. I think they made the right call in the end. It's important not to confuse your target audience too much with a lowest common denominator offering such as this.

9) The Soloist

Have you seen Jamie Foxx's hair in this movie? It's almost reason enough to make me want to watch this. Almost. For various non-hair related reasons, I'm still not expecting it to be another The Red Violin. The hair merely solidifies this thought process.

10) Adventureland

Twilight's first four days of DVD revenue almost matched The Dark Knight. I don't really have anything to say about Adventureland, but I thought that point alone was enough to justify its inclusion over Dragonball: Evolution, a film that was always expected to bomb in the United States but do killer business worldwide, particularly in the various Asian markets. On a semi-related note, I recently watched Twilight and it would have made my bottom ten last year if I'd seen it in time to count it in The Calvins. The disconnect between the hype on this film and its quality boggles my mind.