May 2009 Forecast
May 2009 Forecast
By Max Braden
May 1, 2009
BoxOfficeProphets.com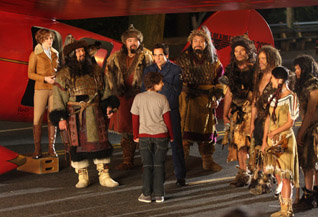 ---
Weekend Starting May 1st

X-Men Origins: Wolverine

On the eve of the summer's first huge blockbuster opening, I'll admit to some concern about it being overhyped. But when I think of any drawbacks I see from the trailer - over the top CGI, Schreiber's old man fingernails, Danny Huston being Danny Huston - I realize it doesn't matter. I'm going to see it no matter what. Everyone is going. Why? Because it's Hugh Jackman as Wolverine. His character is arguably the most popular of the X-Men series because he's the most dynamic and the team maverick - Han Solo with claws. So a movie that focuses on his character is bound to open bigger than The Last Stand's $100+ million Memorial Day weekend three years ago.

Forecast: $120 million opening weekend

Ghosts of Girlfriends Past

Matthew McConaughey's been pretty much the go-to guy for romantic comedies since Hugh Grant, co-starring with Kate Hudson twice (How to Lose a Guy in Ten Days, and Fool's Gold), Sarah Jessica Parker (Failure to Launch) and Jennifer Lopez (The Wedding Planner). Here he's paired with Jennifer Garner and the recycled gimmick of a Christmas Carol-type life review of the womanizer who let the right girl get away. Garner had a similar sci-fi-rom-com with 13 Going on 30 three years ago. That movie and McConaughey's past three romcoms each opened in the low 20s, so I expect this to do this same.

Forecast: $21 million opening, falling far short of the $100 million gross mark

Battle For Terra

So I see this trailer for some other-world scifi adventure that looks like a war between ant aliens, and I think: "Huh." It's got some nifty background cgi, but none of the approachable characters of animated adventures we usually praise. Why? Probably because this is neither a Pixar or Dreamworks or even Fox Animation release, but one from Lionsgate, by a rookie director. Being released in 3D might help it, but by not much - if you can't enchant the kids, there's no hope.

Forecast: $4 million

Weekend Starting May 8

Star Trek

As a child of the 1980s, I was a fairly typical fan of the Star Trek movies, siding with neither the Lucas or Roddenberry universes. I just enjoyed the sci-fi action. I caught up with The Next Generation in college, watched Deep Space Nine, and even saw most of Voyager. But both the movie and TV series became forgettable. Is Star Trek: Enterprise still on tv? I have no idea. A reboot seems like the logical direction to go, especially since it worked for Batman and Bond. But none of the actors jump out at me. The trailer looks like it was directed by someone high on drugs, and I miss Jerry Goldsmith's sweeping music. I think all that adds up to a lot of trepidation on opening weekend. On the otherhand, a new next generation of fans could be interested. If it's good, I expect a moderate opening but long legs.

Forecast: $40 million, eventually passing $150 million.

Next Day Air

A mistaken shipment of drugs is a great setup, and this looks like a fun companion movie to Snatch and Lock, Stock, and Two Smoking Barrels. Depending on how wide a release Summit gives it, I expect a pretty good performance at the box office.

Forecast: $10 million.

Weekend Starting May 15

Angels & Demons

The Da Vinci Code was a phenomenon by any measure, with the novel's tremendous sales boosting the box office of the movie. Despite Tom Hank's ridiculous hair and a mediocre story, the movie opened to $77 million the weekend before Memorial Day in 2006. While Angels & Demons was a hit as well (actually Dan Brown's first book to feature Robert Langdon), it would be hard to believe that this movie will perform as strongly as its predecessor. The National Treasure movies opened at $35 million and $44 million in 2004 and 2007. Given the larger fanbase for Dan Brown, I think Angels & Demons should be able to cross the $50 million mark on opening weekend.

Forecast: $50 million.

Management

Flying under the radar this month is Jennifer Aniston's romantic comedy with Steve Zahn. It lacks the slick commercial style of Ghosts of Girlfriends Past and a major distributor, but Zahn's die hard romantic pursuing his desire against all odds looks like an endearing story.

Forecast: $5 million.

Memorial Day Weekend

Terminator Salvation

Had this Terminator installment been released six years ago instead of Rise of the Machines, we might have been talking about an opening around $25 million. Bale was still building his stardom and without Schwarzenegger's presence, it might have been seen as just another sci-fi action flick cashing in on the Terminator brand (Bale's post-apocalyptic dragon movie Reign of Fire opened at $15 million in 2002). But this is the best time for Terminator Salvation to rake in the cash. It combines the giant robot destruction of Tranformers with the gritty darkness and Bale's stardom from The Dark Knight. It should make an easy killing at the box office.

Forecast: $135 millon for the four day weekend

Night at the Museum: Battle of the Smithsonian

Ben Stiller's family adventure was a surprise hit of the 2006 Christmas season, opening at $30 million but going on to gross $250 million. The sequel wisely brings back the familiar pieces of the first movie while adding new characters and upping the stakes a bit. The question is, how will the box office of the first movie translate from the winter season to summer? May's been a successful month for family films like the Shrek series, but summer movies don't usually enjoy the long legs of a Christmas release.

Forecast: $65 million opening

Dance Flick

This spoof of Save the Last Dance and similar films seems a little late in coming, since Julia Stiles' movie was released over eight years ago. The Wayans brothers don't need much of a reason, though.

Forecast: $20 million

Weekend Starting May 29

Up

Checking Pixar's past box office history I was a little surprised to be reminded that Ratatouille opened under $50 million. WALL-E's $63 million opening then probably has more older audiences to thank for the increase. The truth is, other than Shrek, most big animated films open in the $60 million range rather than the now apparently feasible $100 million mark. Up doesn't look like it will break the pattern there. Despite the added 3-D feature, there doesn't seem to be much to this story. Okay, they go up...then what? Lacking any cute animal characters or catchy tunes, this looks like a solid hit but not a record breaker.

Forecast: $55 million.

Brothers Bloom

This movie probably won't make any box office news, and may not even impress any critics if its multiple release delays are any indication. But to me the trailer just looks fun. I'm always up for a good heist comedy.

Forecast: $5 million.