Weekend Wrap-Up
Monster vs. Aliens Jolts Box Office
By John Hamann
March 29, 2009
BoxOfficeProphets.com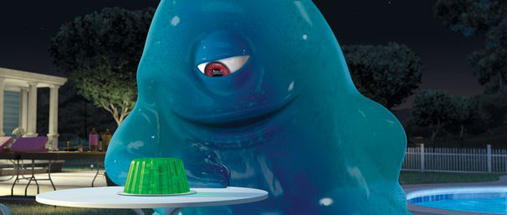 ---
Monsters vs. Aliens hit movie screens in a big way and brought us our second $50 million opener in March 2009, after Watchmen did it at the beginning of the month. This time out, better legs are almost guaranteed.

It was a big weekend for openers, as the Paramount/DreamWorks combo Monsters vs. Aliens exploded in 3-D; The Haunting in Conneticut – another horror movie from Lionsgate – opened large; and 12 Rounds from Fox showed up toward the back of the pack. You know it's a good weekend when the top two movies bring in more than $75 million, and the holdovers don't completely fade.

Our number one film of the frame is Monsters vs. Aliens, the latest animated 3-D effort to hit movie screens. Produced by DreamWorks Animation and unleashed on a ludicrous number of movie screens, MvA scored an opening of $58.2 million – which isn't a breakout success or middling failure. The DreamWorks flick opened on an amazingly large 4,104 venues – a number usually reserved for summer blockbusters – and had a venue average of $14,181. Approximately 2,000 screens showed MvA in 3-D, which also means those theaters would charge a premium to patrons, often an additional $3.00 compared to a regular 2-D showing. So when we talk about MvA grossing what it did - or any 3-D production for that matter – one has to remember that these films have an ace up their sleeve at the box office with the premium being charged. Are the opening weekend grosses for films like Monsters vs. Aliens, Coraline and Bolt worthy of an asterisk? I don't think so at this point, but eventually a big, epic, 3-D feature is going to take down The Dark Knight's record for biggest weekend ever. It might be James Cameron's upcoming Avatar, which is set for a Christmas 2009 release date.

Comparing MvA to its 3-D compatriots, it actually performed remarkably. Coraline, obviously a smaller film, opened to $16.8 million in February of this year, and has shown fantastic legs with a gross so far of $73.6 million domestically. Bolt, Disney's November 2008 release, opened to $26.2 million (behind the unexpectedly big Twilight), and finished with $114 million in North America and $289 million internationally (it helped that it was actually quite good). Chicken Little was the master of the genre prior to Monsters vs. Aliens, and it came out in 2005 when there were far fewer venues for 3-D films. It opened to $40 million and finished with an impressive $135 million domestic, and over $300 million worldwide. The trend with these films is twofold: legs and quality. Each of the films I mentioned showed amazing legs (even for kids' fare) as the 3-D not only expanded the market to adults, it became a cinematic experience, improving word-of-mouth. Quality also shows up quite a bit here – Bolt was 85% fresh at RottenTomatoes and Coraline was 88% fresh. Monster vs. Aliens didn't get quite the same quality of reviews, much like Chicken Little. MvA finished at RottenTomatoes with a 68% fresh rating, with critics complaining that too much work went into the technical side, and not enough into crafting a good movie – the same complaint that landed on Chicken Little.

Monsters vs. Aliens is going to be a $200 million film – just from the domestic box office. It will set the baseline for animated 3-D event pictures, and future movies in the genre are going to be compared to this one. There are dozens of these films in the works, as studios use 3-D to charge patrons – in this case children – a few extra bucks at the door. Could MvA have been bigger? Certainly. A better release date and stronger marketing campaign were needed; however, Paramount and DreamWorks Animation will be more than happy to settle with this launch figure.

Pulling up in second this weekend is another strong finisher, Lionsgate's horror flick The Haunting in Connecticut. The cheap to make, cheap to market movie earned an impressive $23 million this weekend on the back of a strong TV ad and trailer. Out to 2,732 venues, Haunting had a venue average of $8,422. The Haunting in Conneticut stars Viriginia Madsen, who hasn't had a big film since Sideways in 2004, which finished with $71.5 million. For Lionsgate, this is another horror success for the seemingly always struggling studio. They've actually had a bit more luck recently, with a strong Tyler Perry effort in Madea Goes To Jail, which almost made it to $100 million (current gross about $88 million), and My Bloody Valentine, another 3-D example with premiums paid. Valentine finished with $55 million, and came on the heels of Lionsgate's most recent Saw outing, which opened to $30 million, but finished with $56.7 million. The recent lesser lights for Lionsgate came with The Spirit, which flopped with a $6 million opening and a $20 million finish, and New in Town, the Renee Zellwegger bomb that opened to $6.7 million and finished with about $16 million.

The Haunting in Connecticut is a throwback to some of the "successful for no reason" horror flicks of the past few years. This one was shot back in September 2007, meaning it sat on a shelf for quite awhile. That shelf time was an indicator of quality, as this one was only 18% fresh at RottenTomatoes, with 13 of 68 reviews positive at the time of this writing. Most likely made for less than $20 million, Haunting will end up a success for Lionsgate, which has to be a nice surprise for the studio. Sure, it will probably fall more than 50% next weekend, but with the budget most likely matched over opening weekend, the rest is gravy for Lionsgate.

Third spot goes to last weekend's number one film, Knowing, and it held better than I expected it would. Knowing earned $14.7 million in its second frame, and was off 40%. I was expecting more than a 50% plunge, as this is Nic Cage, after all. His last few non-sequel films worked like this: Bangkok Dangerous fell 67% in its second weekend, Next fell 59%, Ghost Rider fell 56%, and The Wicker Man dropped 58%. Knowing must be getting some word-of-mouth due to the "disaster porn" effects, and now has a total after two weekends of $46.2 million.

Fourth goes to Paramount's second film in the top five, I Love You Man. As expected, the Paul Rudd comedy held well, earning $12.6 million and dropping a not bad 20%. Paul Rudd is the antithesis of Nic Cage when it comes to second weekend holds. Role Models, Rudd's last film, fell 42% after a surprisingly large opening of $19 million; Forgetting Sarah Marshall (which also starred Rudd's I Love You Man co-star Jason Segel) dropped a slim 38%; and Knocked Up, which again starred both Rudd and Segel, dropped 36%. I Love You, Man is going to finish as a strong entry again, as it has a total so far of $37 million.

Duplicity falls to fifth, and doesn't have the hold that Universal was looking for. The Julia Roberts/Clive Owen flick earned $7.6 milllion in its second frame, and was off a larger than expected 46%. A busy marketplace condemned Duplicity, and it has a total so far of $25.6 million.

As expected, Race to Witch Mountain got hammered by Monsters vs. Aliens, and the Disney live action feature tumbles from fourth last weekend to a distant sixth this weekend. Race earned only $5.6 million in its third weekend and was off a large 56%. Race has not turned into the hit Disney thought it would be, as it has a gross so far of $53.3 million.

Our last newcomer, 12 Rounds, finishes seventh, and was the weak sister in our opening crop. Showcasing John Cena, WWE star, and produced by WWE films, 12 Rounds earned only $5.3 million over opening weekend from 2,331 venues. WWE Films hasn't had much luck since The Rock stopped doing their projects. Recent outings have shown poor results, like The Condemned with Steve Austin ($3.8 million opening, $7 million finish), The Marine which was also with John Cena ($7.1 million opening, $18.8 million finish), and See No Evil with Kane ($4.6 million opening, $15 million finish). 12 Rounds cost the WWE and Fox $20 million to make, and there is no way this will finish with a domestic total higher than the budget.

Eighth, ninth and tenth had extremely low grosses. Eighth place belonged to Watchmen, with a $2.8 million gross, a painful 59% drop and a total to date of $103.3 million. Ninth was Taken, with a gross of $2.7 million, a drop of 33%, and a gross so far of $137.1 million. Tenth went to Last House on the Left, which earned $2.6 milllion, was off 55% and has a total of $28.5 million.

Overall, there is a lot to be happy about at the box office. A year ago the box office was not performing well. Over the same weekend in March 2008, four films opened, with only the gambling flick 21 grossing more than $20 million. The top 12 films earned a lowly $90.2 million. This year, with Monsters vs. Aliens at number one, the top 12 films at the box office earned an extremely strong $137.6 million. Next weekend should provide more big scores at the box office, as Vin Diesel is back in Fast and Furious from Universal, and Miramax provides counter-programming with Adventureland a teen comedy from Superbad director Greg Mottola.