Weekend Forecast for March 27-29, 2009
By Reagen Sulewski
March 27, 2009
BoxOfficeProphets.com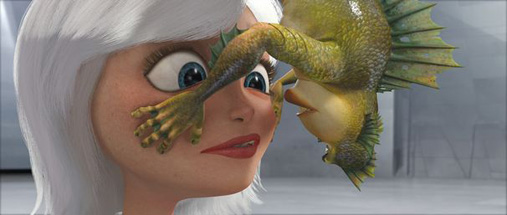 ---
The all-year blockbuster season seems to be in effect with this latest weekend's offerings rivaling some summer weekends in terms of box office potential, including an animated spectacular, a horror remake and an action film.

Monsters vs. Aliens is DreamWorks' Animations latest attempt to offer an alternative to Pixar, this time with a science-fiction theme. Reese Witherspoon leads the voice cast as a woman hit by a meteorite on her wedding day, which causes her to grow to 50 feet in size. Alanis Morissette did not think of this one.

Deemed a threat, she is taken to a secret government facility where a number of other freaks of nature are kept, including a gelatinous blob, a mad genius cockroach and sort of ape...fish... thing. However, when an alien overload threatens Earth with a variety of concocted schemes and giant robots, the quartet is pressed into service to use their powers to save the world.

Aiming somewhere in between the kiddie and adult markets, Monsters vs. Aliens looks most like 2005's Chicken Little, which re-interpreted that nursery rhyme as an alien-invasion plot, and opened to $40 million. MvA (as all the cool kids will be calling it) utilizes the new Real D technology that's been making a frequent appearance in films recently, though it's been beaten to the punch in animation by last fall's Bolt. Still, this has proven to be at least a marginally effective marketing technique so far.

I'm not quite feeling the hype on this film to approach the higher tiers of animation box office, despite a well-suited (but not high-powered) voice cast that also includes Rainn Wilson, Seth Rogen, Will Arnett, Kiefer Sutherland and Hugh Laurie. The monsters and aliens look a bit too frightening and strange for little kids to relate to, and the action doesn't look that fantastic for the older kids. There does seem to be the de rigueur humor (which thankfully doesn't seem to be of the instantly self-dating pop culture variety), mostly carried by Rogen, whose voice seems ideal for animation.

DreamWorks is definitely hoping that 3-D will make the difference here, and pushed the concept about as heavily as humanly possible with a SuperBowl spot. This seems to have blown their ad budget for the most part, but a super-wide release of 4,100 venues puts it in the mix for one of the bigger March openings of all time. Look for around $48 million this weekend.

A Haunting in Connecticut is the - what seems almost mandatory to have now - horror offering for this weekend. Supposedly based on a true story, it's a remake of a TV movie from 2002 about a family that starts experiencing spooky things after moving into their new home, which used to be a mortuary. It's your standard Poltergeist/Exorcist situation, with the added twist of self-mutilation, and some truly gross looking special effects.

Starring Virginia Madsen, Elias Koteas and Kyle Gallner (who Veronica Mars fans will remember as Beaver Casablancas), it's a horror film that's going for the creepy factor, which almost feels like a novelty in this current environment of gorefests. Similar kinds of haunted house films have done well recently, most notably the remake of the Amityville Horror, although that did have Ryan Reynolds going for it. The ads for this have been effective enough, but a lack of star power is ultimately going to keep it from being huge. Give it $13 million this weekend.

Former WWE wrestler John Cena stars in 12 Rounds, the final new wide release this weekend. Directed by Renny Harlin (and how far has he fallen?) and sharing a producer with Speed, the film has Cena as a cop whose girlfriend (Ashley Scott) is kidnapped by someone whom he once put in jail. To get her back, he's made to go through a dozen different tests, all designed to kill him before he can complete them.

Sort of a hybrid of Speed and Die Hard, 12 Rounds is kind of a throwback to the kind of gimmicky action films they made in the 1990s. With a better known lead actor, I'd probably give this a decent chance of breaking out, but I think we're pretty limited here. Cena's first film, The Marine, actually did better than one might expect, opening to $7 million, but his acting seems to redefine wooden. This film feels like a make-or-break moment for Cena, and will tell if he can break into the Jason Statham range, or whether he's doomed to low budget and/or Cinemax fare. I see a little jump to about $9 million, but that's probably not enough to make the difference for his career.

Last week's number one film was Knowing, a two-hour money shot fest starring Nicolas Cage. At $24 million, this was a rare Nic Cage film that wasn't feast or famine, but rather, sort of average on its opening weekend. Word-of-mouth is sort of mixed, which is as good as saying it's going to see a pretty big drop off this weekend. It should come in with about $13 million for its second frame.

I Love You, Man, has some decent chance for legs as a comedy, though that's always kind of a dice roll. The Paul Rudd/Jason Segel film about male bonding opened to close to $18 million, which is sort of the standard figure for both of those actors' films these days. Although not actually an Apatow-crew film, it shares much of the same sensibilities and actors, and could act the same. This means about a $60-70 million total, which would be backed up by an $11 million second weekend.

Duplicity was a mild disappointment for some with a $14 million opening weekend. More is generally thought of for a Julia Roberts film, but that's also more for romantic comedies. Clive Owen continues to be something of a non-factor in box office, and is a puzzling Russell Crowe-like polarizing figure. With mostly positive, but not effusive word-of-mouth, it shouldn't fall off too badly, but this caper film's fate is basically set. Give it $8 million this weekend.

Following that is Race to Witch Mountain, which didn't hold well in its first weekend, falling almost 50%. It gets no break this weekend with Monsters vs. Aliens going against it, though some bounce back seems likely. Give it $7 million this weekend, bringing it up to $55 million total.

Finally, Watchmen exits the top five this weekend after three weeks, and just now nudging over the $100 million mark after opening with $55 million. The challenging comic film never truly won over any audiences besides the already committed, though given the difficulty in selling this film – which contains no recognizable characters and no stars in the cast – the $115 or so million it will end with seems pretty significant.