Weekend Wrap-Up
Star Power Back In Control of Box Office
By John Hamann
March 22, 2009
BoxOfficeProphets.com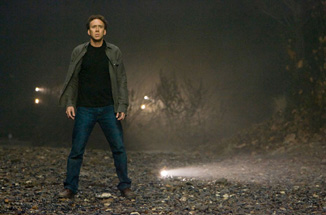 ---
Three new films entered the box office race to cash mountain, and in what has become an anomaly in today's movie world, all three provided some heavy star power. The star race was between the old guard and the new. Nic Cage opened Knowing, a sci-fi disaster movie; Julia Roberts returned to the big screen in Duplicity with Clive Owen; and A-list up and comers Paul Rudd and Jason Segel debuted I Love You, Man – without the help of Judd Apatow. With impressive debuts and hauls from Watchmen, Paul Blart: Mall Cop, Friday the 13th and Slumdog Millionaire - films with no big acting names – some wondered if gimmicks were replacing old school movie stars. This time around we have a combination of old school star-power, at least for a weekend.

Opening one weekend prior to the-sure-to-be-huge Monsters vs Aliens, we knew our number one film would just be a blip in box office history. It's fitting, then, that our number one film of the weekend is Knowing, Nic Cage's awful sci-fi disaster flick (coined as "Disaster Porn" by BOP's Reagen Sulewski – thanks for that!) and obvious one weekend wonder. Knowing earned $24.8 million over its opening frame from 3,332 venues, and earned a screen average of $7,447, narrowly the best in the top ten. This is Summit Entertainment's second number one opener after Twilight, and makes for a big weekend for the studio as their budding vamp franchise sees its original debut on DVD this week.

Nic Cage is becoming a bit of a joke these days, constantly appearing in these sci-fi/action flicks with absolutely no substance. Knowing comes at the end of a string that includes awful films like Bangkok Dangerous (9% fresh, $7.7 million opening), National Treasure: Book of Secrets (32% fresh, $44 million opening), Next (30% fresh, $7.1 million opening), and Ghost Rider (27% fresh, $45.4 million opening), just to name a few. Obviously, Cage has a following, but it must be with the right material – usually a built-in audience like Ghost Rider and the National Treasure sequel. This time out Cage picks an effects-heavy flick with Alex Proyas (Dark City) at the helm, and the box office result is middling-to-good. The problem here is that critics think that this one is too "out there" even for science fiction. Of the 54 reviews counted at RottenTomatoes only 18 are positive, leaving Knowing at 25% fresh. There are two things I'm knowing about Knowing: It won't come close to making $100 million, and a 50% drop next weekend is definitely in the cards.

Finishing a healthy second this weekend is I Love You, Man – the 'bromance' comedy starring two Judd Apatow vets, Paul Rudd and Jason Segel, two guys that have kissed the B-list goodbye and moved up a notch. From Paramount, I Love You, Man did great business for an adult, R-rated comedy, as it grossed $18 million over its opening frame. It didn't open on a gargantuan number of screens – only 2,711 – so it brings home an excellent venue average of $6,641. For Paul Rudd and Jason Segel, I Love You, Man, adds to a string of smaller hits in which these two have appeared. Rudd's last film was Role Models, which was a suprise hit, opening to $19.2 million and finishing with $67.3 million domestically against what was probably a peanuts budget. Jason Segel is somewhat newer to the world of film. His last movie was Forgetting Sarah Marshall, the Judd Apatow-produced flick that opened to $17.7 million, and finished with $63.2 million domestically. Paul Rudd also appeared in Forgetting Sarah Marshall, and it wasn't the first time the two had worked together. Prior to Sarah Marshall, Rudd and Segel appeared in Apatow's Knocked Up as smaller players, and that one opened to $30 million and finished with $150 million. I'm looking for I Love You, Man to work as good counter-programming against Monsters vs Aliens; however, in the following weekend it runs into Advenutreland, an R-rated comedy from Superbad director Greg Mottola. No matter what happens, I Love You, Man is a strong credit for Rudd and Segel – the film is 81% fresh at RottenTomatoes, and should have good legs in the weekends ahead.

Finishing third is the return of Julia Roberts in Duplicity, a smart, romantic corporate espianoge flick co-starring the always great Clive Owen. While it wasn't the film for everyone (is anyone under 21 going to see this movie?) it still did okay, earning $14.4 million from 2,574 venues. While this is still likely a leggy film – it was an okay 65% fresh at RottenTomatoes – the opening weekend comes in smaller than Julia's paycheck for the film ($15 million). Considering this is Roberts first headlining film since Mona Lisa Smile ($11.5 million opening, $63.8 million finish), the deal seems somewhat kind. Gone are the days of nine consecutive openers earning between $19 million and $38 million between 1997 and 2001 – too many years off has caved in the fanbase. Julia has only appeared in one film since 2004's Ocean's Twelve (Charlie Wilson's War), choosing instead to do some animation (The Ant Bully, Charlotte's Web), and raise her newborn twin children. For Clive Owen, this is a better start than February's The International, in which he co-starred with Naomi Watts. That one opened to $9 million and has just about petered out with about $25 million. And while I love Clive Owen, where the hell is George Clooney? This one would have doubled the opening weekend if Clooney was in it. In the end, Duplicity acts as more of a warm up for Julia Roberts, but I see it doing okay over the next few weekends.

Last weekend's number one picture, Race to Witch Mountain, finishes fourth in its sophomore weekend. The Disney reboot earned $13 million in its second frame, and was off an okay, but not great, 47%. I thought the legs would be better, as last weekend Race had an internal multiplier of 3.7, which usually indicates strong legs through the run of a film. More likely in this case, though, is the fact that Race debuted at the top of some kids spring break, meaning the kids were at school on Friday, but then not on Monday, leading to the higher multiplier. For The Rock, this doesn't have the legs of The Game Plan (28% drop in the second weekend, and a repeat at number one), but is still a solid effort. At this point, Race to Witch Mountain does not look like a $100 million film, but it has had a strong start with a $44.7 million gross so far.

Limping into fifth spot is Watchmen, as the Warner Bros. event film suffers another massive blow. Now in its third frame, Watchmen earned $6.7 million, a far cry from the $55 million it opened to only three weekends ago. We knew Watchmen was going to be frontloaded, but with a 68% drop last weekend and a 62% drop this weekend, Watchmen is done, and unless there is some massive run on its DVDs, this franchise is over. Watchmen is behaving much like its comic book brethren The Incredible Hulk (the second one), which opened to $55 million, dropped 60% in its second frame, and another 57% in its third. At least The Incredible Hulk managed to get to $116 million after three weekends; Watchmen sits with $98 million after the same amount of time. Don't forget – Watchmen cost Warner Bros. $150 million to make, along with part of the proceeds going to Fox due to the ownership lawsuit.

Speaking of limping, The Last House on the Left got crushed in its second weekend, moving from an okay $14.1 million last weekend to an embarrassing $5.9 million this weekend. That equals a drop of 58% and joins a list of films released in 2009 with some massive drops. Last House joins big droppers like Notorious (72% drop), Friday the 13th (80% plunge), and the Jonas Brothers Concert Movie (77% drop). Last House has a total so far of $24 million, and could be gone by next weekend.

Seventh is Taken, Liam Neeson's leggy revenge flick. Taken earned $4.1 million and drops 38%. It has a total so far of $133.1 million. Obviously, the death of Natasha Richardson overshadows any success for her husband, and BOP sends its regards to this massive acting family. This is a true shock and a sad time for us all.

Slumdog Millionaire continues its incredibly successful run this weekend in eighth, as it spends its 18th weekend in release. This weekend, Slumdog earned $2.7 milllion, and was off 46% from the prior weekend. The Fox Searchlight release has now earned $137.2 million stateside, and the same amount overseas. Its success is due to continue, as Slumdog hits DVD sales shelves on March 31st.

Tyler Perry's Madea Goes to Jail hangs on for one more weekend, and continues to be the most successful Tyler Perry flick of his career. Madea earned $2.5 million in its fifth weekend, and was off 51% from the previous frame. This one now has a running total of $87.2 million.

Finishing tenth this weekend is not Paul Blart: Mall Cop (let's take a moment to pause, as this is the first weekend in the last ten that Paul Blart has not made the top ten). Number ten goes to Coraline, Henry Selick's animated masterpiece. Coraline earned $2.1 million this weekend (its seventh) and drops 21%. Coraline has been one of the nicest surprises of the 2009 season thus far, and has a total so far of $72.9 million.

Overall, the box office is blah. The top 12 films this weeekend earned $97.5 million, right on par with the top 12 last year, which took in about $98.9 million. Next weekend, things look better, as Monsters vs Aliens looks like at least a $40 million plus opener. Also opening are Lionsgate's The Haunting in Connecticut and 12 Rounds from Fox.