Friday Box Office Analysis
By Tim Briody
March 21, 2009
BoxOfficeProphets.com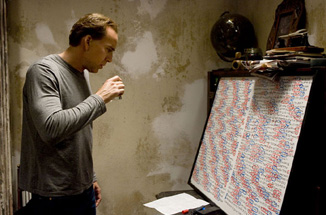 ---
A moment of silence for Paul Blart: Mall Cop, departing the top ten after nine weeks.

[tm:2259_]Knowing[/tm]

The Nicolas Cage film actually takes the top spot with ease on Friday, earning $8.9 million. How Knowing will earn more this weekend than Next did in its entire run is beyond me. What's most likely is that this is finding audiences who just wanted to see something blow up (and not based on a comic book like [tm:1179_]Watchmen[/tm]). Knowing will solidly win the weekend with $25.8 million.

[tm:4192_]I Love You, Man[/tm]

The [bp:4264_]Paul Rudd[/bp]/Jason Segal bromance earned $6.3 million. This is smack in between the first day of Forgetting Sarah Marshall ($6 million) and Role Models ($6.6 million). It's going to also land in between the weekend multiplier for those movies (2.93 and 2.86 so I Love You, Man should come in with a pretty good $18.5 million for the weekend.

[tm:4086_]Duplicity[/tm]

The surprise of the week, and not really in a good way, is that Duplicity earned $4.7 million on Friday. While I expect this to have the highest weekend multiplier of the three opening releases, this is still a pretty disappointing figure considering the star power. This is why you still need to act, Ms. Roberts. Give Duplicity a weekend of $15.5 million

Notable Holdovers

Not much good news here, [tm:4290_]Race to Witch Mountain[/tm] is shoved down to fourth by the three openers, off 45% to $3.7 million. It had such a solid performance over the weekend proper however, and that should continue through the duration of its run. A second weekend of $14 million looks to be in store.

Elsewhere, Last House on the Left plunges 66% and Watchmen tumbles another 62% and will not be at $100 million yet at the end of the weekend.