Weekend Forecast for March 20-22, 2009
By Reagen Sulewski
March 20, 2009
BoxOfficeProphets.com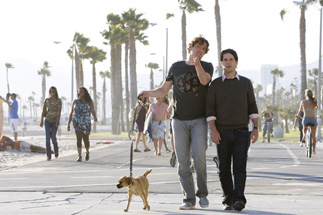 ---
In what has to be an oversight, this weekend's slate of three new wide releases does not include any that are remakes, sequels or adaptations of something. In a further upset, all three have hit potential.

A tribute to the bromance, I Love You, Man, is not a Judd Apatow movie, though you'd be forgiven for thinking so, since it's a dude-themed comedy and stars three Apatow alumni in Paul Rudd, Jason Segel and Rashida Jones. Instead, the film is from the production company of the guy who was Apatow before him, Ivan Reitman.

Rudd stars as that guy who, for various reasons, doesn't have a lot of other guy friends, but needs one to be his best man at his wedding. After going on a few "man dates", he settles on Segel, a guy who seems pretty enthusiastic for the job. This might be because he's slightly unstable and ridiculously emotional, in contrast to Rudd's hyper-reserved character. But being in contact with such a larger-than-life guy opens up his buttoned-down nature, maybe becoming more of the kind of guy that has more guy friends.

The appeal of I Love You, Man one depends largely on how much you like Rudd and Segel's wacky antics, and how much and in what way you respond to the idea of a bromance. Both Rudd and Segel broke out as leads of their own movies last year after spending several films as supporting guys – Rudd with Role Models and Segel with Forgetting Sarah Marshall, which were remarkably equal in terms of their box office, with $19 and 17 million for their opening weekends respectively. However, the overlap is pretty strong between their audiences, and this is a case where 1+1=1, or maybe 1.2. Opening in 2,711 theaters, this seems like a decent candidate to win the weekend with about $21 million.

Duplicity arguably offers up the largest amount of cumulative star power for the weekend, in the form of Julia Roberts and Clive Owen, though you might also say that one is a bit of an underachiever and the other is resting on laurels. Despite that, the pair of actors are a pretty powerful combination for a film.

In Duplicity, directed by Tony Gilroy of Michael Clayton fame, they star as secret agents, she from the CIA, he from MI:6, who try to look past their history together to take down two rival companies for millions of dollars. Since both are born spies and born liars, neither can really trust the other, but try to anyway. Hearkening back to the caper films of the '60s, Duplicity is that rare combination of romantic, playful and adventurous.

What may be surprising is that it's been a long time since Julia Roberts has, in fact, been Julia Roberts, megastar. While she's continued to work and headline, or at least co-headline films, it may in fact be all the way back to America's Sweethearts in 2001 that she's been the biggest draw in a film that's been a hit (the Oceans films are some of her highest grossing, but trying to parcel out the credit/blame is a bit of a fool's errand). This will be a bit of a test for her, but one has to suspect that she's fallen a little in the meantime.

Owen, on the other hand, continues to be a bit of an enigma – extremely popular among a small group of fans, but sort of despised by a larger number, and unknown to an even larger group still. A similar but less comedic film from him in The International was a slight flop this year, though as a co-lead or supporting character, he's a stronger presence.

Ads for Duplicity have been understated but quietly brilliant, playing up the chemistry between the two leads and their shenanigans. I think it makes for a film that a number of people may take a "wait and see" attitude towards, which could depress the opening weekend, but may lead to some decent legs if it's worthy. Look for an opening weekend of $17 million.

Opening widest this weekend is Knowing, starring Nicolas Cage and directed by Alex Proyas. After a time capsule is opened at his school, Cage's character discovers that a cryptic note that seems to indicate the date and fatalities for every major catastrophe since it was placed in the ground. What's spookier is that there are still future dates on it, and Cage comes to believe that he has a role in either preventing – or maybe causing – these predicted events.

Disaster porn in almost the purest sense, Knowing plays a bit like a hybrid of two of Cage's other films, National Treasure and Next. Of course, one of those films was a huge success that spawned a franchise and the other was a notorious flop, so it's not like it makes it easy on us for a prediction. I think the concept is a little easier to grasp than Next, but not as fun as National Treasure. The effects, which include train and plane crashes, and what seems like nuclear annihilation of a city, should bring in some, but the concept seems a little dated. It is the most impressive movie transplanted from 1998 that's opening this year. Debuting in 3,400-plus venues, I'll predict it to open with about $15 million.

Race to Witch Mountain is the most significant holdover from last weekend, after winning the box office charts with $24 million in its debut. The remake of a 70s Disney classic starring The Rock performed to about its expectations, pulling in both preteens and their parents. Kids films are no longer the dead solid lock for legs that they once were, but the critical reception on this one seems strong enough that it should have at least one more decent weekend. Look for around $14 million in this case.

Watchmen plummeted by two-thirds from its first to second weekend, which basically everyone saw coming. The greasiest of greasy fanboy movies, Watchmen quickly ran through its loyal supporters on weekend number one, leaving few to keep it propped up in following weeks. In a sense, though, this is probably the best-case scenario, or close to it, given the material. Add another $8 million to its total on the way to a $115 million finish.

Another candidate for a huge fall is Last House on the Left, which opened to $14 million, both by the virtue of it being a horror film, and also since it's apparently pretty awful. Yet another in the line of torture porn films, it should see a fall to around $5 million.

Taken should finally drop out of the top five this weekend, but its remarkable run has earned it over $125 million so far, with it only once so far seeing its weekend take fall by more than 25%, and with four of less than 20%. That it's done this as an action film is even stranger. Somewhere between $5 and 6 million is likely yet again.