Weekend Wrap-Up
Watchmen No 300 at the Box Office
By John Hamann
March 8, 2009
BoxOfficeProphets.com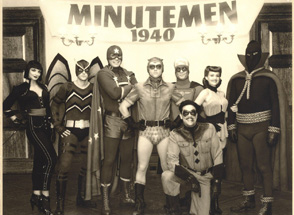 ---
Today, the question finally gets answered. Who Is Watching The Watchmen? The answer is everyone, as the Alan Moore graphic novel finally gets to the big screen in a big way. Watchmen earned $4.6 million from midnight screenings on Thursday, which started the inevitable hype as to how the film would perform over the rest of the weekend. Would the two hour and 43 minute run time put people off? Would the hard R rating prevent young'uns from seeing it? Would the mixed critical response, or the no-name actors filling in the film's biggest roles keep people away? BOP is watching those who watch the Watchmen, so read on, fearless reader...

Our number one film of the weekend is obviously Watchmen, but the question remained until today just how big this one was going to be. We know the Thursday midnight sneaks brought in $4.6 million, and we know the Friday gross came in at about $25.1 million. The overall weekend gross for Watchmen turned out to be a very good - but lower than expected - $55.7 million. As mentioned above, the graphic novel adaptation had a lot of things working against it - a long running time, which would have reduced the number of showings; a hard R rating for "strong graphic violence, sexuality, nudity, and language", which would have reduced the target audience; and the mixed critical notices, which fans of the book would have ignored, but uninitiated fans may have latched onto. With these curve balls, the opening frame for Watchmen must be considered a success, and a big one at that.

Watchmen debuted on 3,611 screens, and could have taken even more, as other studios have gone into their holes - not only this weekend, but last weekend as well. Watchmen garnered a HUGE number of reviews at RottenTomatoes - 212, of which 138 were positive, leaving the comic book creation with a fresh rating of 65%. RT's "top critics" weren't as kind, as reviewers from newspapers and TV were only 45% positive. Watchmen was made for the fanboy, and director Zack Snyder (300) delivered, leaving the fans raving and outsiders cringing. Watchmen becomes the second biggest March opener ever, landing behind only 300, the other graphic novel based film from wonderboy Snyder, which finished the March 7-9, 2007 weekend with $70.9 million. Watchmen also turns in the second biggest single day in March, as 300 still remains champ with a first-day gross of $28.1 million. The biggest difference between 300 and Watchmen is that long running time. 300 had a run time of less than two hours, making it almost a full hour shorter than Watchmen. The run time limits the amount of screenings a theatre can show.

As a comic/graphic novel adaptation, everyone knew this one was never going to play in the same pond in terms of opening weekend gross as the Spider-Man films, Dark Knight or Iron Man. For DC Comics, the brand behind Watchmen, this is a bigger opening than DC's Superman Returns, and will help future DC projects make it to big screen, like perhaps Wonder Woman. DC has always seemed to struggle against the Marvel franchises, and this opening removes some of that stigma.

For Warner Bros., things aren't as pretty. Watchmen cost the studio $130 million to make, a figure that doesn't include prints for 3,611 venues, or the large amount of advertising spent generating awareness to fans and non-fans alike. The biggest problem for Warner Bros. may be the suit launched by Fox in 2008. The two parties settled the case over who owns the Watchmen franchise, with Fox receiving between $5-10 million for previous development of the project and legal fees. But bigger than that, Fox gets between 5% and 8% of the worldwide gross, as well as any sequels or spinoffs. So if we say that Watchmen grosses $500 million worldwide, Fox gets between $25 and $40 million without having to do any work, as their upfront costs were paid. And really, that's just the beginning. Action figures and similar products will also see money moving to Fox, leaving Warner Bros. struggling to see profit on this one. It will be interesting to see what happens to Watchmen following this weekend - will fans return for second sittings and keep this one afloat? Will non-fans latch on and generate decent word-of-mouth? Will Watchmen beat 300's second weekend drop of 54%? Check back with BOP next weekend to find out.

Yes, there were other films at the cinema this weekend. Second goes to Tyler Perry's Madea Goes to Jail, our former number one for the past two weekends, despite last weekend's 61% drop compared to the opening frame. The dip was big again, as Madea tumbled from $16.2 million last weekend to $8.8 million this weekend, giving Madea a tumble of 46%. Despite the very big drops in the last two frames, Madea Goes To Jail is by far Perry's biggest film now, with $64.5 million counted to date for Tyler Perry Productions and Lionsgate.

Third is the box office phenomenon Taken with Liam Neeson, which has quietly slipped into its sixth weekend with more than $100 million in domestic grosses. The Fox juggernaut continued this weekend, earning $7.5 million, off only 24% from the previous frame. Taken has now earned $118 million domestically, and another $75 million overseas. It's hard to believe, but Taken is going to finish with about $150 million.

Finishing fourth is Slumdog Millionaire, our Best Picture winner from two Sundays ago. Slumdog is down one spot from last weekend when it finished third, just behind the brutal showing of the Jonas Brothers concert movie. This weekend, its seventh on more than 1,000 screens and 17th weekend overall, Slumdog Millionaire earned $6.9 million, and was off a larger-than-expected 42% from the previous frame. Slumdog has now earned $125.4 million stateside, and another $100 million overseas.

Paul Blart: Mall Cop continues to roll along with a spot in the top five. The Kevin James comedy earned $4.2 million, down just 25% from last weekend's tally. This Sony release has now earned $133.6 million after eight weekends of release.

He's Just Not That Into You slips to sixth place this weekend. Now in its fifth weekend, the Drew Barrymore flick earned $4 million and was off 33%. This Warner Bros. release has earned $84.6 million.

Coraline, Focus Features' second biggest film ever, behind only Brokeback Mountain, finishes seventh. Coraline grossed another $3.3 million and was off 37%. It now has a running total of $65.7 million against a budget of only $35 million.

Confessions of a Shopaholic is our number eight flick this weekend. The Isla Fisher comedy managed another weekend in the top ten with a gross of $3.1 million. It was off 33%, and has a running total of $38.4 million.

The Jonas Brothers Concert Movie dives from second last weekend to ninth this weekend, as the brothers are proving to be fifth or sixth string to Miley Cyrus. The Jonas Brothers earned a sad second weekend gross of $2.8 million and was off a devastating 78%. The total for this 3-D experience has now reached $16.8 million, and hopefully we won't have to go through this again with Girlicious.

Finally in tenth is Fired Up, the teen cheerleader comedy that has camped out in the bottom ranks of the top ten for the last three weekends. Fired Up earned $2.6 million and has a sad total of $13.4 million.

Overall this weekend, box office is up from last weekend, but still isn't matching the totals we saw prior to the Oscars. The top 12 films this weekend earned $103 million, well ahead of last year's gross when 10,000 BC led the box office to $91.4 million. This year's top 12 pales in comparison to the same weekend in March when 300 opened, as that 2007 weekend brought in $139 million. Next weekend, things get back to normal with three releases: Race to Witch Mountain, Last House on the Left, and Miss March.