Top Chef Reunion Recap
25 Parting Shots from the Top Chef Kitchen
By Jason Lee
March 5, 2009
BoxOfficeProphets.com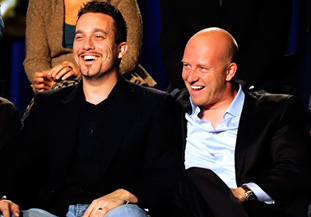 ---
Today on Watch What We Say: 25 Parting Shots from the Top Chef Kitchen

1. Congratulations, Hosea, on winning the title of Top Chef, but I still say that you're the weakest of the five chefs to have claimed that title.

2. I find it interesting that in the show's first two seasons, where only two chefs advanced to the finale, both performed strongly under pressure, while in the last three seasons, at least one chef (Kacie, Richard and now Carla) has folded under the pressure. I wonder if something about having three competitors makes the situation more difficult to handle.

3. I'm absolutely flabbergasted that Fabio claimed the title of Fan Favorite over my beloved Ariane and the incessantly charming Carla.

4. Jeff needs to accept that Bravo is only using him for his looks. And if he has a problem with that, then he should have re-thought that pompous wink that he gives at the end of the opening credits.

5. I'm very surprised (and grateful) that during the Season 5 Top Chef reunion show, we were not graced with the presence of ERICA!, the Glad storage bag queen who's both FRESH! and ECONOMICAL!

6. I wish I could have been a member of Team Rainbow - they all seem like so much fun.

7. As much as I hate Stefan throughout the series, his kindness towards Carla during the finale and his humor during the reunion has really won me over. If I passed him on the street...I wouldn't punch him.

8. I think it's really too bad that Jaime didn't get to participate in the finale because I think she would have turned out an AMAZING three course menu.

9. I think it's pretty clear that the producers of the show were trying to bolster their ratings among gays and young girls based on the amount of screen time that Patrick (dubbed "Pocket Chef" by Richard) received during the reunion. Sure, he's cute but c'mon...he didn't even make it past the first episode, unlike Melissa and Jill who got basically no screen time.

10. I'm so sick of hearing about the kiss between Leah and Hosea. Not only are they unpleasant people but they make a remarkably unattractive couple.

11. I will never shave my head. Not if I turn out looking like Eugene, Stefan or Hosea.

12. Speaking of which, I don't think Eugene said hardly a word during the reunion.

13. Of the 17 Top Chef contestants, I would only want to eat food made by Ariane, Carla, Jaime, Stefan, Fabio and Jeff. I have no desire to try any food by Hosea, Leah or Eugene.

14. Frankly, I thought ending on the subject of Fabio's mom and Hosea's dad (while relevant and considerate of the hosts to ask) was a pretty depressing choice.

15. I loved seeing Leah and Jamie drunk off their asses at Judges Table. That's among my very favorite memories of this cast.

16. If I ever run into Carla, I'm totally going to say, "Hootie!"

17. I wonder whether or not Toby will come back at some point next season. I'm thinking...yes.

18. I agree with Stefan: who wouldn't get all sweaty seeing Padma? She is smokin' hot.

19. Gail looks far more attractive than her husband. But of course, I have a straight crush on her.

20. I wonder if Tom ever gets tired of hearing that he has a gay bear following.

21. Let's count the people who look like they gained weight in the intervening weeks between the finale and the reunion: Hosea, the host (Andy Cohen) and Stefan.

22. I would love to have a Glad Storage Bag mattress of my very own.

23. I wonder who would win in a fish fight: Team Euro or Team Rainbow? I'm thinking Jaime kicks all their asses.

24. I think Tom's comment that Hosea "cooked solid food in the finale" was a backhanded compliment that admitted that Hosea won by doing food that was good but far from spectacular.

25. I can't wait for Top Chef Season 6.

How Well Do You Know: Top Chef New York?