Max Braden's March 2009 Forecast
By Max Braden
March 6, 2009
BoxOfficeProphets.com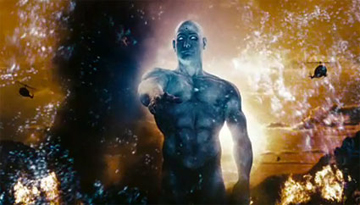 ---
Weekend Starting March 6th

Watchmen

When I saw the trailer for this last year I thought it looked full of itself and pointless. When I saw the costumes on the cover of Entertainment Weekly a couple months ago I thought it looked like a spoof. I was predicting a bomb until I actually saw the movie, and then I was impressed. I haven't read the graphic novel so I can't tell if hardcore fans will be impressed, but no doubt they'll go. Were it not for the ridiculously long two hour and 45 minute run time, I'd go again just to see Jackie Earle Haley's scenes (and the sexy Malin Akerman) and if I had Dr. Manhattan's powers I'd eliminate The Comedian's awful character. I predict mixed but overall positive reviews, which should help hold some box office. This is a spring break weekend for a lot of schools so there should be plenty of students in line. Too bad Warner Bros. is missing out on some vital 15-year-old males with the R rating. Perhaps the dangling blue penis will attract some extra adults.

Forecast: $58 million

Weekend Starting March 13

Race to Witch Mountain

I wonder if any of Disney's target audience knows this is actually the third in the Witch Mountain series, since the last movie came out when their parents were kids. I watched the first two again recently and have to admit they stink compared to my childhood memories of them. On the other hand, this one looks like it's got enough adventure that I'd almost go to see. The Rock was good in Get Smart so I wouldn't doubt him hitting the right tone in this. Disney will just have to hope the extra action and less buffoonery will help make up for The Pink Panther 2's weak box office. The Game Plan (directed by Andy Fickman, who also directed Race to Witch Mountain) and Journey to the Center of the Earth both opened in the low 20s and had long legs. This should do decent business until Aliens vs. Monsters arrives two weeks later.

Forecast: $23 million.

The Last House on the Left

Were it not for Friday the 13th having a crazy opening last month, I'd compare this horror flick to The Strangers or Vacancy and dismiss it with a $10 million opening and move on. But this conveniently falls on a Friday the 13th. Rogue Pictures last released The Unborn in January which opened to almost $20 million. This year's box office has been high on something, so I'll go higher than my gut tells me to. On the other hand, my gut tells me not to go to this movie, and I'll listen.

Forecast: $20 million.

Sunshine Cleaning

Amy Adams is adorable and I'm all about crime scenes, so even though this is a stealth chick flick I'll be looking forward to seeing this in the theater. Alan Arkin in anything with the word "Sunshine" in the title is also a draw. Director Christine Jeffs only has the Paltrow drama Sylvia under her belt, and this is from newcomer Overture Films, which has mostly delivered moderately wide releases with small box office. If they distribute this in more than 1,500 sites they could pick up business from good word-of-mouth.

Forecast: $11 million.

Weekend Starting March 20

Duplicity

The buzz about Closer may have been Natalie Portman as a stripper, but the appreciation was all about Julia Roberts and Clive Owen at each other's throats. This one's a light-hearted caper like Ocean's 11 so it stands to make a lot more money from general audiences. Duplicity may have had more box office potential if Clooney had been cast opposite Roberts, but I think Owen will find the right chemistry since he's worked with her before. It should make people forget The International's weak box office. Plus, any trailer featuring Julia Roberts laughing automatically equals a bonus $5 million from Oprah's audience. Plus, anything written or directed by Tony Gilroy automatically gets me in the seat.

Forecast: $29 million.

I Love You, Man

For some reason, with Jason Segel and Paul Rudd in the cast, I just assumed this was a Judd Apatow project. It's not, but John Hamburg's previous writing credits include Meet the Parents (& Fockers), Zoolander, and Along Came Polly. Larry Levin also wrote Eddie Murphy's Dr. Doolittle movies, which opened in the high 20s. Were it not for the oddly low $17 million opening for Forgetting Sarah Marshall with Jason Segel as the star, I'd be thinking closer to Paul Blart's $32 million.

Forecast: $22 million.

Knowing

For every National Treasure or Ghost Rider Nicolas Cage has it seems he's got a Next and Bangkok Dangerous. The trailer for this end of the world thriller looks spiffier than his previous two bombs, and it's got director Alex Proyas, who directed I, Robot. But the writers have a weak pedigree and that's not a good sign. Audiences also didn't take to Jim Carrey's more psychological thriller The Number 23 very well. This movie comes from Summit Entertainment, which most recently distributed Push ($10 million opening) and Twilight ($70 million). I'm thinking the buzz on Knowing isn't going to be near Twilight's.

Forecast: $20 million.

Weekend Starting March 27

Monsters vs. Aliens

Dreamworks Animation has been on a roll lately with Kung Fu Panda and Madagascar 2. The trailer had lots of awareness because of its Superbowl presentation in 3D, and the response I've seen to the trailer has been really positive. I wouldn't immediately know any of the voice cast, but Seth Rogen's voice is recognizable as the one for the likeliest most popular character. And Fox has done well with March releases for its two Ice Age movies, with the second one opening at $68 million. Go big or go home, aliens.

Forecast: $70 millon

12 Rounds

Renny Harlin's most recent directorial effort was actually Cleaner, starring Samuel L. Jackson, which went straight-to-video. I'm guessing John Cena's wrestling fans are the only reason this one made it into theatrical release. Cena's first movie, The Marine, only opened to $7 million and there's no reason to think this will do any better. Even the wrestling fans will probably be at Monsters vs. Aliens.

Forecast: $5 million.