Weekend Wrap-Up
Jonas Brothers No Miley Cyrus at the Box Office
By John Hamann
March 1, 2009
BoxOfficeProphets.com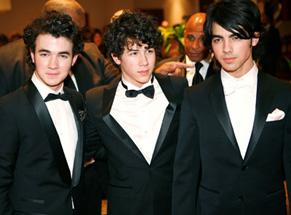 ---
The post-Oscar weekend was an interesting one, but not for the reasons you might expect. Not only is it post-Oscar, with Slumdog Millionaire prepared to have its best weekend yet, its also the pre-Watchmen weekend, when studios crawl into their holes, protecting their films from the juggernaut coming next weekend. Two films went wide, but neither of them had more than 1,750 venues. New releases included The Jonas Brothers: The 3-D Concert Experience, and Street Fighter: The Legend of Chiu-Li. The Jonas Brothers were forecast to beat the $31 million earned by the equally inane Miley Cyrus movie, while Street Fighter was looking to make a few bucks before going to the Wal-Mart $2.99 bin. Were the predictions true? One was, but read on to find out more.

Our number one film of the weekend is not The Jonas Brothers: The 3-D Concert Experience. Instead, first place goes to Tyler Perry's Madea Goes to Jail. Given what we know about the tracking for the Jonas Brothers film, the race was certainly closer than anyone expected. Madea Goes to Jail won the weekend despite dropping like a Jonas Brother after being pushed out of an airplane by Disney execs. After pulling in $41 million in its opening frame last weekend, The Tyler Perry flick plummeted, earning only $16.5 million, good for a large drop of 60%. That's the highest drop ever for the man known for his big openings followed by big second weekend plunges, beating Diary of a Mad Black Woman (50% second weekend drop), Madea's Family Reunion (58% drop), and The Family That Preys (58% drop). While the drop is horrendous, we should remember that Madea Goes to Jail out-opened Perry's former biggest movie, Madea's Family Reunion, by more than $10 million. Madea Goes to Jail now has a total of $64.9 million, and after only two weekends, is Tyler Perry's biggest film (Family Reunion finished with a domestic total of $63.3 million).

This means that The Jonas Brothers: The 3-D Concert Experience finished up in second place. A film designed to steal allowances from the small hands of little girls, the Jonas Brothers film was expected to be huge - much like Best of Both Worlds, the Miley Cyrus/Hannah Montana Concert Movie. Shockingly, it was not, to the great dismay of Disney executives. The Jonas Brothers movie actually opened flat, earning $12.7 million, albeit from a very small venue count of 1,271. It did have a decent venue average of $9,992. I'm sure Disney will try to spin this as a success, but with people like Media By Numbers president Paul Dergarabedian calling for a $40 million opening, it's tough to wash the stink of failure off when your movie comes in at a third of the tracking estimate. This will be more bad news for the stock price at Disney, which is at lows not seen since shortly after 9/11.

What happened to the Jonas Brothers? Weren't thousands of screaming teenagers selling out theatres in dozens of cities across the country? According to Fandango they were; however, selling out the Friday 7:00 show in two dozen cities does not make a blockbuster, especially when the 9:00 show is full of only tumbleweeds and crickets (for a true blockbuster example, tune in next week for Watchmen). The Jonas-bots had a weekend multiplier of 2.59 (weekend gross divided by Friday gross, and a good determination of frontloading, amongst other things), while the Miley Cyrus multiplier came in at a very impressive 3.6. This is an audience we will never understand, and this box office performance leaves a lot of questions: Were the kids put off by the Miley movie? Are the Jonas Brothers simply second string compared to Hannah Montana? Is the teen/tween 3-D concert phenomenon over? While no budget data has been released, we know that the Miley Cyrus concert movie cost Disney $7 million to make last year, so a $12 to $15 million estimate is probably on target for this one. So, Disney ends up with a small success with the Jonas Brothers, as this will beat its production budget before going on to good things on DVD.

Finishing third is Slumdog Millionaire, the film the Academy thought was the Best Picture of the year, a sentiment I am still trying to deal with (am I the only one that saw The Dark Knight or Iron Man or Milk or The Wrestler or Ghost Town?). Fox Searchlight ratcheted up the venue count to 2,943 screens this weekend to celebrate its win, and Slumdog benefited, earning $12.2 million, its biggest take so far. The Danny Boyle flick was up 45% compared to last weekend. Last year, No Country For Old Men increased its weekend gross by 71%; however, it moved from $2.4 million to $4.1 million. Really, this is an apples and oranges type of situation. Slumdog crossed the $100 million mark this Tuesday, and now has a total of $115.1 million domestic, and $75 million in international sales - all against a budget of only $14 million.

After Taken fell 41% last weekend, one might have thought the incredible run for the Liam Neeson actioner was over, but guess who's back? Taken fell a very small 14% and earned a bigger-than-expected $9.9 million. Taken, like Paul Blart: Mall Cop, has been one of the big box office head scratchers in 2009, as its box office performance has been simply astounding, showing great legs for a genre that doesn't often (ever?) perform like this. Taken has had weekend drops now of 17%, 8%, 41% and now 14%. The Liam Neeson flick crossed the $100 million mark on Friday, has a domestic cume of $107.9 million, and has earned another $70 million overseas. Unexpected hit just doesn't cover it.

He's Just Not That Into You slips one spot to fifth this weekend as the romantic comedy recovers somewhat from its 56% plunge last weekend. The Drew Barrymore flick pulled in another $5.9 million this weekend, and drops 31%. The star-studded chick flick is going to come close to finishing with $100 million, but will come up about $10 million short. It has a cume so far of $78.5 million.

Sixth goes to Paul Blart: Mall Cop, the comedy that just won't die. The Kevin James comedy had another good hold, despite being in release now for seven weekends. Paul Blart earned $5.6 million, and was off only 18% compared to the previous frame. Obviously, audiences are enjoying a good-natured laugh, and Sony is cashing in, to the tune of $128.1 million (so far).

The biggest surprise this weekend may be the drop of Coraline, as the Focus Features release drops from a powerful second place finish last weekend to a seventh place finish this weekend. Coraline earned only $5.2 million after pulling in $11.4 million in the previous frame, giving the animated flick a drop of 54%. What happened? Those damn Jonas boys happened, that's what. Because the Jonas Brothers concert movie was filmed in 3-D, and was supposed to be akin to the second coming of the box office Christ, theatres moved Coraline out of the 3-D venues, and dumped it into 2-D. Along with that, the Jonas Brothers also stole Coraline's audience, leaving it with the big drop. Still, the animated marvel has a total so far of $61 million, against a budget of $35 million.

Street Fighter: The Legend of Chun-Li arrives in eighth, which is better than where I thought this one might end up. Street Fighter grossed a laughable $4.7 million this weekend from a telling 1,706 venues. At least we have something to celebrate with this one, as it is our first wide release of 2009 to end up with a 0% fresh rating at RottenTomatoes (at least at the time of this writing), and gives us an early contender for Worst Film of the Year.

Earning the prize of 'beaten by Street Fighter' is Confessions of a Shopaholic, the now three-weekend-old comedy from Disney, the only studio that struggled in February. Shopaholic earned $4.5 million, and was off 33% compared to last weekend. The Isla Fisher comedy has now earned a not great $33.7 million, and should disappear next weekend.

//

The lack of power in the top ten is evidenced by our number ten film, as Fired Up! manages to hold onto a prime spot, despite the Oscar winners. Fired Up! drops a better than expected 31% and finishes with a weekend total of $3.8 million. The teen comedy has now earned $10.1 million.

Overall, it's clear that the box office is waiting for Watchmen. And despite that fact, a lower-than-expected total for the Jonas Brothers movie - and only one Oscar film in the top ten - the box office still managed to stay ahead of last year. This weekend, the top 12 films took in $87.6 million, whereas last year, with Will Ferrell's Semi-Pro on top with $15 million, the top 12 earned a sad $79.7 million. For 2009, this is the first weekend the box office top 12 dropped below $100 million. Next weekend, everything will change, and should be very interesting. Watchmen, the $100 million, R-rated, 2 hour and 43 minute comic book spectacular, is due to hit at least 3,500 screens. Tune in next weekend to see how it all unfolds.